Tuk Pancor Waterfall in Kembiri Village, Belitung
---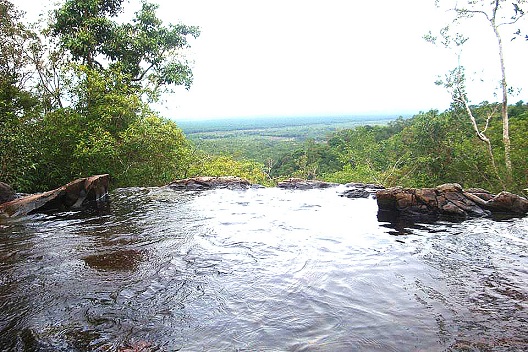 Nature tourism is everyone's favorite. In Kembiri Village, you can find Tuk Pancor Waterfall. This unique tourist spot belongs to Membalong District, actually. It is situated in the south part of Belitung Island. The fall is adjacent to a serene river. It is also surrounded by dense trees. These features make a perfect vacation retreat. The name is unique, isn't it? The waterfall is named after a man called Tuk Pancor. He and his wife, Nek Pancor, lived here back then.
The Nuance
Tuk Pancor Waterfall gives a satisfying impression. In terms of height, the waterfall isn't quite great. That doesn't mean you will get bored here. The water debt is moderate. There are some river stones near to it. You can climb and sit on them. Usually, visitors take some pictures while sitting on those stones. Are you interested? When it comes to the environment, the fall is bordered by different types of trees. All of these features become a perfect combination. It radiates an unspoiled nature beauty.
Exploring Tuk Pancor Waterfall
The best thing to do is hiking. In Tuk Pancor, trekking is quite popular. That doesn't mean you can carelessly do it. Preparation is a must. For instance, you should wear day hiking shoes. These may protect you from harmful gravels. Also, these shoes have a better grip than sandals. The terrain can be quite slippery. This is a fact. With proper footwear, you can climb and move from one stone to another safely. The shoes can even save your life.
A vacation in Tuk Pancor Waterfall is a different experience. Apart from trekking, you can take beautiful pictures. There are many stunning objects nearby. What you need are a good camera and photography skills. If you come together in a group, you may get more varieties of poses for sure. That doesn't mean you cannot come alone. Some tourists decide to come to the waterfall without a companion. It is because they want to release stresses and obtain peace. Are you interested?
Here is the thing. You should not expect comfortable facilities. The waterfall is located in a secluded nature. There are no food stands or restaurants. Due to this reason, you should have prepared some refreshments. These include snacks, bottled water, a hat, and some medicines. It is rare to visit the waterfall in the evening. Though, some locals do this as they want to catch some fishes. If you come at night, make sure you carry a compact flashlight!
Nearby Attractions

Batu Baginde
Penyabong Beach
How to Get There
In order to reach Tuk Pancor Waterfall, you should visit Membalong District. From Jakarta, you need to head to Tanjung Pandan Port. From here, you can use a car and take Membalong Raya Street. The trip is about an hour. The distance is approximately 43 km. If you come from Gantung, it takes up to 2 hours. You need to follow Sudirman Street to Membalong. The distance is 88 km. A private or rented car is definitely the best choice.
Where to Stay

Arumdalu Private Resort
Horison Belitung Hotel

Latest News
Find the History of Bangka at the Pangkal Pinang Tin MuseumThe Tin Museum was officially opened on August 2, 1997. This museum displays the history of tin mining on Bangka Island which contains historical objects and tin mining dioramas. In addition, visitors can also watch the making of crafts from tin. The best part is that admission to the museum is free. In addition, if you want to find food around Bangka Belitung, there are many places to eat that you can choose from. The dining options available in Bangka-Belitung…
---
Have you ever visited Bangka Island? Bangka Belitung or Bangka Island is a province of Indonesia, which is located on the island of Sumatra. Although not as popular as Bali or Lombok, it has beautiful beaches, white sand, amazing coral reefs, and giant granite rocks. Some of them are rarely visited at all. To experience the untouched splendor of "Island of the Gods" at its best, travel with an experienced local guide, or arrange your own transportation. Enjoy the white sands of Bembang Beach in West BangkaBecause Bangka-Belitung has many…
---
Located in Muntok area in the northwest of the island of Bangka, Mount Menumbing has a height of about 355 meters above sea level. At Mount Menumbing, there is an exile pension of Indonesia's first President Bung Karno and Vice President Bung Hatta by the Dutch during 1948-1949 on the island of Bangka. The exile pension is guarded by the family who is also Abdi Dalem Sultan Palace of Yogyakarta, since generation to generation, where since day one they have responsibility to maintain Bung Karno and Bung Hatta during their…
---
Romodang Beach Romodang beach is located in Belinyu area, north Bangka 77 km from Sungailiat. We can see the very dramatic sunset at noon from this beach and those who like fishing, this is the perfect place to go for it. Moreover, this beach is always visited by those who want to spend time with family and friends for recreational holiday. One of characteristics from this beach is on the stone gate before reaching the beach. Local society call this gate as "Batu Belah Tangkup" or sandwich stone. Another characteristic…
---