Nek Santen Cave in Lassar Village, Belitung
---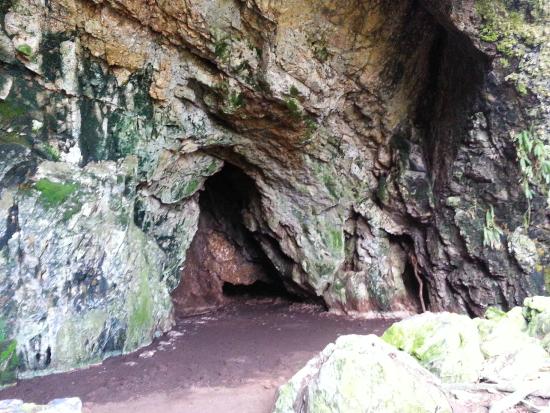 In Lassar Village, you can find a mysterious cave. The name is Nek Santen Cave. It belongs to Membalong District, Belitung. Due to its strategic location, many hikers stop by during their adventure in Kubing Mountain. The cave is named after a lost old lady in the forest. In the cave, you can find thousands of bats. In the past, the cave also became a hideout for villagers. These people hid from raiders' attacks. Thanks to its structures and excellent features.
The Nuance
The cave size isn't quite big. On the mouth of the cave, you can find vines. They make a shady and natural atmosphere. Once you enter the cave, you may see several stones on the floor. The wall of the cave is covered by moss and rocky surface. Since it is a secluded area, you won't expect many people. Unless you come together in a group, it will be a lonely vacation. Not to mention there are no facilities nearby. Thus, it is important to carry refreshments.
Exploring Nek Santen Cave
This cave provides a distinct adventure for tourists. Regardless of the experience, you can explore and get in the cave. The thing is you may expect confinement and darkness. It seems the earth is talking to you. This sensation isn't common, so you must be prepared. The structure of the cave definitely amazes you. It has a complex design and unique features. For beginners, it is better to stay near to the cave mouth. Without proper equipment, it will become a risky adventure.
If you come with your group, it is safer. That means you can walk around deeper into the cave. Proper gears and skills help you explore Nek Santen Cave safely. As mentioned earlier, it is the home of tons of bats. They are sleeping at noon. When the night comes near, these creatures may leave the cave for hunting foods. This phenomenon is definitely unique. If you come in the evening, you may require more items for sure. Due to this reason, a preparation becomes a priority.
The cave is dark. It is a no brainer. Therefore, you must carry a flashlight. Make sure to bring extra batteries, though. Next, sturdy shoes are compulsory. The floor of the cave can be slippery, especially during rainy season. The water and mud make it more dangerous for careless people. As for the other protections, you must wear proper clothes like sleeves and long pants. In some occasions, gloves are recommended. These help you prevent getting bruises while exploring Nek Santen Cave.
Nearby Attractions

Penyabong Beach
Batu Baginda
How to Get There
From Tanjung Pandan, you should head to Membalong District. It is through Membalong Raya Street. The trip is going to be smooth. It takes only 1 hour and 30 minutes. Your next destination is Lassar Village. From here, you need to go by foot. Trekking is the part of your trip. Thus, make sure you are in a good shape. If necessary, you should carry bottled water and snacks!
Where to Stay


Latest News
Find the History of Bangka at the Pangkal Pinang Tin MuseumThe Tin Museum was officially opened on August 2, 1997. This museum displays the history of tin mining on Bangka Island which contains historical objects and tin mining dioramas. In addition, visitors can also watch the making of crafts from tin. The best part is that admission to the museum is free. In addition, if you want to find food around Bangka Belitung, there are many places to eat that you can choose from. The dining options available in Bangka-Belitung…
---
Have you ever visited Bangka Island? Bangka Belitung or Bangka Island is a province of Indonesia, which is located on the island of Sumatra. Although not as popular as Bali or Lombok, it has beautiful beaches, white sand, amazing coral reefs, and giant granite rocks. Some of them are rarely visited at all. To experience the untouched splendor of "Island of the Gods" at its best, travel with an experienced local guide, or arrange your own transportation. Enjoy the white sands of Bembang Beach in West BangkaBecause Bangka-Belitung has many…
---
Located in Muntok area in the northwest of the island of Bangka, Mount Menumbing has a height of about 355 meters above sea level. At Mount Menumbing, there is an exile pension of Indonesia's first President Bung Karno and Vice President Bung Hatta by the Dutch during 1948-1949 on the island of Bangka. The exile pension is guarded by the family who is also Abdi Dalem Sultan Palace of Yogyakarta, since generation to generation, where since day one they have responsibility to maintain Bung Karno and Bung Hatta during their…
---
Romodang Beach Romodang beach is located in Belinyu area, north Bangka 77 km from Sungailiat. We can see the very dramatic sunset at noon from this beach and those who like fishing, this is the perfect place to go for it. Moreover, this beach is always visited by those who want to spend time with family and friends for recreational holiday. One of characteristics from this beach is on the stone gate before reaching the beach. Local society call this gate as "Batu Belah Tangkup" or sandwich stone. Another characteristic…
---