Manggar
---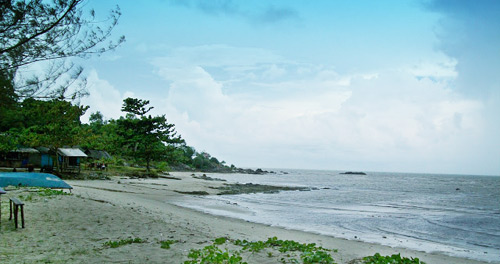 Manggar city in East Belitung is the second largest city in Belitung Island. This city is a sub-district and the capital of East Belitung regency.
The center of Manggar city is in Baru Village, that contain of numbers of ethnicity like Malay, Chinese, Bugis and else. Manggar at ancient time was the center of tin mining that runs for business since Dutch colonialization until Indonesia new order. As a destination city, Manggar keeps various tourism sites that have the same beauty in Belitung regency, particularly in Tanjung Pandan and Belitung.
Some of tourism obyect in Manggar is Serdang beach, Nyiur Melambai Beach, Keramat beach, Teropong beach, Olie Pier beach, Semak A1 hill and numbers of historical buildings.
In addition to the tourism sites, the uniqueness from this city is the existence of 1001 warung kopi or coffee stalls. Hence, this city is also named as "Kota 1001 Warung Kopi" or the city of 1001 coffee stalls.
Warung Kopi or coffee stalls are available in almost every corners of the street in Manggar city. Surprisingly, those stalls are never been dull and always been crowd by the visitors.
The coffee stalls at Manggar are built in a simple architecture, with roofing and bamboo walls. This is the characteristic of Manggar coffee stalls. Never ask for Wi-Fi Password, for there are no such facility at most of traditional stalls. There are no sofa and TV, and other modern things just like a cafe shop inside the mall. Those Manggar coffee stalls are available for those who want to mingle and socialize with other in humble ways.
By spending Rp. 3000 – Rp. 6000 per glass, you will get delicious traditional coffee with friends and family. Warung Kopi Manggar is like part of culture in Manggar city and it been already there since ancient time.

Latest News
Find the History of Bangka at the Pangkal Pinang Tin MuseumThe Tin Museum was officially opened on August 2, 1997. This museum displays the history of tin mining on Bangka Island which contains historical objects and tin mining dioramas. In addition, visitors can also watch the making of crafts from tin. The best part is that admission to the museum is free. In addition, if you want to find food around Bangka Belitung, there are many places to eat that you can choose from. The dining options available in Bangka-Belitung…
---
Have you ever visited Bangka Island? Bangka Belitung or Bangka Island is a province of Indonesia, which is located on the island of Sumatra. Although not as popular as Bali or Lombok, it has beautiful beaches, white sand, amazing coral reefs, and giant granite rocks. Some of them are rarely visited at all. To experience the untouched splendor of "Island of the Gods" at its best, travel with an experienced local guide, or arrange your own transportation. Enjoy the white sands of Bembang Beach in West BangkaBecause Bangka-Belitung has many…
---
Located in Muntok area in the northwest of the island of Bangka, Mount Menumbing has a height of about 355 meters above sea level. At Mount Menumbing, there is an exile pension of Indonesia's first President Bung Karno and Vice President Bung Hatta by the Dutch during 1948-1949 on the island of Bangka. The exile pension is guarded by the family who is also Abdi Dalem Sultan Palace of Yogyakarta, since generation to generation, where since day one they have responsibility to maintain Bung Karno and Bung Hatta during their…
---
Romodang Beach Romodang beach is located in Belinyu area, north Bangka 77 km from Sungailiat. We can see the very dramatic sunset at noon from this beach and those who like fishing, this is the perfect place to go for it. Moreover, this beach is always visited by those who want to spend time with family and friends for recreational holiday. One of characteristics from this beach is on the stone gate before reaching the beach. Local society call this gate as "Batu Belah Tangkup" or sandwich stone. Another characteristic…
---