Belitung Island
---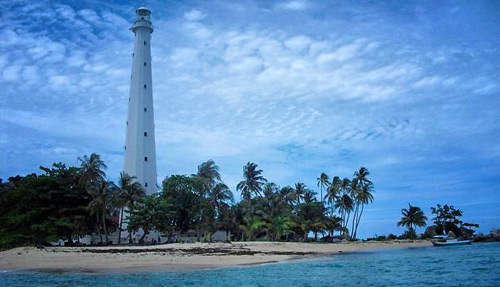 Belitung or Belitong, was better known as billiton is an island in off the east coast of Sumatra, Indonesia, flanked by the Gaspar Strait and Karimata Strait. The word Belitung is taken from the local language means sea slug. Belitung Island is divided into two districts, namely Billiton District, with Tanjung Pandan as the capital area; and East Belitung district, with Manggar as the capital.
The island populations are mainly Malay ethnic, and they speak Belitung dialect; others are the Chinese Hokkien and Hakka. Most of the inhabitants, especially for those who living in coastal areas, must be very familiar with the rich marine products like fish. Marine wealth becomes a source of livelihoods in Belitung Island. The other natural resources that having the same important to Biliton people is tin. Tin mining has been started since the time of the Dutch East Indies.
After arrive in Tanjung Pandan, we can immediately travel to exotic beaches in Belitung, such as Tanjung Kalayang or Tanjung Tinggi beach, which is approximately 1 hour drive. Besides, there are also others beach and island that close to each other like Tanjung Pendam, Burung Island and Lengkuas island.
In Belitung, the mainly tourist destinations are beaches and islands/islets. The beaches are Tanjung Tinggi Beach and Tanjung Kelayang Beach which both have blue clear water, sand and rocky beaches. The islands/islets are Batu Berlayar Island which full of granite, Pasir Island which is made of sand (Sand = pasir in Indonesian language) and submerged during high tide, Bird Islet (Pulau Burong) which can be accessed from Tanjung Binga Beach by walking when low tide, Lengkuas Island which is a home of 129-year-old lighthouse and a good place for snorkeling, Babi Island and Kelayang.
To reach Belitung Island, we can access by plane or take boat. But for day trips, we recommend to board the plane. Because the boat ride will takes a long time, while the plane is only need one hour flight from Soekarno Hatta airport in Jakarta to Hanadjoedin airport in Tanjung Pandan city, Belitung.

Latest News
Find the History of Bangka at the Pangkal Pinang Tin MuseumThe Tin Museum was officially opened on August 2, 1997. This museum displays the history of tin mining on Bangka Island which contains historical objects and tin mining dioramas. In addition, visitors can also watch the making of crafts from tin. The best part is that admission to the museum is free. In addition, if you want to find food around Bangka Belitung, there are many places to eat that you can choose from. The dining options available in Bangka-Belitung…
---
Have you ever visited Bangka Island? Bangka Belitung or Bangka Island is a province of Indonesia, which is located on the island of Sumatra. Although not as popular as Bali or Lombok, it has beautiful beaches, white sand, amazing coral reefs, and giant granite rocks. Some of them are rarely visited at all. To experience the untouched splendor of "Island of the Gods" at its best, travel with an experienced local guide, or arrange your own transportation. Enjoy the white sands of Bembang Beach in West BangkaBecause Bangka-Belitung has many…
---
Located in Muntok area in the northwest of the island of Bangka, Mount Menumbing has a height of about 355 meters above sea level. At Mount Menumbing, there is an exile pension of Indonesia's first President Bung Karno and Vice President Bung Hatta by the Dutch during 1948-1949 on the island of Bangka. The exile pension is guarded by the family who is also Abdi Dalem Sultan Palace of Yogyakarta, since generation to generation, where since day one they have responsibility to maintain Bung Karno and Bung Hatta during their…
---
Romodang Beach Romodang beach is located in Belinyu area, north Bangka 77 km from Sungailiat. We can see the very dramatic sunset at noon from this beach and those who like fishing, this is the perfect place to go for it. Moreover, this beach is always visited by those who want to spend time with family and friends for recreational holiday. One of characteristics from this beach is on the stone gate before reaching the beach. Local society call this gate as "Batu Belah Tangkup" or sandwich stone. Another characteristic…
---