Visiting Kurau Fishermen Village in Pangkal Pinang City, Bangka Island
---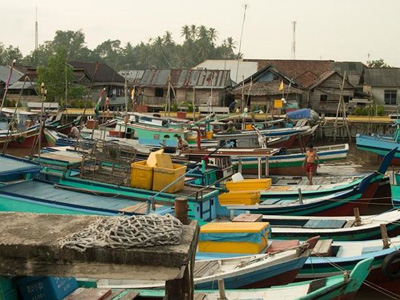 Real travelers always look for new unique places to visit. Have no doubt. You can find a distinct vacation destination in Bangka Island. The name is Kurau Fishermen Village. The location is near to Pangkal Pinang. Kurau is actually a village. The local people are mostly the descendants of Bugis Tribe. No wonder, most of them work as a fisherman. The village is situated near to the sea. You can even see many fishermen's boats near to their settlement. This uncommon sight becomes the main attraction in Kurau, after all.
The Nuance
Kurau Village emits an undeveloped settlement. The villagers live a modest life there. That means you must not expect any luxuries in the village. The houses are made of mostly woods. Those are located near to the water. In fact, some boats are parked near them. Due to its rustic ambiance, the village has become an attractive tourist spot in Bangka Island. Travelers come here to capture beautiful pictures and feel a local's culture. It is possible to ride the boat, as well.
Exploring Kurau Fishermen Village
As you have expected, Kurau Fishermen Village is the home of fishermen. At noon, these people sell fishes and crabs in many locations. You can even see them in the roadside. All of those commodities are fresh and good. As a tourist, it is a waste if you don't buy some. You don't even need to spend much money on them. Later, you can give those crabs or fishes to your families. In some occasions, you are allowed to cook them in a villager's house. 
Once you have eaten good meals, it is time to enjoy snorkeling. Some beautiful spots for snorkeling are available there. Apart from that, there are nearby small islands. It is your chance for island hoping. With a fisherman's boat, you can reach those locations easily. The best time to rent the boat is during free days. That means it is rare to get a boat when those fishermen go fishing. For a smoother negotiation, you should be able to talk like a local. If not, you can hire a local guide.
Overall, Kurau Fishermen Village is a worthy vacation spot in Bangka Island. If you are visiting Pangkal Pinang City, you should stop by in Kurau Village. It is located close to each other, after all. The village is inhabited about 2,800 people. More than 75% of them are fishermen. Their house looks humble and there are no facilities nearby. It is a traditional village, but it radiates unlimited beauty!
Nearby Attractions
Tapak Hantu Beach
BBG
Pasir Padi Beach
How to Get There
Here is good news. Kurau Fishermen Village is located near to Pangkal Pinang City. That means your trip won't take much time. The distance is about 33 km so you may spend 40-50 minutes. From Pangkal Pinang, you must take Soekarno Hatta Street. Next, you must take Pangkal Pinang – Namang Street. This is going to be a short and comfortable trip. Make sure you use a good vehicle, though.
Where to Stay
Bangka City Hotel
Soll Marina Hotel
Santika Bangka Hotel

Latest News
Find the History of Bangka at the Pangkal Pinang Tin MuseumThe Tin Museum was officially opened on August 2, 1997. This museum displays the history of tin mining on Bangka Island which contains historical objects and tin mining dioramas. In addition, visitors can also watch the making of crafts from tin. The best part is that admission to the museum is free. In addition, if you want to find food around Bangka Belitung, there are many places to eat that you can choose from. The dining options available in Bangka-Belitung…
---
Have you ever visited Bangka Island? Bangka Belitung or Bangka Island is a province of Indonesia, which is located on the island of Sumatra. Although not as popular as Bali or Lombok, it has beautiful beaches, white sand, amazing coral reefs, and giant granite rocks. Some of them are rarely visited at all. To experience the untouched splendor of "Island of the Gods" at its best, travel with an experienced local guide, or arrange your own transportation. Enjoy the white sands of Bembang Beach in West BangkaBecause Bangka-Belitung has many…
---
Located in Muntok area in the northwest of the island of Bangka, Mount Menumbing has a height of about 355 meters above sea level. At Mount Menumbing, there is an exile pension of Indonesia's first President Bung Karno and Vice President Bung Hatta by the Dutch during 1948-1949 on the island of Bangka. The exile pension is guarded by the family who is also Abdi Dalem Sultan Palace of Yogyakarta, since generation to generation, where since day one they have responsibility to maintain Bung Karno and Bung Hatta during their…
---
Romodang Beach Romodang beach is located in Belinyu area, north Bangka 77 km from Sungailiat. We can see the very dramatic sunset at noon from this beach and those who like fishing, this is the perfect place to go for it. Moreover, this beach is always visited by those who want to spend time with family and friends for recreational holiday. One of characteristics from this beach is on the stone gate before reaching the beach. Local society call this gate as "Batu Belah Tangkup" or sandwich stone. Another characteristic…
---