An Old-style yet Beautiful Belitung Traditional House in Tanjung Pandan
---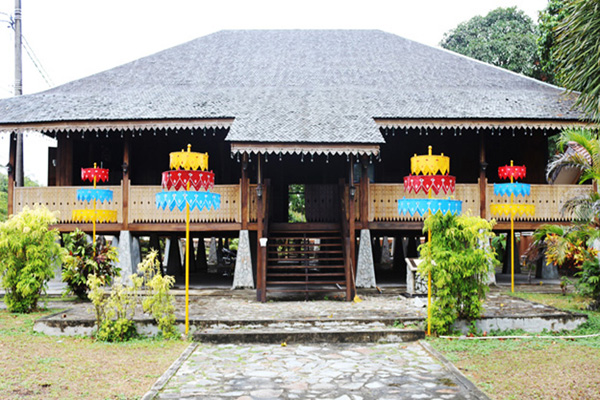 Belitung Island offers an unlimited vacation destination. For tourists, nature is not only an option. You can find unique cultures and traditional buildings in a particular place. For example, there is a simple but beautiful Belitung Traditional House in Tanjung Pandan. The location is in Ahmad Yani Street. The house applies a "Panggung" concept. The bottom part of the house is hollow. Actually, it is a reconstruction of Rumah Gede. Most of the parts are made of wood. Today, it becomes an interesting tourist lure in Tanjung Pandan City.
The Nuance
Belitung Traditional House has a surface area about 500 square meters. It has a distinct appearance as well. You can easily notice its uniqueness. The house has 5 parts and each of them has a different function. In front of the house, you may see 4 beautiful ornaments and several plants. These make a soothing ambiance. All visitors would be stunned, for sure. The house is also surrounded by several trees. These make a wonderful environment. Yet, it is only the beginning. Your tour gets more exciting inside the house.
Exploring Belitung Traditional House
Once you enter the house, it feels comfortable and spacious. There are 3 major rooms. They are the main room, loss, and a kitchen. The first encounter is the terrace. It is spacious so visitors can relax here. Next, you may reach the main room. The room has numerous ornaments. These represent Belitung's characteristics. There is also a cupboard in the left part of the room. It stores Belitung's traditional wedding dress. The name is Kancing Lima. In the right part, you can find a bridal chamber and many photographs.
The next room is the loss. It separates the main room and the kitchen. It doesn't have a significant function, though. Next, you can reach the kitchen. It is located in the tail piece of the house. Why is that? A kitchen represents a dirty and busy place. It should be situated in the back of the house. All these rooms are worth to explore. In fact, visitors are allowed to take some pictures. One thing, you should not make fuss or mess inside.
Belitung Traditional House was built in 2004. It opened for public 5 years later. Many tourists are impressed by its design and material. The house was constructed mainly using ironwood. Thus, it can last long. Another plus point is its location. It is situated in a strategic area. You can easily reach it from the main city. According to the locals, the house adopted Kalimantan's traditional house concept. That means there is a relation between Kalimantan Tribe and Sumatranese.
Nearby Attractions

Batu Mentas
Blue Kaolin Lake
Tanjung Tinggi Beach
How to Get There
Belitung Traditional House is situated in Tanjung Pandan. From Jakarta, you can ride a ferry to Tanjung Pandan Port. From here, take a public transportation to reach Ahmad Yani Street. The house is noticeable, so you can find it easily. It is also located beside Regent's Office. All visitors won't be troubled in looking for this house. If you come from Hanandjoeddin Airport, it takes about 20 minutes.
Where to Stay

Green Tropical Hotel
Tamara Hotel
Mustika Hotel

Latest News
Find the History of Bangka at the Pangkal Pinang Tin MuseumThe Tin Museum was officially opened on August 2, 1997. This museum displays the history of tin mining on Bangka Island which contains historical objects and tin mining dioramas. In addition, visitors can also watch the making of crafts from tin. The best part is that admission to the museum is free. In addition, if you want to find food around Bangka Belitung, there are many places to eat that you can choose from. The dining options available in Bangka-Belitung…
---
Have you ever visited Bangka Island? Bangka Belitung or Bangka Island is a province of Indonesia, which is located on the island of Sumatra. Although not as popular as Bali or Lombok, it has beautiful beaches, white sand, amazing coral reefs, and giant granite rocks. Some of them are rarely visited at all. To experience the untouched splendor of "Island of the Gods" at its best, travel with an experienced local guide, or arrange your own transportation. Enjoy the white sands of Bembang Beach in West BangkaBecause Bangka-Belitung has many…
---
Located in Muntok area in the northwest of the island of Bangka, Mount Menumbing has a height of about 355 meters above sea level. At Mount Menumbing, there is an exile pension of Indonesia's first President Bung Karno and Vice President Bung Hatta by the Dutch during 1948-1949 on the island of Bangka. The exile pension is guarded by the family who is also Abdi Dalem Sultan Palace of Yogyakarta, since generation to generation, where since day one they have responsibility to maintain Bung Karno and Bung Hatta during their…
---
Romodang Beach Romodang beach is located in Belinyu area, north Bangka 77 km from Sungailiat. We can see the very dramatic sunset at noon from this beach and those who like fishing, this is the perfect place to go for it. Moreover, this beach is always visited by those who want to spend time with family and friends for recreational holiday. One of characteristics from this beach is on the stone gate before reaching the beach. Local society call this gate as "Batu Belah Tangkup" or sandwich stone. Another characteristic…
---