Tanjung Kalian and the Old Lighthouse
---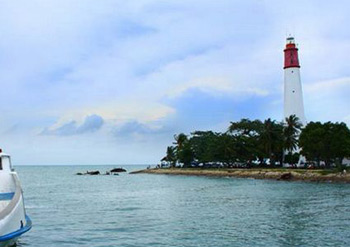 Tanjung Kalian is one of coastal area in Bangka. This beach is located approximately 9 km from the city Muntok; from Muntok city to the capital of Pangkal Pinang is about 138 KM. Here, there is a tower or lighthouse that was built by the Dutch in 1862 and also becomes the main attraction at this place.
This lighthouse is stand sturdy and has 117 stone circular staircases that contained of lighting devices which make the room feel cramped. According to the lighthouse guard, the lampshade that made of thick glass is still genuine since the first installation. This lamp has highlight strength to 40 miles away, with the power of 1,000 watts. Whenever ignited is requires 20 liters of diesel, which can survive for 12 hours.
On the inside, we can see our altitude by watching the palm trees far below. On Tanjung Kalian, we can also see the shipwrecks, former ship during World War II. Moreover, those who visit Tanjung Kalian can do sunbathing, swimming and playing at sea water, along the quiet and clean beach.
From the window of the lighthouse, we can see the busy dock that doing their daily activity of Muntok-Palembang crossings, which is being built not far from the lighthouse. Tanjung Kelian pier will replace the Piers Muntok as a place of arrival and departure for ferry crossing.
Tanjung Kalian has white sandy beach and does not have huge granite boulders like most beaches in Bangka Belitung. There are many Ketapang trees on the beach. The beach was also a part of history when Indonesia's Founding Fathers, Ir. Sukarno, being discarded and he liked to spend time atn this beach.
The beach is also a witness to the dark history of massacre tragedy (Banka Massacre) that occurred during World War II. In February 1942, the Vyner Brooke ships that carried injured troops and 64 nurses in Australia from Singapore sunk by the Japanese Army. A total of 22 people who survived the bombing were still killed. Only one nurse who survived the incident. To commemorate the victims of Bangka Massacre, it built a memorial monument on the beach, in front of the lighthouse.
Tanjung Kalian is already becomes the nearest and affordable destination in Muntok. Every afternoon the white sandy beaches will always crowded by local people who enjoy the moment. Families who come to bring a mat from home, young people are sitting on their bikes, those who love fishing or those who just cuddling with their love one are the one who always visit this beach.

Latest News
Find the History of Bangka at the Pangkal Pinang Tin MuseumThe Tin Museum was officially opened on August 2, 1997. This museum displays the history of tin mining on Bangka Island which contains historical objects and tin mining dioramas. In addition, visitors can also watch the making of crafts from tin. The best part is that admission to the museum is free. In addition, if you want to find food around Bangka Belitung, there are many places to eat that you can choose from. The dining options available in Bangka-Belitung…
---
Have you ever visited Bangka Island? Bangka Belitung or Bangka Island is a province of Indonesia, which is located on the island of Sumatra. Although not as popular as Bali or Lombok, it has beautiful beaches, white sand, amazing coral reefs, and giant granite rocks. Some of them are rarely visited at all. To experience the untouched splendor of "Island of the Gods" at its best, travel with an experienced local guide, or arrange your own transportation. Enjoy the white sands of Bembang Beach in West BangkaBecause Bangka-Belitung has many…
---
Located in Muntok area in the northwest of the island of Bangka, Mount Menumbing has a height of about 355 meters above sea level. At Mount Menumbing, there is an exile pension of Indonesia's first President Bung Karno and Vice President Bung Hatta by the Dutch during 1948-1949 on the island of Bangka. The exile pension is guarded by the family who is also Abdi Dalem Sultan Palace of Yogyakarta, since generation to generation, where since day one they have responsibility to maintain Bung Karno and Bung Hatta during their…
---
Romodang Beach Romodang beach is located in Belinyu area, north Bangka 77 km from Sungailiat. We can see the very dramatic sunset at noon from this beach and those who like fishing, this is the perfect place to go for it. Moreover, this beach is always visited by those who want to spend time with family and friends for recreational holiday. One of characteristics from this beach is on the stone gate before reaching the beach. Local society call this gate as "Batu Belah Tangkup" or sandwich stone. Another characteristic…
---