Keramat Beach in Manggar, East Belitung
---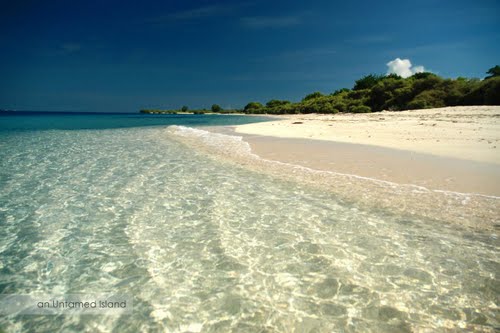 East Belitung is part of Bangka Belitung Province. It is the home of many districts including Manggar. In Lalang Village, you can find a stunning beach called Keramat. It sounds unique, doesn't it? Keramat means "sacred". Despite its name, the beach holds many beautiful features. Today, it becomes a top destination for relaxation. Though, the beach isn't suitable for water sports. It is because the waves are strong. The best part is the soothing wind. It makes a perfect place to relax.
The Nuance
Some rocks are scattered on the shorelines. They make a unique mood. Another distinct characteristic of the beach is its wind. It is considered strong and unsafe. Due to this reason, you should not try to swim in it. The sand is brownish. In terms of appearance and atmosphere, the beach is similar to those of the South Java's. Despite the strong waves, the seashore is safe for beach walking. In a nutshell, the beach emits a rougher ambiance than other Belitung's shorelines.
Exploring Keramat Beach
Even though the local government doesn't take a good control over Keramat Beach, tourists keep coming here. It emits natural beauty. The locals come to the beach to sell several snacks and drinks. They make money from such tourism activity. In terms of charm, Keramat is similar to other beaches like Bukit Batu, Burung Mandi, and Nyiur Melambai. In the seashore, you can find several granites. You are allowed to sit on them, too. Those rocks are slippery, so you must wear good footwear.
Keramat Beach has calm waves and shallow water. On top of that, the sand is soft and white. It is possible to swim in it. Do you like fishing? You can do it here, too. Even though the fishes aren't many, you can still enjoy it. Plus, the atmosphere is breezy. It gives you a comfortable mood. Keramat is an unspoiled beach. That means you won't find any flaws. As long as you don't litter, the beach remains natural and pure.
Another attraction is the history. Keramat Beach consists of numerous granites. In the past, people often came here to conduct rituals. In fact, the beach becomes the home of four gravestones. No one knows whose tombstones those are. The presence of unknown tombs creates a mystical ambiance. Though, many people don't get bothered by them. As for precaution, tourists should do careless acts near to the tombstones. That's all.
Nearby Attractions

Serdang Beach
Pice Dam
Bukit Batu Beach
How to Get There
Keramat Beach belongs to Manggar District. To be exact, it is located in Lalang Village. From Tanjung Pandan City, the distance is about 80 km. When it comes to transportation, you can use either an ojeck or a rented car. The best choice is a car, though. You can rent it in hotels or tourist agencies. No worries. You can even hire a driver. He has both the knowledge and skills regarding the routes. Once you reach Manggar, you can directly head to the Beach!
Where to Stay

Simpang 4 Hotel
Guest Hotel
Oasis Hotel

Latest News
Find the History of Bangka at the Pangkal Pinang Tin MuseumThe Tin Museum was officially opened on August 2, 1997. This museum displays the history of tin mining on Bangka Island which contains historical objects and tin mining dioramas. In addition, visitors can also watch the making of crafts from tin. The best part is that admission to the museum is free. In addition, if you want to find food around Bangka Belitung, there are many places to eat that you can choose from. The dining options available in Bangka-Belitung…
---
Have you ever visited Bangka Island? Bangka Belitung or Bangka Island is a province of Indonesia, which is located on the island of Sumatra. Although not as popular as Bali or Lombok, it has beautiful beaches, white sand, amazing coral reefs, and giant granite rocks. Some of them are rarely visited at all. To experience the untouched splendor of "Island of the Gods" at its best, travel with an experienced local guide, or arrange your own transportation. Enjoy the white sands of Bembang Beach in West BangkaBecause Bangka-Belitung has many…
---
Located in Muntok area in the northwest of the island of Bangka, Mount Menumbing has a height of about 355 meters above sea level. At Mount Menumbing, there is an exile pension of Indonesia's first President Bung Karno and Vice President Bung Hatta by the Dutch during 1948-1949 on the island of Bangka. The exile pension is guarded by the family who is also Abdi Dalem Sultan Palace of Yogyakarta, since generation to generation, where since day one they have responsibility to maintain Bung Karno and Bung Hatta during their…
---
Romodang Beach Romodang beach is located in Belinyu area, north Bangka 77 km from Sungailiat. We can see the very dramatic sunset at noon from this beach and those who like fishing, this is the perfect place to go for it. Moreover, this beach is always visited by those who want to spend time with family and friends for recreational holiday. One of characteristics from this beach is on the stone gate before reaching the beach. Local society call this gate as "Batu Belah Tangkup" or sandwich stone. Another characteristic…
---