Visiting Manggar Lake in East Belitung
---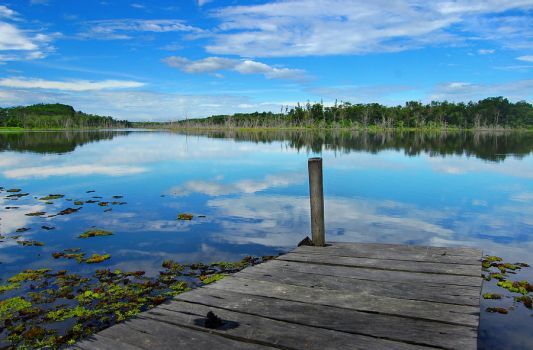 Nature tourism is always tempting. Are you looking for a good place to relax in Belitung Island? There is Manggar Lake. It is located in East Belitung. Manggar City is not only about coffee. You can find a soothing lake as well. The locals call it Cermin Lake. Cermin means "mirror" in Indonesian. Due to its size and clarity, the lake becomes a great vacation spot for tourists. Visitors come to the lake either in the morning or evening. Each occasion offers a distinct beauty, after all.
The Nuance
When it comes to the appearance, Manggar Lake represents the clarity. The water is definitely stunning. At noon, you can see the sky reflection on the water surface. Thus, it is called Mirror Lake! The locals come here either to relax or suck in water. They bring a water pump to this lake. It is legal, after all. Not only it is beautiful, the lake offers a calm atmosphere. It is surrounded by shady trees and two towers. Tourists are allowed to climb the tower and enjoy the scenery from above. Dare you to try?
Exploring Manggar Lake
The lake is located near to local settlement. It is also near to an Islamic boarding school. Due to this reason, you may expect many visitors regardless of the time. It has a good accessibility, as well. That means all tourists can reach the lake without hassles. Some visitors are attracted to the history of the lake. The rumor has it. Manggar Lake was formed due to a fountain sprout. If you want to confirm this story, you can talk to nearby locals. They have different versions of story, though.
Next, Manggar Lake is a famous place for photography. You can find several spots for selfies or group photos. If you have no clue, you should ask your guide. He may help you to reach beautiful spots near to the lake. For the best results, a good camera is a must. Even though you lack photography skills, an excellent camera can take care of this weakness. If necessary, you should come with a professional. What about snacks?
Manggar Lake is located near to a famous restaurant. The name is Fega. Here, you can eat delicious foods while enjoying a calm nuance of the lake. You can even feel the wind. It is quite refreshing. In terms of size, the lake is indeed vast. The best place to eat is the top floor. It is because the views are better up there. It also features a wooden pier and some small boats. When it comes to the foods, the best options are seafood, satay, and fried rice.
Nearby Attractions

Manggar Coffee Shops
Kata Museum
Pice Dam
How to Get There
From Tanjung Pandan, it takes about 77 km. The best transportation is a car. Follow Badau Street to Ranggiang corner. From here, use Tengah Street to Manggar City. You can find the lake nearby. The whole trip takes about 1 hour and 30 minutes. It will be merrier if you come together in a group or family.
Where to Stay

Nusa Indah II Hotel
Oasis Hotel
Guest Hotel
Puri Indah Hotel

Latest News
Find the History of Bangka at the Pangkal Pinang Tin MuseumThe Tin Museum was officially opened on August 2, 1997. This museum displays the history of tin mining on Bangka Island which contains historical objects and tin mining dioramas. In addition, visitors can also watch the making of crafts from tin. The best part is that admission to the museum is free. In addition, if you want to find food around Bangka Belitung, there are many places to eat that you can choose from. The dining options available in Bangka-Belitung…
---
Have you ever visited Bangka Island? Bangka Belitung or Bangka Island is a province of Indonesia, which is located on the island of Sumatra. Although not as popular as Bali or Lombok, it has beautiful beaches, white sand, amazing coral reefs, and giant granite rocks. Some of them are rarely visited at all. To experience the untouched splendor of "Island of the Gods" at its best, travel with an experienced local guide, or arrange your own transportation. Enjoy the white sands of Bembang Beach in West BangkaBecause Bangka-Belitung has many…
---
Located in Muntok area in the northwest of the island of Bangka, Mount Menumbing has a height of about 355 meters above sea level. At Mount Menumbing, there is an exile pension of Indonesia's first President Bung Karno and Vice President Bung Hatta by the Dutch during 1948-1949 on the island of Bangka. The exile pension is guarded by the family who is also Abdi Dalem Sultan Palace of Yogyakarta, since generation to generation, where since day one they have responsibility to maintain Bung Karno and Bung Hatta during their…
---
Romodang Beach Romodang beach is located in Belinyu area, north Bangka 77 km from Sungailiat. We can see the very dramatic sunset at noon from this beach and those who like fishing, this is the perfect place to go for it. Moreover, this beach is always visited by those who want to spend time with family and friends for recreational holiday. One of characteristics from this beach is on the stone gate before reaching the beach. Local society call this gate as "Batu Belah Tangkup" or sandwich stone. Another characteristic…
---