Tanjung Pesona Beach in Sungai Liat District, Bangka Island
---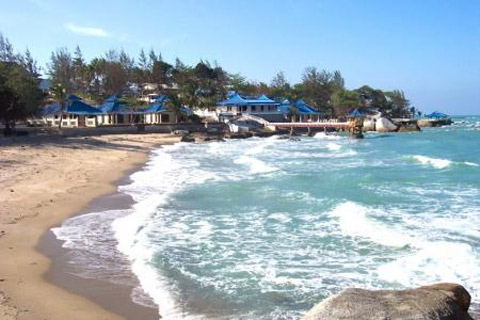 It is undeniable. Bangka Island holds numerous attractive tourist spots. Most of them are beaches. In Sungai Liat District, you can find Tanjung Pesona Beach. It is in Rambak Village. Tanjung means "cape" and Pesona means "charm". In a nutshell, it is a charming beach. The beach lies between Tikus Emas and Teluk Uber Beach. That means you can explore those beaches at one blow. The sea panorama may astonish you. The beach features big granites and beautiful landscape. There are reliable facilities, as well.
The Nuance
Tanjung Pesona Beach has similar characteristics to those of Belitung's beaches. That means you may expect some granites in the shorelines. Their size is big. Near to these stones, you can find shady trees. There is a unique characteristic, though. It is the pier. In the tip of this dock, you can find a small hut. It is the perfect spot for sea gazing. The color of the dock is mainly pier. Below, you can see some fishes swimming. It is because the water is crystal clear. The waves aren't too big, either.
Exploring Tanjung Pesona Beach
More visitors come to Tanjung Pesona Beach due to its excellent facilities and spending beauty. The beach features great hotels and resorts. Apart from those things, you can enjoy numerous water sports. These include canoeing, fishing, riding a banana boat, etc. All of them attract more families over time. Once you enjoy those activities, you can relax in the seashore. The sea water is clear and the coral reefs are gorgeous. Sungai Liat District must be proud of this tourist spot.
In terms of appearance, Tanjung Pesona Beach features unspoiled panorama. There are 3 levels of shorelines, in fact. The lower part is the home of sloping and sandy beach. The second level is the best place for relaxation. It features two gazebos jutting into the sea. Next, there is the upper part. You can find a formation of big granites. They make an exotic view. If you want to impress your spouse, you should bring him or her there. It emits a romantic sight, as well.
The last thing to do is to try Bangka's local foods. Some of you have heard about Bangka Noodle. Though, there are many other options. For instance, you have Lempah. It is famous for its flavorsome broth. It includes spices and seafood, as well. Next, there is Rusip. It is the combination of Javanese and Belitung spices. Thus, you may expect Gula Jawa in the recipe. Do you want more? There are other options like Kecalo and Balacan. All of these foods are available in hotels or eateries near to Tanjung Pesona Beach.
Nearby Attractions

Tikus Emas Beach
Teluk Uber Beach
Fathin Hill
How to Get There
First, you should visit Bangka Island. If you come from Belitung, you must ride either a ferry or a speedboat. From Pangkal Pinang, you must head to Sungai Liat District. The trip takes about an hour and the distance is 34 km. The last destination is Rambak Village. The beach is situated near to this settlement, after all.
Where to Stay

Citra Hotel
Mustika Hotel
City Garden Hotel

Latest News
Find the History of Bangka at the Pangkal Pinang Tin MuseumThe Tin Museum was officially opened on August 2, 1997. This museum displays the history of tin mining on Bangka Island which contains historical objects and tin mining dioramas. In addition, visitors can also watch the making of crafts from tin. The best part is that admission to the museum is free. In addition, if you want to find food around Bangka Belitung, there are many places to eat that you can choose from. The dining options available in Bangka-Belitung…
---
Have you ever visited Bangka Island? Bangka Belitung or Bangka Island is a province of Indonesia, which is located on the island of Sumatra. Although not as popular as Bali or Lombok, it has beautiful beaches, white sand, amazing coral reefs, and giant granite rocks. Some of them are rarely visited at all. To experience the untouched splendor of "Island of the Gods" at its best, travel with an experienced local guide, or arrange your own transportation. Enjoy the white sands of Bembang Beach in West BangkaBecause Bangka-Belitung has many…
---
Located in Muntok area in the northwest of the island of Bangka, Mount Menumbing has a height of about 355 meters above sea level. At Mount Menumbing, there is an exile pension of Indonesia's first President Bung Karno and Vice President Bung Hatta by the Dutch during 1948-1949 on the island of Bangka. The exile pension is guarded by the family who is also Abdi Dalem Sultan Palace of Yogyakarta, since generation to generation, where since day one they have responsibility to maintain Bung Karno and Bung Hatta during their…
---
Romodang Beach Romodang beach is located in Belinyu area, north Bangka 77 km from Sungailiat. We can see the very dramatic sunset at noon from this beach and those who like fishing, this is the perfect place to go for it. Moreover, this beach is always visited by those who want to spend time with family and friends for recreational holiday. One of characteristics from this beach is on the stone gate before reaching the beach. Local society call this gate as "Batu Belah Tangkup" or sandwich stone. Another characteristic…
---