Rambak Beach
---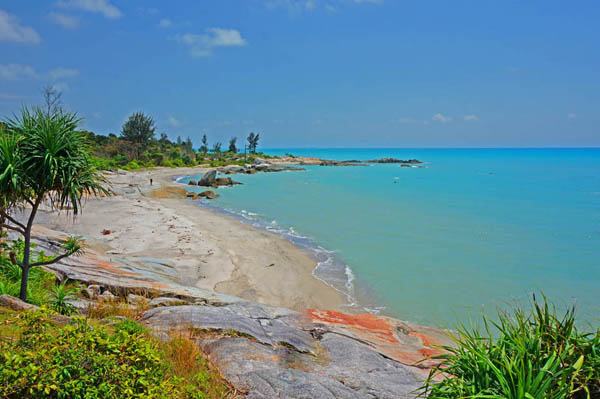 The beach is located in Matras Village, Sinar Jaya Urban Village of Sungailiat District, precisely at the northern east area of Bangka Island. Rambak beach has sloppy beach with white sand beautiful panorama. The beach is span 3 km long and 20-30 m wide.
Along the sight, when we visiting Rambak beach, there will be palm plant background and natural river flow generally called as Heaven's Beach and is the most visited beach in Bangka Regency.
Huge granite rocks protrude from the water in seeming contradiction to the beach's calm appearance. A clear, blue sky extends above the horizon, decorated sporadically with fluffy white clouds. Meanwhile, the outer edge of the beach is carpeted in grass and shaded leafy trees. Several small huts also line the outskirts of the beach together with simple stalls selling fresh food and cool beverages.
How to get there :
Fly to Depati Amir Airport in Pangkalpinang, capital city of Bangka-Belitung Province. This domestic airport is accessible from Jakarta, Batam and Palembang. The city of Sungailiat is about 30 kilometers from Pangkalpinang and can be reached by road in under an hour. Bangka and Belitung are known for high quality asphalt, so the drive will be very smooth. Travelling along a coastal road, you can enjoy the scenic view of large rivers, bridges and old, traditional houses.
Rambak Beach is about 15 minutes by road from the city of Sungailiat and is easily accessible by rental car or motorbike. The beach is not run under any specific management, so you are free to park where you like and enjoy the beach as you wish. There is not much public transportation on the island, so it is advisable to hire a car or motorcycle for the duration of your stay.

Latest News
Find the History of Bangka at the Pangkal Pinang Tin MuseumThe Tin Museum was officially opened on August 2, 1997. This museum displays the history of tin mining on Bangka Island which contains historical objects and tin mining dioramas. In addition, visitors can also watch the making of crafts from tin. The best part is that admission to the museum is free. In addition, if you want to find food around Bangka Belitung, there are many places to eat that you can choose from. The dining options available in Bangka-Belitung…
---
Have you ever visited Bangka Island? Bangka Belitung or Bangka Island is a province of Indonesia, which is located on the island of Sumatra. Although not as popular as Bali or Lombok, it has beautiful beaches, white sand, amazing coral reefs, and giant granite rocks. Some of them are rarely visited at all. To experience the untouched splendor of "Island of the Gods" at its best, travel with an experienced local guide, or arrange your own transportation. Enjoy the white sands of Bembang Beach in West BangkaBecause Bangka-Belitung has many…
---
Located in Muntok area in the northwest of the island of Bangka, Mount Menumbing has a height of about 355 meters above sea level. At Mount Menumbing, there is an exile pension of Indonesia's first President Bung Karno and Vice President Bung Hatta by the Dutch during 1948-1949 on the island of Bangka. The exile pension is guarded by the family who is also Abdi Dalem Sultan Palace of Yogyakarta, since generation to generation, where since day one they have responsibility to maintain Bung Karno and Bung Hatta during their…
---
Romodang Beach Romodang beach is located in Belinyu area, north Bangka 77 km from Sungailiat. We can see the very dramatic sunset at noon from this beach and those who like fishing, this is the perfect place to go for it. Moreover, this beach is always visited by those who want to spend time with family and friends for recreational holiday. One of characteristics from this beach is on the stone gate before reaching the beach. Local society call this gate as "Batu Belah Tangkup" or sandwich stone. Another characteristic…
---