Buding King's Tombstone in Kelapa Kampit District, East Belitung
---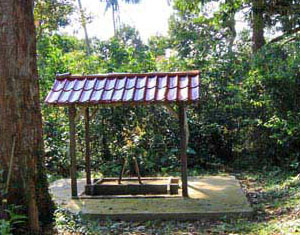 Bangka Belitung Province is as popular as Bali Island. It is the home of beautiful beaches and nature tourism. However, it is not only about beaches. In some parts of Belitung Island, tourists are able to enjoy religious tourism. Here is a reference. The name is Buding King's Tombstone. The location is in Buding Village. It belongs to Kelapa Kampit District. What you need to do is to head to the east part of the island. As the name cited, it is a gravestone of the king of Buding.
The Nuance
The tombstone is situated in the midst of a dense forest. That means you may expect lots of trees there. The size of the graveyard is small. A small hut protects it well. It was built on a concrete, actually. Near to the gravestone, there are bushes and trees. It feels like in a secluded area. All these features create a transcendent aura. No wonder, the locals consider it a sacred place. Many people look for inspirations and blessings there. What about you?
Exploring Buding King's Tombstone
Once you reach the location, you can witness a plain gravestone. The headstone doesn't feature any luxuries. It is made of wood, after all. The most interesting attraction is the history. According to Mr. Aris, the founder, he got a message after a prayer. He needed to find a headstone in his yard. Thus, he founded Buding King's Tombstone. No wonder, he had tried to build a building in that area but he failed. Such structure collapsed soon as if the tombstone didn't allow it. As a tourist, you can hear this story from him directly.
There are actually two tombstones. The first one belongs to Buding King. Another gravestone belongs to his wife. The name is Siti Maimunah. In terms of appearance, both of them are similar. Though, Siti's doesn't feature a shelter. Some tourists may wonder why these gravestones aren't located close to each other. There are many speculations, actually. The caretaker may say it is because of an unhealthy relationship between them. Still, there is no valid information about it. No knows when those people died.
Once you visit Buding King's Tombstone, it is time to conduct an adventure. This sacred place is located in the midst of lush environment. Why don't you take an opportunity from it? That means you can do trekking freely. In this case, you should have prepared the equipment. The terrain isn't as difficult as other trekking sites. Still, you need comfortable footwear and some refreshments. These help you a lot while trekking near to such location.
Nearby Attractions

Bukit Batu Beach
Kwam Im Monastery
Burung Mandi Beach
How to Get There
Buding King's Tombstone is located in Kelapa Kampit District. From Tanjung Pandan City, you should take Sudirman Street. Next, follow Bandara – Manggar District. It takes about 50 minutes. The tombstone is actually situated in a private's land. It belongs to Mr. Aris. A simple characteristic of the gravestone is its cupola. Once you see it, you have already arrived at your destination.
Where to Stay

Max One Hotel
Horison Hotel Belitung

Latest News
Find the History of Bangka at the Pangkal Pinang Tin MuseumThe Tin Museum was officially opened on August 2, 1997. This museum displays the history of tin mining on Bangka Island which contains historical objects and tin mining dioramas. In addition, visitors can also watch the making of crafts from tin. The best part is that admission to the museum is free. In addition, if you want to find food around Bangka Belitung, there are many places to eat that you can choose from. The dining options available in Bangka-Belitung…
---
Have you ever visited Bangka Island? Bangka Belitung or Bangka Island is a province of Indonesia, which is located on the island of Sumatra. Although not as popular as Bali or Lombok, it has beautiful beaches, white sand, amazing coral reefs, and giant granite rocks. Some of them are rarely visited at all. To experience the untouched splendor of "Island of the Gods" at its best, travel with an experienced local guide, or arrange your own transportation. Enjoy the white sands of Bembang Beach in West BangkaBecause Bangka-Belitung has many…
---
Located in Muntok area in the northwest of the island of Bangka, Mount Menumbing has a height of about 355 meters above sea level. At Mount Menumbing, there is an exile pension of Indonesia's first President Bung Karno and Vice President Bung Hatta by the Dutch during 1948-1949 on the island of Bangka. The exile pension is guarded by the family who is also Abdi Dalem Sultan Palace of Yogyakarta, since generation to generation, where since day one they have responsibility to maintain Bung Karno and Bung Hatta during their…
---
Romodang Beach Romodang beach is located in Belinyu area, north Bangka 77 km from Sungailiat. We can see the very dramatic sunset at noon from this beach and those who like fishing, this is the perfect place to go for it. Moreover, this beach is always visited by those who want to spend time with family and friends for recreational holiday. One of characteristics from this beach is on the stone gate before reaching the beach. Local society call this gate as "Batu Belah Tangkup" or sandwich stone. Another characteristic…
---