Hotels In Bangka Belitung
---
Santika Hotel Bangka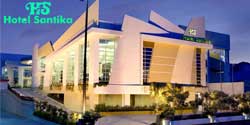 The elegant hotel on Bangka Island, Santika Hotel Bangka is just minutes from some of Indonesia's most stunning beaches. On the outskirts of Pangkal Pinang, this modern hotel with a white facade is 2 kilometers from Girimaya Golf Course, 9 kilometers from Bangka Botanical Garden, and 11 kilometers from Pasir Padi Beach. The laid-back, unfussy rooms have neutral decor with natural tones, along with free Wi-Fi, flat-screen TVs, and tea and coffeemaking facilities.
Jl. Raya Soekarno Hatta, Km.5 No. 17 Bangka Tengah, Bangka Belitung 33172 Indonesia
Phone: +62 717 4256888
Web: www.santika.com
BW Suite Belitung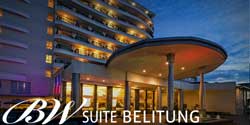 Overlooking the sea, this relaxed hotel in a low-key building is 1.9 kilometes from Pantai Tanjung Pendam beach and 17 kilometers from HAS Hanandjoeddin Airport. The richness of Belitung Island makes the pride for BW Suite Belitung to be the part of the Island. Completed with 202 rooms for guests which divided to Superior Room, Deluxe Room, Executive Room, Governor Rooms, and Penthouse, BW Suite Belitung is the right choice of accommodation during your trip to Belitung.
Jl. Patimura, Tj. Pendam, Tanjung Pandan Belitung, Bangka Belitung 33414 Indonesia
Phone: +62 719 23898
Web: www.bwsuitebelitung.com
Golden Tulip Essential Belitung Hotel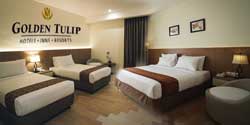 A 3-star International Chain Hotel in Belitung, Golden Tulip Essential Belitung Hotel located in a quiet seaside location of bustling Tanjung Pandan. The strategic location with easy access to natural beauty of city center and walking disctance to leisure place Tanjung Pendam Beach is the perfect place with both business and leisure travellers. The Golden Tulip Essential Belitung Hotel offers 76 minimalis concept and contemporary interior.
Jl. Seroja A88-A90 Tanjung Pendam - Tanjung Pandan Belitung, Bangka Belitung 33411 Indonesia
Phone: +62 719 9301122
Web: www.goldentulipbilliton.com
Novotel Bangka Hotel & Convention Center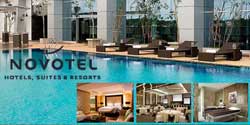 Located in Pangkal Pinang, the largest city on Bangka island. The hotel boasts Indonesian elegance and can host all your events from weddings to meetings and exhibitions. An outdoor pool also awaits you. Choose from stylish rooms, suites or VIP executive lounges for a relaxing stay at Novotel.
Jl. Soekarno Hatta KM. 5 Bangka Tengah, Bangka Belitung 33172 Indonesia
Phone: +62 717 436888
Web: www.novotel.com

Latest News
Find the History of Bangka at the Pangkal Pinang Tin MuseumThe Tin Museum was officially opened on August 2, 1997. This museum displays the history of tin mining on Bangka Island which contains historical objects and tin mining dioramas. In addition, visitors can also watch the making of crafts from tin. The best part is that admission to the museum is free. In addition, if you want to find food around Bangka Belitung, there are many places to eat that you can choose from. The dining options available in Bangka-Belitung…
---
Have you ever visited Bangka Island? Bangka Belitung or Bangka Island is a province of Indonesia, which is located on the island of Sumatra. Although not as popular as Bali or Lombok, it has beautiful beaches, white sand, amazing coral reefs, and giant granite rocks. Some of them are rarely visited at all. To experience the untouched splendor of "Island of the Gods" at its best, travel with an experienced local guide, or arrange your own transportation. Enjoy the white sands of Bembang Beach in West BangkaBecause Bangka-Belitung has many…
---
Located in Muntok area in the northwest of the island of Bangka, Mount Menumbing has a height of about 355 meters above sea level. At Mount Menumbing, there is an exile pension of Indonesia's first President Bung Karno and Vice President Bung Hatta by the Dutch during 1948-1949 on the island of Bangka. The exile pension is guarded by the family who is also Abdi Dalem Sultan Palace of Yogyakarta, since generation to generation, where since day one they have responsibility to maintain Bung Karno and Bung Hatta during their…
---
Romodang Beach Romodang beach is located in Belinyu area, north Bangka 77 km from Sungailiat. We can see the very dramatic sunset at noon from this beach and those who like fishing, this is the perfect place to go for it. Moreover, this beach is always visited by those who want to spend time with family and friends for recreational holiday. One of characteristics from this beach is on the stone gate before reaching the beach. Local society call this gate as "Batu Belah Tangkup" or sandwich stone. Another characteristic…
---