Balok Lama Forest in Dendang District, Belitung Island
---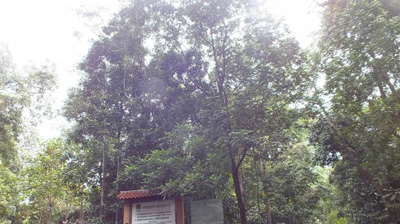 Dendang District offers a unique vacation destination. The name is Balok Lama Forest. The location is in Balok Village. It is the home of nature beauty and a thick forest. In terms of appearance, it is similar to Bogor Botanical Garden. Not to mention it features sacred tombstones like King Gede Yakub and Syeh Abdul Samsudin. The trees make that place more interesting. It seems that you are likely to have a wonderful adventure in the midst of a forest.
The Nuance
The overall size of Balok Lama Forest is 40 hectares. It features an easy route, so everyone can reach this location easily. You can use either a motorcycle or a car. The forest is situated near to Balok Village. That means tourists can find and hire a tour guide there. Near to it, there is a palm plantation. In front of the forest, there is a huge gate. It has the color of green. Once you enter it, you can feel refreshing ambiance in an instant!
Exploring Balok Lama Forest
The first thing to do is relaxation. Most of the visitors come to Balok Lama Forest to find peace. It is an ideal place for a vacation retreat, after all. The soothing atmosphere and shady trees become a great combination. You can simply walk around the forest and enjoy its nuance. In some occasions, the birds sing beautifully. It also becomes a good location for a family trip. Your kids would love to explore the wilderness. On top of that, you can introduce Balok's history to them.
Next, it is religious tourism. Balok Lama Forest is the home of ancient tombstones. There are two famous gravestones. They belong to the first King of Balok and his friend. Most of the visitors come to this location for a pilgrimage. In fact, some of them give a prayer for prosperity and health. No wonder, the forest emits a mystical aura. Despite this condition, tourists keep coming there. It is because they are curious about it. What about you?
Another lure in Balok Lama Forest is the history. Some historians and tourists visit it for gathering information about the Balok Kingdom. The thing is it was the first Kingdom in Belitung Island. The size of this empire is about 40 hectares. In the past, people of Balok performed farming and mining. Due to their richness in natural resources, some foreign countries came to Belitung. This included the Dutch. This story is considered amusing for tourists. You can learn and hear it from the locals.
Nearby Attractions

Hanggar 21 Hotel
Demuon Hotel
Golden Tulip Hotel
How to Get There
Your primary destination is Dendang District. Have no worries. It is located near to Pangkal Pinang. The trip is going to be smooth and comfortable. It takes about 46-50 minutes and the distance is 40.1 km. The fastest route is through Badau and Dendang Street, actually. Once you reach Balok Lama Village, it takes a few minutes to reach the forest. Make sure to carry foods and drinks as you are going to explore dense trees.
Where to Stay

Horison Belitung Hotel
Hanggar 21

Latest News
Find the History of Bangka at the Pangkal Pinang Tin MuseumThe Tin Museum was officially opened on August 2, 1997. This museum displays the history of tin mining on Bangka Island which contains historical objects and tin mining dioramas. In addition, visitors can also watch the making of crafts from tin. The best part is that admission to the museum is free. In addition, if you want to find food around Bangka Belitung, there are many places to eat that you can choose from. The dining options available in Bangka-Belitung…
---
Have you ever visited Bangka Island? Bangka Belitung or Bangka Island is a province of Indonesia, which is located on the island of Sumatra. Although not as popular as Bali or Lombok, it has beautiful beaches, white sand, amazing coral reefs, and giant granite rocks. Some of them are rarely visited at all. To experience the untouched splendor of "Island of the Gods" at its best, travel with an experienced local guide, or arrange your own transportation. Enjoy the white sands of Bembang Beach in West BangkaBecause Bangka-Belitung has many…
---
Located in Muntok area in the northwest of the island of Bangka, Mount Menumbing has a height of about 355 meters above sea level. At Mount Menumbing, there is an exile pension of Indonesia's first President Bung Karno and Vice President Bung Hatta by the Dutch during 1948-1949 on the island of Bangka. The exile pension is guarded by the family who is also Abdi Dalem Sultan Palace of Yogyakarta, since generation to generation, where since day one they have responsibility to maintain Bung Karno and Bung Hatta during their…
---
Romodang Beach Romodang beach is located in Belinyu area, north Bangka 77 km from Sungailiat. We can see the very dramatic sunset at noon from this beach and those who like fishing, this is the perfect place to go for it. Moreover, this beach is always visited by those who want to spend time with family and friends for recreational holiday. One of characteristics from this beach is on the stone gate before reaching the beach. Local society call this gate as "Batu Belah Tangkup" or sandwich stone. Another characteristic…
---