Gunung Pading Waterfall in Air Tegas District, Bangka Island
---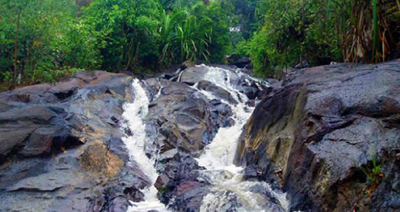 If you love nature tourism, you should visit Gunung Pading Waterfall in Air Tegas District. To be exact, it is located in Mayang Village, Bangka Island. Apart from its beauty, the waterfall is known for its solemn nature. Many tourists come here for recreation. Also, the government takes advantage of it as a natural power generator. Thanks to its force! In order to reach the falls, you must pass through stunning terrains. It is going to be a beautiful trip. Not to mention you have an opportunity to explore nearby interesting spots.
The Nuance
Once you have arrived at Gunung Pading Waterfall, you can feel its natural ambiance. It is surrounded by green plants and several trees. The atmosphere is refreshing so you can relax near to the falls. Unlike regular waterfalls, it doesn't feature falling water. Instead, the water flows swiftly from a higher area into the lower area. It is similar to a river, actually. The terrain features big river rocks. They are slippery, so you must be careful when climbing or walking on them.
Exploring Gunung Pading Waterfall
One of the best features is the flow of water. It is soft and cool. Visitors are allowed to touch and play in the water. This also becomes a perfect background for photography. You need only to stand in front of the falls and let your friend take a picture of you. For the best results, make sure you come at noon. It is because the sun ray will be reflected beautifully on the falls. If you look for more refreshing water, then you should come in the morning.
In holidays, Gunung Pading Waterfall has many visitors. Recently, the number of visitors increases. That means it gains more popularity over time. For those who love trekking, this area becomes an ideal choice. Even though it doesn't feature a good accessibility, trekkers would love it. What you need is proper footwear. Some parts of the falls are slippery. Also, you must carry extra clothes. It is likely you are going to be wet.
Gunung Pading Waterfall is about 60 km from Toboali City. If you come from there, you must spend 1-2 hours. Along the way, you can see beautiful nature. The trees are green and the atmosphere is chilling. Here are the tips. Make sure you come in a perfect weather. Don't come in rainy season as the route is more glistening. You don't want to get hurt, do you? Also, it is wise to carry foods and bottled drink. It is because you won't find food vendors near to the falls.
Nearby Attractions

Tanjung Berikat Beach
Air Bara Kaolin Lake
How to Get There
In order to reach Gunung Pading Waterfall, you must head to Mayang Village. From Pangkal Pinang, you can directly reach Air Tegas District, South Bangka. The distance is 109 km. That means the trip may take about 2 hours and 20 minutes. With a car, it can be a little bit faster. The route is Namang – Koba Street. Next, you can use Raya Gadung Street.
Where to Stay

Novotel Bangka
Grand Mutiara Hotel
Menumbing Heritage Hotel

Latest News
Find the History of Bangka at the Pangkal Pinang Tin MuseumThe Tin Museum was officially opened on August 2, 1997. This museum displays the history of tin mining on Bangka Island which contains historical objects and tin mining dioramas. In addition, visitors can also watch the making of crafts from tin. The best part is that admission to the museum is free. In addition, if you want to find food around Bangka Belitung, there are many places to eat that you can choose from. The dining options available in Bangka-Belitung…
---
Have you ever visited Bangka Island? Bangka Belitung or Bangka Island is a province of Indonesia, which is located on the island of Sumatra. Although not as popular as Bali or Lombok, it has beautiful beaches, white sand, amazing coral reefs, and giant granite rocks. Some of them are rarely visited at all. To experience the untouched splendor of "Island of the Gods" at its best, travel with an experienced local guide, or arrange your own transportation. Enjoy the white sands of Bembang Beach in West BangkaBecause Bangka-Belitung has many…
---
Located in Muntok area in the northwest of the island of Bangka, Mount Menumbing has a height of about 355 meters above sea level. At Mount Menumbing, there is an exile pension of Indonesia's first President Bung Karno and Vice President Bung Hatta by the Dutch during 1948-1949 on the island of Bangka. The exile pension is guarded by the family who is also Abdi Dalem Sultan Palace of Yogyakarta, since generation to generation, where since day one they have responsibility to maintain Bung Karno and Bung Hatta during their…
---
Romodang Beach Romodang beach is located in Belinyu area, north Bangka 77 km from Sungailiat. We can see the very dramatic sunset at noon from this beach and those who like fishing, this is the perfect place to go for it. Moreover, this beach is always visited by those who want to spend time with family and friends for recreational holiday. One of characteristics from this beach is on the stone gate before reaching the beach. Local society call this gate as "Batu Belah Tangkup" or sandwich stone. Another characteristic…
---