Syekh Abdul Jabar Samsudin's Tombstone in East Belitung
---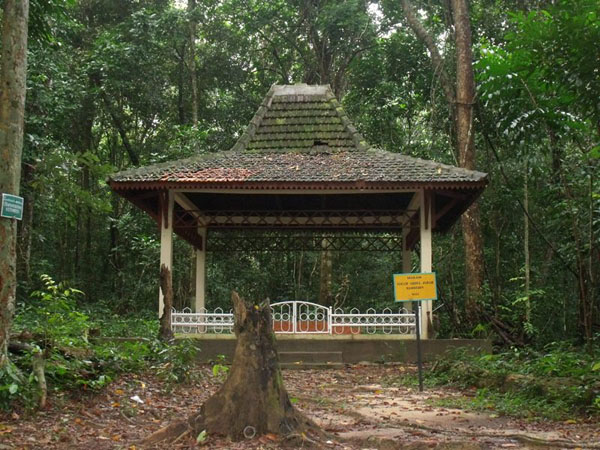 East Belitung holds several sacred tombstones. If you visit Balok Village, you can find Syekh Abdul Jabar Samsudin's tombstone. It is part of Dendang District. Visitors come to that location for numerous reasons. For example, they want to look for blessings. Some of them are looking for prosperity. Regardless of the purposes, such sacred gravestone is indeed interesting. Plus, it is surrounded by solemn nature and mystical ambiance. Are you interested in visiting it? At least, you can learn a story about Abdul Jabar.
The Nuance
Syekh Abdul Jabar Samsudin's tombstone is bigger than other sacred gravestones in East Belitung. It comes in a better condition, as well. The locals have installed ceramic tiles on it. The structure is big, so it protects all parts of the resting place. The fence is white but small. Tourists aren't allowed to enter it without permission. When it is about the nuance, you can feel soothing ambiance due to the thick trees. It feels like in the midst of a jungle.
Exploring Syekh Abdul Jabar Samsudin's Tombstone
What is the reason to visit the tombstone? Most of the visitors come there due to its sacredness. They look for blessings and good lucks. Even though you don't believe such things, you should not miss that opportunity. Next, tourists are able to learn the history. Abdul Jabar was considered the first missionary of Islam in Balok. According to the caretaker, Abdul came from Brunei Darussalam. This man traveled to Malaysia, Java Island, and Balok. His mission is to spread Islam.
The next unique thing of Syekh Abdul Jabar Samsudin's Tombstone is the architecture. It has a similar cupola to that of Balok King's Tombstone. It is because both of the structures were constructed in conformity. Next, it is the serene ambiance. This area is suitable for finding peace and self-reflection. Near to the tombstone, you may see the ruins of a structure. Despite these unsightly things, the environment is indeed soothing. There are no other buildings near to this tombstone. You can only find several trees. They will be a natural shield against sun rays.
Another unique part is its mori clothes. These cover the headstone partly. Each tombstone has them. Though, they don't come in a good condition. Their color starts darkening. The thing is they emit a mystical aura. In fact, some visitors consider them creepy. That doesn't stop you from coming to Syekh Abdul Jabar Samsudin's Tombstone, right? Once you visit the gravestone, it is time to explore the forest. The name is Balok Lama Forest. The rumor has it. There is a mystical creature living there. The locals call her Putri Bunga!
Nearby Attractions

Balok's King Tombstone
Balok Lama Forest
Batu Mentas
Kaolin Lake
Pice Dam
How to Get There
Your primary destination is Dendang District. From Tanjung Pandang City, you must take Badau and Dedang Street. This fastest route takes about 50 minutes. Once you reach Dendang, you must head to Balok Village. From here, you need to walk to the tombstone. You should pass some thick trees, as well.
Where to Stay

Horison Belitung
Hanggar 21 Hotel

Latest News
Find the History of Bangka at the Pangkal Pinang Tin MuseumThe Tin Museum was officially opened on August 2, 1997. This museum displays the history of tin mining on Bangka Island which contains historical objects and tin mining dioramas. In addition, visitors can also watch the making of crafts from tin. The best part is that admission to the museum is free. In addition, if you want to find food around Bangka Belitung, there are many places to eat that you can choose from. The dining options available in Bangka-Belitung…
---
Have you ever visited Bangka Island? Bangka Belitung or Bangka Island is a province of Indonesia, which is located on the island of Sumatra. Although not as popular as Bali or Lombok, it has beautiful beaches, white sand, amazing coral reefs, and giant granite rocks. Some of them are rarely visited at all. To experience the untouched splendor of "Island of the Gods" at its best, travel with an experienced local guide, or arrange your own transportation. Enjoy the white sands of Bembang Beach in West BangkaBecause Bangka-Belitung has many…
---
Located in Muntok area in the northwest of the island of Bangka, Mount Menumbing has a height of about 355 meters above sea level. At Mount Menumbing, there is an exile pension of Indonesia's first President Bung Karno and Vice President Bung Hatta by the Dutch during 1948-1949 on the island of Bangka. The exile pension is guarded by the family who is also Abdi Dalem Sultan Palace of Yogyakarta, since generation to generation, where since day one they have responsibility to maintain Bung Karno and Bung Hatta during their…
---
Romodang Beach Romodang beach is located in Belinyu area, north Bangka 77 km from Sungailiat. We can see the very dramatic sunset at noon from this beach and those who like fishing, this is the perfect place to go for it. Moreover, this beach is always visited by those who want to spend time with family and friends for recreational holiday. One of characteristics from this beach is on the stone gate before reaching the beach. Local society call this gate as "Batu Belah Tangkup" or sandwich stone. Another characteristic…
---