Rebo Village
---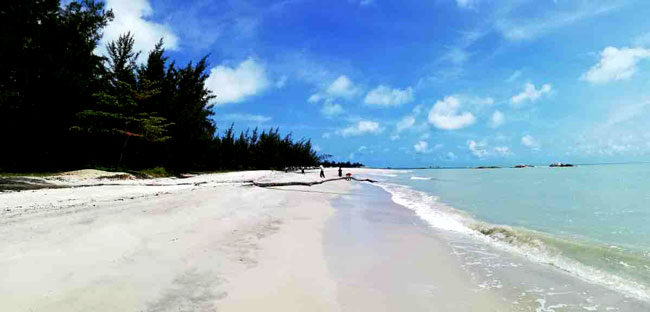 Explore the hidden gem of Rebo village in Bangka Belitung. In Rebo village, you will be immersed in the local traditions of the area and discover solitude beaches allowing for privacy and peace for you and your fellow travelers. The village is located south of Sungailiat city and 30 kilometers from Pangkal Pinang.
Rebo village has a population of 4562 people. The local villagers work mainly as fisherman, farmers or as tin miners. Tin mining is an important part of the history of Rebo and dates back to 1950 during the Dutch occupation. At present, Bangka Belitung is the largest exporter of tin in the world.
Another characteristic of Rebo village is the melting pot of different cultures living together in harmony. The majority of the residents of Rebo village are Chinese and Muslim. This creates an unique experience with mosques and temples alongside each other on the same streets.
The diversity of religions can even be found inside the temples. In the Puri Tri Agung temple three different Chinese beliefs, Buddhism, Confucianism, and Taoism, come together to pray. Besides that, the temple is an inspirational and tolerant place, the temple also gives an uncanny view of the perfectly turquoise ocean.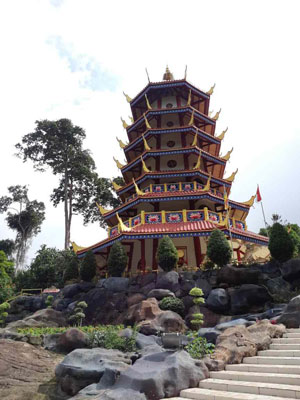 Rebo village has three main beaches: Pantai Takari, Pantai Tikus Emus and Pantai Mang Kalok. However, more adventures can be found by exploring the coastline for smaller unknown beaches. The seaside of Rebo village is soft and sandy and it is surrounded by deep blue water which creates the perfect environment to swim, snorkel and dive.
The shops of Rebo village are filled with Kemplang. Kemplang is a typical cracker from Bangka made from tapioca, fresh fish or squid, flavoring, and salt. The cracker is baked in sand which creates its unique crunchy bite. You can witness the production process at one of the many Kemplang factories. The local factory owners are very welcoming and love to show you around.
The fact that this village is not a highly developed touristic spot allows you to witness the real daily life of the villagers. The people are sincerely interested in foreigners and they are enthusiastic to share their culture. The absence of tourists creates also a calm environment, so you can fully enjoy the temples and beaches to relax. So visit Rebo village for an authentic experience of Indonesia.
Nearby attractions

Puri Tri Agung temple
Jaya Bhakti temple
Pagoda Nusantara
Pantai Takari
Pantai Tikus Emus
Pantai Mang Kalok
How to Get There
Rebo village is located closely to Pangkal Pinang City. It is a 40 minutes scooter ride about 30 kilometers. It is easy, because it is one straight line on the main road. The road is well maintained, so you don't have to worry about your bike.
Where to Stay
Tourism in Rebo village is limited. Therefore stay at a homestay and integrate into the local culture.
If you are seeking more comfort, you can stay in a hotel in Sungailiat. The city is 10 minutes away by bike. You can also choose the nearest resort, Tanjung Pesona resort, that we strongly recommend.

Latest News
Find the History of Bangka at the Pangkal Pinang Tin MuseumThe Tin Museum was officially opened on August 2, 1997. This museum displays the history of tin mining on Bangka Island which contains historical objects and tin mining dioramas. In addition, visitors can also watch the making of crafts from tin. The best part is that admission to the museum is free. In addition, if you want to find food around Bangka Belitung, there are many places to eat that you can choose from. The dining options available in Bangka-Belitung…
---
Have you ever visited Bangka Island? Bangka Belitung or Bangka Island is a province of Indonesia, which is located on the island of Sumatra. Although not as popular as Bali or Lombok, it has beautiful beaches, white sand, amazing coral reefs, and giant granite rocks. Some of them are rarely visited at all. To experience the untouched splendor of "Island of the Gods" at its best, travel with an experienced local guide, or arrange your own transportation. Enjoy the white sands of Bembang Beach in West BangkaBecause Bangka-Belitung has many…
---
Located in Muntok area in the northwest of the island of Bangka, Mount Menumbing has a height of about 355 meters above sea level. At Mount Menumbing, there is an exile pension of Indonesia's first President Bung Karno and Vice President Bung Hatta by the Dutch during 1948-1949 on the island of Bangka. The exile pension is guarded by the family who is also Abdi Dalem Sultan Palace of Yogyakarta, since generation to generation, where since day one they have responsibility to maintain Bung Karno and Bung Hatta during their…
---
Romodang Beach Romodang beach is located in Belinyu area, north Bangka 77 km from Sungailiat. We can see the very dramatic sunset at noon from this beach and those who like fishing, this is the perfect place to go for it. Moreover, this beach is always visited by those who want to spend time with family and friends for recreational holiday. One of characteristics from this beach is on the stone gate before reaching the beach. Local society call this gate as "Batu Belah Tangkup" or sandwich stone. Another characteristic…
---