Balok King's Tombstone in Dendang District, East Belitung
---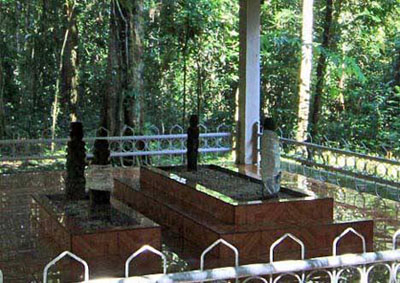 A vacation to Belitung Island is worth a thousand of fun. It is because you can find limitless tourist spots. Beaches and mountains are common options, for sure. However, you can enjoy religious tourism as well. Dendang District, there is a famous site called Balok King's Tombstone. It is situated in Balok Village. As the name suggests, it is an emperor's gravestone. This unique cenotaph is situated in the midst of a forest. Local government takes a good care of this area. That means you can expect a soothing environment there.
The Nuance
Once you reach the tombstone, you can see a wooden nameplate. It shows information regarding the site, which is Ka Gede Yakub. He was the first king of Balok. Another data is the year of his birth and death. It is written 1618-1661. That means Yakub lived for 43 years. Next, it is the tombstone. An open structure protects the graveyard so it is safe from the rains and heat. Even though there is no written restriction, tourists shouldn't act carelessly near to it.
Exploring Balok King's Tombstone
Most tourists come there for religious tourism. It becomes a good place to find peace. Actually, there are two tombstones in that location. They are located close to each other. The big one belongs to Ki Gede Yakub. The smaller one belongs to his wife, Nyi Ayu Kusuma. For more information, you can talk to the keeper. Both of the tombstones emit magical ambiance as if they are touching your soul.
The tombstone has been an interesting religious site in East Belitung. Well, each person has a distinct reason for visiting such place. It can be as simple as spiritual relaxation. That means you can replenish your divine quality. At least, that tombstone can remind you of the ethereal realm. This makes you closer to God. Not to mention you can learn the culture and history of the first Balok's King. There is a caretaker nearby. He is your source of information.
Balok King's Tombstone is indeed a historical site. It holds an important story, as well. Perhaps some of you have learned it from a book. Though, it will be interesting if you could see the tombstone directly. Balok is a unique name. It means a beam. According to the locals, the king threw a golden beam into a river. It was because his sons fought to each other in order to own such valuable thing. Though, it is only a story. No one knows the real meaning behind the name.
Nearby Attractions

Batu Mentas
Pice Dam
Kaolin Lake
Syekh Abdul Jabar Samsudin
How to Get There
Your destination is definitely Dendang District. If you come from Tanjung Pandan City, you must take Badau and Dendang Street. This is the fastest route to reach the Balok King's Tombstone. The trip takes less than an hour. The distance is about 41 km. Next, you must head to Balok Village. It takes a little bit trekking to reach such sacred gravestone. Have no fear. It is a worthy effort.
Where to Stay

Horison Belitung
Hanggar 21 Hotel

Latest News
Find the History of Bangka at the Pangkal Pinang Tin MuseumThe Tin Museum was officially opened on August 2, 1997. This museum displays the history of tin mining on Bangka Island which contains historical objects and tin mining dioramas. In addition, visitors can also watch the making of crafts from tin. The best part is that admission to the museum is free. In addition, if you want to find food around Bangka Belitung, there are many places to eat that you can choose from. The dining options available in Bangka-Belitung…
---
Have you ever visited Bangka Island? Bangka Belitung or Bangka Island is a province of Indonesia, which is located on the island of Sumatra. Although not as popular as Bali or Lombok, it has beautiful beaches, white sand, amazing coral reefs, and giant granite rocks. Some of them are rarely visited at all. To experience the untouched splendor of "Island of the Gods" at its best, travel with an experienced local guide, or arrange your own transportation. Enjoy the white sands of Bembang Beach in West BangkaBecause Bangka-Belitung has many…
---
Located in Muntok area in the northwest of the island of Bangka, Mount Menumbing has a height of about 355 meters above sea level. At Mount Menumbing, there is an exile pension of Indonesia's first President Bung Karno and Vice President Bung Hatta by the Dutch during 1948-1949 on the island of Bangka. The exile pension is guarded by the family who is also Abdi Dalem Sultan Palace of Yogyakarta, since generation to generation, where since day one they have responsibility to maintain Bung Karno and Bung Hatta during their…
---
Romodang Beach Romodang beach is located in Belinyu area, north Bangka 77 km from Sungailiat. We can see the very dramatic sunset at noon from this beach and those who like fishing, this is the perfect place to go for it. Moreover, this beach is always visited by those who want to spend time with family and friends for recreational holiday. One of characteristics from this beach is on the stone gate before reaching the beach. Local society call this gate as "Batu Belah Tangkup" or sandwich stone. Another characteristic…
---