Ketawai Island in Koba District, Bangka Island
---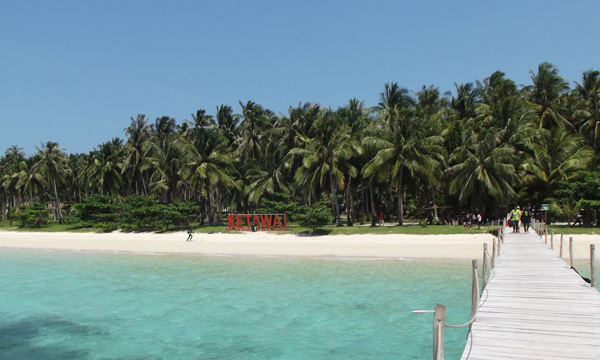 There are many things to do in Bangka Island. If you are looking for nature tourism, you must head to Ketawai Island. The location is in Koba District. It is known as the home of unspoiled nautical beauty. Due to this reason, most of the visitors come there for snorkeling. It is also a perfect location for relaxation. Thanks to its solemn nature. Another favorite activity is the underwater photography. Thus, you may expect many visitors on the island. It is a small piece of paradise in Bangka Belitung Province.
The Nuance
The most noticeable feature in Ketawai Island is its huge nameplate. It says "KETAWAI". This orange sign becomes a symbol of the island. In the back, you can find different types of trees. The most dominant one is a formation of coconut trees. If you come at the right time, you can drink fresh coconut near to the seashore. In fact, there are some benches nearby. When it comes to seawater, it is blue and clear. The waves are small, so you can play in the water. Have no fear. It is safe
Exploring Ketawai Island
One of the reasons to visit Ketawai Island is the trip. Your journey is going to be fun and meaningful. Along the way, you may encounter a formation of mangroves. In the sea, there are some fishermen on their boats. It is a unique sight! Once you reach the location, you can see unspoiled loveliness. The island offers many types of adventure. First things come first. You must replenish your stamina. The trip makes you tired, for sure. Here is an idea. Why don't you grab some fresh coconut drinks? These are available in Ketawai!
Once you enjoy cold drinks, it is time to your first activity. Ketawai Island is famous for its stunning beach. The water is quite tempting, too. Most of the tourists love snorkeling. You can do this, as well. One thing, you should have prepared your snorkeling gears beforehand. The water offers moderate visibility. Everyone can see coral reefs and fishes clearly. If you don't like snorkeling, there is a jet ski. You can explore the shorelines with it. Make sure to pay the rent fee, though.
What's next? In Ketawai Island, tourists are allowed to camp! The island features a vast land, so it is suitable for camping. Once again, you must prepare the gears and equipment. A camping ground in Ketawai becomes more popular these days. That means tourists don't need a hotel room. On top of that, it is an opportunity to get closer to nature. 
Nearby Attractions
Tanjung Berikat Beach
Pading Hill
Sumur Tujuh Koba Beach
Sedap Koba Waterfall
How to Get There

Ketawai Island belongs to Koba District. If you come from Pangkal Pinang, you should spend at least 1 hour and 10 minutes. The distance from the main city is 55 km. It can be faster with usual traffic. The route is Pangkal Pinang – Namang Street. Next, you should turn to Koba Street. The last journey involves a local fisherman's boat. You can rent them affordably. 
Where to Stay
Menumbing Heritage Hotel
Grand Mutiara Hotel
Tanjung Berikat Resort
Novotel Bangka

Latest News
Find the History of Bangka at the Pangkal Pinang Tin MuseumThe Tin Museum was officially opened on August 2, 1997. This museum displays the history of tin mining on Bangka Island which contains historical objects and tin mining dioramas. In addition, visitors can also watch the making of crafts from tin. The best part is that admission to the museum is free. In addition, if you want to find food around Bangka Belitung, there are many places to eat that you can choose from. The dining options available in Bangka-Belitung…
---
Have you ever visited Bangka Island? Bangka Belitung or Bangka Island is a province of Indonesia, which is located on the island of Sumatra. Although not as popular as Bali or Lombok, it has beautiful beaches, white sand, amazing coral reefs, and giant granite rocks. Some of them are rarely visited at all. To experience the untouched splendor of "Island of the Gods" at its best, travel with an experienced local guide, or arrange your own transportation. Enjoy the white sands of Bembang Beach in West BangkaBecause Bangka-Belitung has many…
---
Located in Muntok area in the northwest of the island of Bangka, Mount Menumbing has a height of about 355 meters above sea level. At Mount Menumbing, there is an exile pension of Indonesia's first President Bung Karno and Vice President Bung Hatta by the Dutch during 1948-1949 on the island of Bangka. The exile pension is guarded by the family who is also Abdi Dalem Sultan Palace of Yogyakarta, since generation to generation, where since day one they have responsibility to maintain Bung Karno and Bung Hatta during their…
---
Romodang Beach Romodang beach is located in Belinyu area, north Bangka 77 km from Sungailiat. We can see the very dramatic sunset at noon from this beach and those who like fishing, this is the perfect place to go for it. Moreover, this beach is always visited by those who want to spend time with family and friends for recreational holiday. One of characteristics from this beach is on the stone gate before reaching the beach. Local society call this gate as "Batu Belah Tangkup" or sandwich stone. Another characteristic…
---