Kepayang Island
---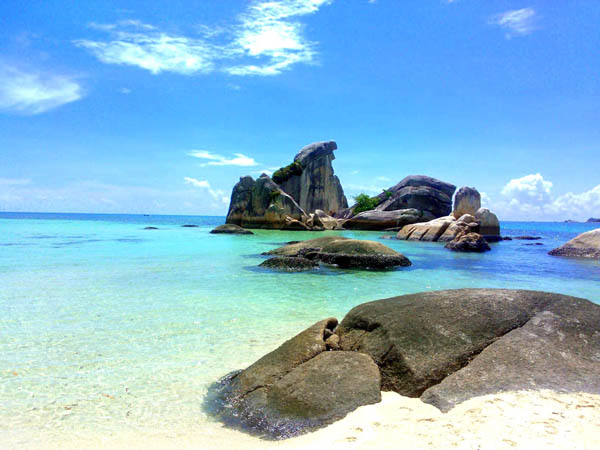 Kepayang Island is the largest island among dozens of small clusters and exotic islands in the North Belitung. The island is also being called as Pulau Babi or Pig Island. The area of the island is approximately 14 hectares with some interesting beach side.
This island is clearly visible from the western coast of Tanjung Kelayang. The visitors who come to this beach is usually using boat from the port of Tanjung Kelayang that takes around 10 minutes drive. One other popular place that also visited by the visitor is Pasir Island, which is actually an extension of Kepayang island that settled in the north.
The white sand on the Southeast side of the Kepayang Island, which is located a few hundred meters from Pasir Island, is one of the berths to stop at the island, especially if the sea water is receding. The white sand stretches along the side of the South and Southeast of this island. There are almost no granite at this place,it only white sandy beach with a length of about 300 meters.
On the mainland there is line of coconut garden, while on the north coast the conditions are less attractive because of sharp rocks covered and slippery. The South side of the island, that facing Pasir Island, is one of the best sides to enjoy the island. The sea off the coast is also good to play; the sea is not too deep and it has fine sandy seabed. Currently, there are no buildings on the South side of the island, but there are only a few of Ketapan tree shade for shelter.
Kepayang beach is also the place for turtle breeding. Those who want to see the turtle laying the egg should have registration for guest book at the entrance gate. There will be officers that guide us to see the turtles.
Kepayang or Babi Island is located not far Lengkuas Island, the island that popular with the lighthouse right at the seashore. From Lengkuas we can see Pig Island directly. If you come from outside Bangka Belitung, from H.A.S Hanandjoeddin airport Tanjung Pandan you can continue the journey to the heart of Tanjung Pandan by using taxi for 30 minutes.
In this city, you can find hotel or inn before continuing the journey to Tanjung Tinggi beach and Tanjung Kelayang, because both sites are reachable by using fishing boats or rented boat from the island to the other islands, including Kepayang Island.

Latest News
Find the History of Bangka at the Pangkal Pinang Tin MuseumThe Tin Museum was officially opened on August 2, 1997. This museum displays the history of tin mining on Bangka Island which contains historical objects and tin mining dioramas. In addition, visitors can also watch the making of crafts from tin. The best part is that admission to the museum is free. In addition, if you want to find food around Bangka Belitung, there are many places to eat that you can choose from. The dining options available in Bangka-Belitung…
---
Have you ever visited Bangka Island? Bangka Belitung or Bangka Island is a province of Indonesia, which is located on the island of Sumatra. Although not as popular as Bali or Lombok, it has beautiful beaches, white sand, amazing coral reefs, and giant granite rocks. Some of them are rarely visited at all. To experience the untouched splendor of "Island of the Gods" at its best, travel with an experienced local guide, or arrange your own transportation. Enjoy the white sands of Bembang Beach in West BangkaBecause Bangka-Belitung has many…
---
Located in Muntok area in the northwest of the island of Bangka, Mount Menumbing has a height of about 355 meters above sea level. At Mount Menumbing, there is an exile pension of Indonesia's first President Bung Karno and Vice President Bung Hatta by the Dutch during 1948-1949 on the island of Bangka. The exile pension is guarded by the family who is also Abdi Dalem Sultan Palace of Yogyakarta, since generation to generation, where since day one they have responsibility to maintain Bung Karno and Bung Hatta during their…
---
Romodang Beach Romodang beach is located in Belinyu area, north Bangka 77 km from Sungailiat. We can see the very dramatic sunset at noon from this beach and those who like fishing, this is the perfect place to go for it. Moreover, this beach is always visited by those who want to spend time with family and friends for recreational holiday. One of characteristics from this beach is on the stone gate before reaching the beach. Local society call this gate as "Batu Belah Tangkup" or sandwich stone. Another characteristic…
---