Bangka Belitung
---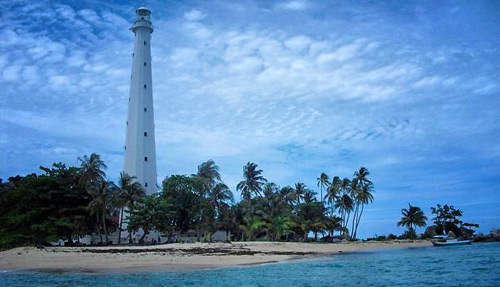 Bangka-Belitung is one of Indonesia provinces. It includes two large islands, Bangka and Belitung, and several smaller ones, which lie east of Sumatra, northeast of South Sumatra province. Bangka Belitung (BABEL) Islands province is the 31st Province in Indonesia, one of the newest provinces. Bangka Belitung get it's approved as a new province in 2001 separated with south Sumatra. That acknowledgement is because of the people struggle. The region that was a great tin mines, now already to reach the new phase in its life. It provisioned with the beautiful of nature, and the uniquely of culture, Bangka Belitung step to the better future.
Supported by the "Serumpun Sabalai" spirit and abundant natural resources, it has been expecting a greater role to speed up the island region's development, namely Bangka regency, Belitung regency and Pangkal Pinang city through cooperation development. That potency of culture and tourism is also supported by its strategic location that can connect with other interesting area. The sea transportation that become the most accessibility in Bangka Belitung Island, is support its economics activities among the Islands.
The richness of Bangka Belitung Island of nature and tin mines until its maritime rich, make Bangka Belitung a magnet for the new comers to get a better life. A Balinese countryside is found in this Island named Giri Jati village, complete with all of Bali culture that remembering us to Bali Island. Beside Bali tribe, we also can found Bugis tribe that adds the various cultures in Bangka Balitung Island. This Bugis tribe can be found in the fishermen village at Tanjung Binga. Otherwise, the original tribe, Melayu culture has strong influence in the traditional ceremony and religious ceremony. One of the ceremonies is Rebo Kasan Ceremony that done by Air Anyer village people. It is believed that one day of a year, the God give His 320,000 angels in the world. The people must together to pray. This ceremony was held in the beach, but now on, it held in the mosque then continued to the beach. Formerly, this ceremony become the people party with its star party is 'Dambus' art.
Geographically
Bangka Belitung province is located between 104°50' - 109°30' East Longitude and 0°50' - 4°10' South Latitude, with its total area of 81,724.54 km.
Administrativelly
Administrativelly, Bangka Belitung comprises of 2 regencies and 1 city, namely Bangka regency, Belitung regency and Pangkal Pinang City, of which, the biggest regency's area is Bangka regency with 11,534.14 km area, and the smallest is Pangkal Pinang City, with 89.40 km area.
Climate
There are two seasons that are suitable for sailing to these islands: February-March and October-November, when the wind and the waves are low. The heaviest rainfall is around 2,500 mm per annum with its average temperature between 25°C - 26°C.
Population
In 2001, Babel's population was 920,729 consisted of 462,640 men and 458,089 women. The biggest population among the regencies was Bangka regency, 583,841 people, while the most density population was Pangkalpinang City, with its 1,396 people/km. In 2001, the growth of population reached 1.49 % per annum averagely. Labor. In 2000, its labor force recorded as many as 100,825 people.

Latest News
Find the History of Bangka at the Pangkal Pinang Tin MuseumThe Tin Museum was officially opened on August 2, 1997. This museum displays the history of tin mining on Bangka Island which contains historical objects and tin mining dioramas. In addition, visitors can also watch the making of crafts from tin. The best part is that admission to the museum is free. In addition, if you want to find food around Bangka Belitung, there are many places to eat that you can choose from. The dining options available in Bangka-Belitung…
---
Have you ever visited Bangka Island? Bangka Belitung or Bangka Island is a province of Indonesia, which is located on the island of Sumatra. Although not as popular as Bali or Lombok, it has beautiful beaches, white sand, amazing coral reefs, and giant granite rocks. Some of them are rarely visited at all. To experience the untouched splendor of "Island of the Gods" at its best, travel with an experienced local guide, or arrange your own transportation. Enjoy the white sands of Bembang Beach in West BangkaBecause Bangka-Belitung has many…
---
Located in Muntok area in the northwest of the island of Bangka, Mount Menumbing has a height of about 355 meters above sea level. At Mount Menumbing, there is an exile pension of Indonesia's first President Bung Karno and Vice President Bung Hatta by the Dutch during 1948-1949 on the island of Bangka. The exile pension is guarded by the family who is also Abdi Dalem Sultan Palace of Yogyakarta, since generation to generation, where since day one they have responsibility to maintain Bung Karno and Bung Hatta during their…
---
Romodang Beach Romodang beach is located in Belinyu area, north Bangka 77 km from Sungailiat. We can see the very dramatic sunset at noon from this beach and those who like fishing, this is the perfect place to go for it. Moreover, this beach is always visited by those who want to spend time with family and friends for recreational holiday. One of characteristics from this beach is on the stone gate before reaching the beach. Local society call this gate as "Batu Belah Tangkup" or sandwich stone. Another characteristic…
---