Visiting Wabula Village in Buton Regency, Southeast Sulawesi Province
---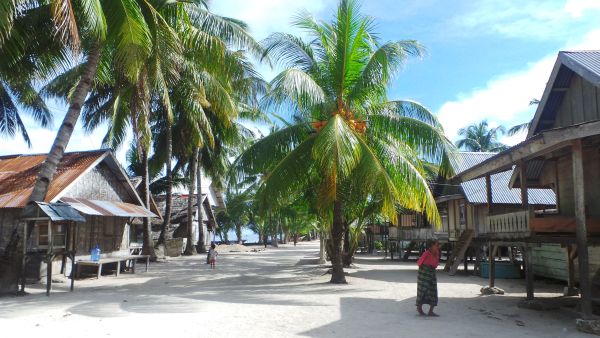 A vacation in Southeast Sulawesi Province is worth a thousand of experiences because you may find tons of tourist destinations. One of them is located in Buton Regency, which is Wabula Village. This settlement offers unique attraction, as tourists can meet the locals and learn their way of living. People in Buton live near to the sea, which means most of them are fishermen. Wabula Village is situated in about 25 km from Pasarwajo and it belongs to Buton Island. Thanks to its easy accessibility, tourists are able to reach the location without hassles.
The Nuance
A unique part of Wabula Village is the local houses. The design is similar to that of Padang's traditional house. It has a space between the ground and the floor of the house. Not to mention the materials are quite outdated. Even though many local houses apply such type of design, some of them have applied a modern architecture to their house. That means you may expect common houses, as well. What about the nuance? As mentioned earlier, the village is located near to the sea. That means you may expect some features like sea scenery, soft sand, and boats.
Exploring Wabula Village
The most interesting part of Wabula Village is the serene atmosphere, as it is located near to the sea. The formation of local houses is neat and the environment is quite clean, which provide a comfortable nuance to the visitors. Next, there is a formation of coconut trees, which appear tall and shady. It will be quite convenient sitting under those trees while enjoying the breeze of the coastal wind. Not to mention there are some gazebos, where you can sit and relax. Some locals also use the gazebo to bond with each other, in fact.
The next scene to enjoy is the locals' daily routine. As mentioned before, most of the villagers work as a fisherman. That means tourists are able to witness these people looking for fishes using different types of methods, including fishing, netting, shooting a spear gun, diving, and much more. Later, they sell those fishes to Pasarwajo District and their most famous commodity is Decapterus (ikan layang). As a tourist, you should carry some money to buy such fish and other commodities in Wabula Village.
In the afternoon, female villagers often come to a particular location for weaving. It is true the village is also famous for its Buton Fabric. The thing is it takes about a few weeks in creating a perfect fabric and the price is about IDR 300,000 – 1 million. It depends on the quality of the fabric, motives, intricate level, and procedure.
Nearby Attractions
Buton Palace Fort
Nirwana Beach
Lakeba Beach
How to Get There
Wabula Village is located on Buton Island, which means your primary destination will be Buton Regency. From Kendari, take any available transportation service to Muna Island first. Once you get to Raha City, you can continue to Buton Island/Bau-Bau City. In this case, your last destination will be Wabula Village. The whole trip takes about 15 hours as the distance is 288 km. Despite a long trip, tourists would definitely enjoy it.
Where to Stay
Mira Hotel
Galaxy Inn Hotel
Adios Villa

Latest News
Traveling to Wakatobi, Southeast Sulawesi, is not complete without trying diving or snorkeling tours. The reason is, Wakatobi is known for its white sand and clear sea. One of the famous spots in Wakatobi for diving is Sombu Beach. This white sandy beach with a row of coral reefs is always hunted by tourists. Sombu Beach is located in Wangi-Wangi District. The distance is about 30 minutes from Matahora Airport, or 20 minutes from the city center. At first glance, this coastline does not look so long. Even so, the…
---
Hoga Island is one of the beautiful islands belongs to Wakatobi Islands region, Southeast Sulawesi or commonly referred to as Wakatobi Islands National Park. Has an area of ??about 1,390,000 ha which is a combination of several other islands, Hoga Island is located east of Kaledupa Island. Besides Kaledupa Island, there are also a number of other small islands nearby such as Tomia Island, Wangi-Wangi Island, Binongko Island and Kapota Island. Access to get to Hoga Island can be started from Kendari or Bau-Bau first, then just cross to Hoga…
---
Bombana Regency in Southeast Sulawesi Province is currently improving its tourism potential in order to compete with other tourist destinations in the archipelago. The regency covering ??2,845.36 km2 area with Rumbia as capital city and has natural resources of mine which is being sought after by investors. Bombana also has rich cultural, nautical beauty, natural panorama and historical heritage that still neatly stored. Registered as a tourism village, Tangkeno receives district government support to maintain its natural landscape, including the springs that flow across the island. Tangkeno has long been…
---
Moramo Waterfall is located in Tanjung Peropa Nature Reserve Region. Precisely located in the Sumber Sari Village, Moramo Subdistrict, Konawe South Regency, South-East Sulawesi, Indonesia. Moramo Waterfall is an amazing nature gift for Konawe Selatan Regency, South-East Sulawesi, which has seven stages of waterfall where the place of water flowed freely. According to the story that developed in the community, this place was believed as the fairies bathed place that descended from heaven. Moramo Waterfall is the beautiful stratified waterfall (cascade) with height around 100 meters. From this height, the…
---