Sorawolio Fort in Bau-Bau City, Southeast Sulawesi Province
---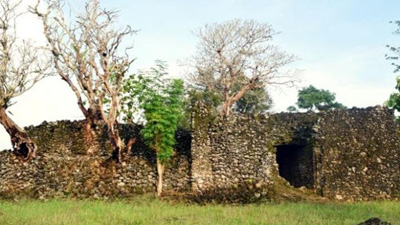 In Wolio District, there is Sorawolio Fort. It becomes a pride of Bau-Bau City. The fort is located near to Bukit Wolio Indah Village and it belongs to South Sulawesi Province. The fort consists of two structures and each of them appears beautifully. In terms of size, they are not quite big. According to the keeper, the fort was built during the reign of King Buton 19th. The name was Sakiyuddin Darul Alam. At that time, the fort had an important role to defend the kingdom against the enemies. Today, it becomes a recommended place for a vacation.
The Nuance
As mentioned before, the size of Sorawolio Fort is not quite big. The thickness is about 1 meters and the height is up to 7 meters. Visitors can even climb it easily. There is a path for walking, so tourists can get around easily. Near to it, you may encounter bushes and grasses. The fort is located on a highland, so you can see beautiful scenery from above. In the horizon, you can even see nearby islands and sea. For the best views, it is better to come during nice weather.
Exploring Sorawolio Fort
Sorawolio Fort holds many interesting stories, which are worth an attention. There were some people living in this fort, for example. Not to mention there is a burial site in this area, which emits a creepy aura. The next feature of the fort is the small and plain land located inside the structure. Most of the tourists take advantage of this location to take selfies and to relax regardless of the weather. Still, you need to wear a hat or any items to prevent the sun from burning your hair and skin.
It is true Sorawolio Fort is considered a historical site in Southeast Sulawesi Province and it has attracted many tourists as the time goes by. Despite its small size and imperfect condition, visitors won't get disappointed at all. They are amused by the history and the traditional design of the fort. Not to mention this structure is sacred and creepy, as many visitors have seen a mysterious being like a ghost in this location. No one can explain the cause of this phenomenon, but some people say it is caused by the existence of the ancient tombstone.
The next feature of Sorawolio Fort is the old mysterious tree, which is located near to the tombstone. Many people believe it as the home of ghosts and other similar beings. No wonder, tourists also come to this location to give a prayer and look for blessings. Are you also interested in doing the same thing? Overall, with all these uncommon attractions, all tourists would definitely have a good time in Sorawolio Fort.
Nearby Attractions
Kamali Beach
Dragon's Head Monument
Buton Palace Fort
How to Get There
The primary destination is Bau-Bau City, which is located on Buton Island. From Kendari City, takes a ferry to reach Muna Island as your first checkpoint is in Raha City. Next, you can continue your trip to Bau-Bau using a fast boat. Once you get to the Bau-Bau, it is time to head to Bukit Wolio Indah Village as the fort is located there. As for the tip, you can take advantage of a tour guide because it saves much time and effort.
Where to Stay
Mira Hotel
Rajawali Hotel
Lakamali Hotel

Latest News
Traveling to Wakatobi, Southeast Sulawesi, is not complete without trying diving or snorkeling tours. The reason is, Wakatobi is known for its white sand and clear sea. One of the famous spots in Wakatobi for diving is Sombu Beach. This white sandy beach with a row of coral reefs is always hunted by tourists. Sombu Beach is located in Wangi-Wangi District. The distance is about 30 minutes from Matahora Airport, or 20 minutes from the city center. At first glance, this coastline does not look so long. Even so, the…
---
Hoga Island is one of the beautiful islands belongs to Wakatobi Islands region, Southeast Sulawesi or commonly referred to as Wakatobi Islands National Park. Has an area of ??about 1,390,000 ha which is a combination of several other islands, Hoga Island is located east of Kaledupa Island. Besides Kaledupa Island, there are also a number of other small islands nearby such as Tomia Island, Wangi-Wangi Island, Binongko Island and Kapota Island. Access to get to Hoga Island can be started from Kendari or Bau-Bau first, then just cross to Hoga…
---
Bombana Regency in Southeast Sulawesi Province is currently improving its tourism potential in order to compete with other tourist destinations in the archipelago. The regency covering ??2,845.36 km2 area with Rumbia as capital city and has natural resources of mine which is being sought after by investors. Bombana also has rich cultural, nautical beauty, natural panorama and historical heritage that still neatly stored. Registered as a tourism village, Tangkeno receives district government support to maintain its natural landscape, including the springs that flow across the island. Tangkeno has long been…
---
Moramo Waterfall is located in Tanjung Peropa Nature Reserve Region. Precisely located in the Sumber Sari Village, Moramo Subdistrict, Konawe South Regency, South-East Sulawesi, Indonesia. Moramo Waterfall is an amazing nature gift for Konawe Selatan Regency, South-East Sulawesi, which has seven stages of waterfall where the place of water flowed freely. According to the story that developed in the community, this place was believed as the fairies bathed place that descended from heaven. Moramo Waterfall is the beautiful stratified waterfall (cascade) with height around 100 meters. From this height, the…
---