Nirwana Beach in Buton Regency, Southeast Sulawesi Province
---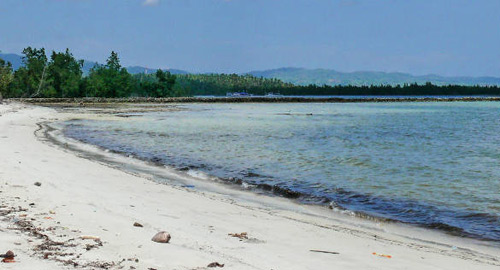 A beautiful beach resides in Buton Regency. The name is Nirwana Beach and it is considered the most famous tourist spot in Sula Village. Actually, it belongs to Bau-Bau City and Betoambari District. That means it is located near to numerous vacation destinations like Buton Palace Fort and Kamali Beach. The beach always has visitors as it offers a flawless beauty, which is similar to that of Bali's Kuta. Not to mention tourists are able to do many things like conducting BBQ, sunbathing, swimming, beach walking, etc.
The Nuance
In the horizon, you can see both nearby island and hills. Also, Nirwana Beach offers other features, including moderate waves, warm seawater, white sand, shady coconut trees, and gazebos. The thing is you won't find any coral reefs in the shorelines, so it emits a plain and vast nuance. Plus, the coastline is clean and beautiful. Thanks to both the keepers and tourists who have taken a good care of the environment. The common rule is "you are not allowed to litter".
Exploring Nirwana Beach
The distance between Bau-Bau City and Nirwana Beach is about 9 km, so it won't take much time to reach the beach. Many types of local transportation services are also available. Once you get to the beach, many types of activities are available awaiting any visitors. For example, tourists can enjoy sightseeing as there are many beautiful objects like corals, white sand, stunning sea, and much more. In fact, it is possible to perform diving so you can enjoy the nautical beauty of Nirwana Beach.
Nirwana Beach offers more than a beautiful landscape but is also offers soothing and refreshing atmosphere. Some people even come to the beach to relax and overcome numerous types of diseases, including asthma and stresses. It is as simple as bathing in the fresh seawater and walking around the shorelines. For kids, there is a place to rent floating tire so everyone is able to play in the water safely. Another way to relax is to sit in Gode-Gode or gazebos, which you can use freely.
Once you enjoy all those activities, it is time to try good local foods. Many traditional eateries are available near to Nirwana Beach and each of them offers distinct menu. Another popular facility is the formation of hotels with different rent fees. Due to this reason, tourists are able to spend more days for exploring the beach, which is quite worthy. A vacation in Nirwana Beach doesn't cost much money, after all. You only need to bring some money to rent floating tire or any equipment for water sports.
Nearby Attractions
Kamali Beach
Buton Palace Fort
Moko Cave
How to Get There
A trip from Kendari City to Buton Regency takes about 13 hours and the distance is roughly 228 km. It takes longer if you come from other regions like Jakarta, which means you need to take an airplane to Haluoleo Airport of Kendari. Once you get there, take a local vehicle and reach Muna Island using a speedboat. In Raha City, takes another boat to Buton Island. Your last destination is Bau-Bau City, where the beach resides.
Where to Stay
Galaxy Inn Hotel
Calista Beach Hotel
Gulado Resort Hotel

Latest News
Traveling to Wakatobi, Southeast Sulawesi, is not complete without trying diving or snorkeling tours. The reason is, Wakatobi is known for its white sand and clear sea. One of the famous spots in Wakatobi for diving is Sombu Beach. This white sandy beach with a row of coral reefs is always hunted by tourists. Sombu Beach is located in Wangi-Wangi District. The distance is about 30 minutes from Matahora Airport, or 20 minutes from the city center. At first glance, this coastline does not look so long. Even so, the…
---
Hoga Island is one of the beautiful islands belongs to Wakatobi Islands region, Southeast Sulawesi or commonly referred to as Wakatobi Islands National Park. Has an area of ??about 1,390,000 ha which is a combination of several other islands, Hoga Island is located east of Kaledupa Island. Besides Kaledupa Island, there are also a number of other small islands nearby such as Tomia Island, Wangi-Wangi Island, Binongko Island and Kapota Island. Access to get to Hoga Island can be started from Kendari or Bau-Bau first, then just cross to Hoga…
---
Bombana Regency in Southeast Sulawesi Province is currently improving its tourism potential in order to compete with other tourist destinations in the archipelago. The regency covering ??2,845.36 km2 area with Rumbia as capital city and has natural resources of mine which is being sought after by investors. Bombana also has rich cultural, nautical beauty, natural panorama and historical heritage that still neatly stored. Registered as a tourism village, Tangkeno receives district government support to maintain its natural landscape, including the springs that flow across the island. Tangkeno has long been…
---
Moramo Waterfall is located in Tanjung Peropa Nature Reserve Region. Precisely located in the Sumber Sari Village, Moramo Subdistrict, Konawe South Regency, South-East Sulawesi, Indonesia. Moramo Waterfall is an amazing nature gift for Konawe Selatan Regency, South-East Sulawesi, which has seven stages of waterfall where the place of water flowed freely. According to the story that developed in the community, this place was believed as the fairies bathed place that descended from heaven. Moramo Waterfall is the beautiful stratified waterfall (cascade) with height around 100 meters. From this height, the…
---