Kendari
---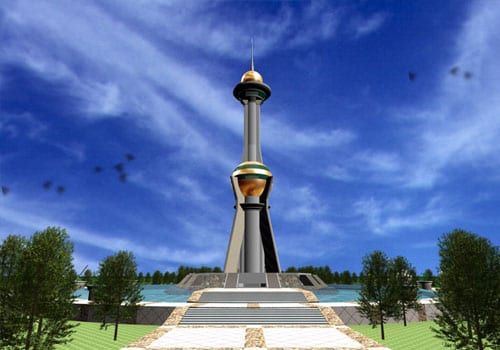 Southeast Sulawesi's capital is Kendari, seat of government and tourist center of the Province. It lies along the sloping hill and seaside of Kendari Bay, residence to some 100,000 people.
Kendari boast the manufacture of numerous fine artistic handicrafts, for both home and office use. Skilled craftsmen reproduce these, originals designs form, handed-down through the generation, using indigenous roots and ironwood. Visitors will find a visit to the Berlin Handicraft Center's the Handicraft Exhibition Center valuable; both belong the local Association of Government Wives (PKK), and display items, which may be purchased to adorn the most discriminating setting.
Visitors will find frequent, colorful ceremonial events in and around Kendari. And, to be present on these occasions is to be invited to participate. For the closing of any ceremonial event in Kendari will be highlighted by the local "Lulo Dance" performed by local men and woman. And all on-lookers are invited to joint the dance, as part of the conclusion and harmonious farewell.

Latest News
Traveling to Wakatobi, Southeast Sulawesi, is not complete without trying diving or snorkeling tours. The reason is, Wakatobi is known for its white sand and clear sea. One of the famous spots in Wakatobi for diving is Sombu Beach. This white sandy beach with a row of coral reefs is always hunted by tourists. Sombu Beach is located in Wangi-Wangi District. The distance is about 30 minutes from Matahora Airport, or 20 minutes from the city center. At first glance, this coastline does not look so long. Even so, the…
---
Hoga Island is one of the beautiful islands belongs to Wakatobi Islands region, Southeast Sulawesi or commonly referred to as Wakatobi Islands National Park. Has an area of ??about 1,390,000 ha which is a combination of several other islands, Hoga Island is located east of Kaledupa Island. Besides Kaledupa Island, there are also a number of other small islands nearby such as Tomia Island, Wangi-Wangi Island, Binongko Island and Kapota Island. Access to get to Hoga Island can be started from Kendari or Bau-Bau first, then just cross to Hoga…
---
Bombana Regency in Southeast Sulawesi Province is currently improving its tourism potential in order to compete with other tourist destinations in the archipelago. The regency covering ??2,845.36 km2 area with Rumbia as capital city and has natural resources of mine which is being sought after by investors. Bombana also has rich cultural, nautical beauty, natural panorama and historical heritage that still neatly stored. Registered as a tourism village, Tangkeno receives district government support to maintain its natural landscape, including the springs that flow across the island. Tangkeno has long been…
---
Moramo Waterfall is located in Tanjung Peropa Nature Reserve Region. Precisely located in the Sumber Sari Village, Moramo Subdistrict, Konawe South Regency, South-East Sulawesi, Indonesia. Moramo Waterfall is an amazing nature gift for Konawe Selatan Regency, South-East Sulawesi, which has seven stages of waterfall where the place of water flowed freely. According to the story that developed in the community, this place was believed as the fairies bathed place that descended from heaven. Moramo Waterfall is the beautiful stratified waterfall (cascade) with height around 100 meters. From this height, the…
---