Hotels In Southeast Sulawesi
---
Wonua Monapa Hotel Resort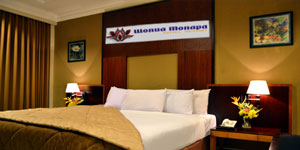 Just 10 Minutes from Haluoleo Airport and 20 minutes to Kendari downtown, Wonua Monapa Hotel Resort Kendari has the largest outdoor swimming pool in Kendari. Not only is it also available car ATV play areas, and mini scoter, Free hotspot WIi-Fi facility provided in the rooms and public areas. Room features a flat-screen TV, mini bar and tea / coffee making facilities.
Jl. Wolter Monginsidi KM 23
Konawe Selatan, Southeast Sulawesi
Phone: +62 401 3196900
Web: wmhotelresort.com
Hotel Zenith Kendari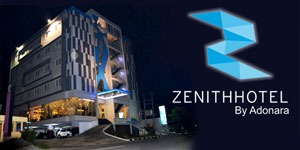 A star-rated business hotel in Kendari City, Southeast Sulawesi, trusted by thousands of guests and visitors as one of the business hotels capable of providing maximum service to its guests. Friendly service equivalent to international hotels, delivering a pleasant stay in a modern hotel equipped with adequate facilities. Our hotel is located in downtown kendari, close to government offices and shopping malls.
Jl. Malik Raya No. 20
Kendari, Southeast Sulawesi 93111
Indonesia
Phone: +62 401 3121888
Web: zenith-hotels.com
Patuno Resort Wakatobi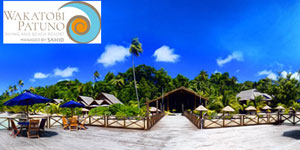 Situated in the heart of the Wakatobi region you can't get better than Patuno Resort Wakatobi. This beautifully designed Wakatobi resort offers the perfect get away or romantic retreat and appeals to divers and non-divers, international guests and Indonesian guests alike. Whether you are looking for a busy activities packed holiday, or a quite place to kick back and relax, Patuno Resort Wakatobi is the perfect choice.
Jl. Raya Patuno, Wangi-W angi Wakatobi
Wakatobi, Southeast Sulawesi 93791
Indonesia
Phone: +62 8114 00 2221
Web: sahidhotels.com/patuno-resort-wakatobi
Swiss-Belhotel Kendari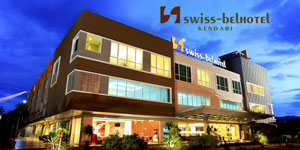 We are the finest boutique hotel in Kendari, a four-star outfit that blends the warmth of home with the Swiss-Belhotel International brand of service. Ideally located 30 minutes from Haluoleo airport, we are mere minutes away from the city center. Offering guest rooms in six different types: superior, deluxe, grand deluxe, junior suite, executive suite and presidential suite. All rooms are elegantly designed and well appointed with a host of modern amenities to make your stay in Kendari a comfortable one. Luxuriate with unobstructed views of the sea—a wonder to wake up to every morning!
Jl. Edi Sabara Number 88
Kendari, Southeast Sulawesi 93122
Indonesia
Phone: +62 401 312 8777
Web: swiss-belhotel.com

Latest News
Traveling to Wakatobi, Southeast Sulawesi, is not complete without trying diving or snorkeling tours. The reason is, Wakatobi is known for its white sand and clear sea. One of the famous spots in Wakatobi for diving is Sombu Beach. This white sandy beach with a row of coral reefs is always hunted by tourists. Sombu Beach is located in Wangi-Wangi District. The distance is about 30 minutes from Matahora Airport, or 20 minutes from the city center. At first glance, this coastline does not look so long. Even so, the…
---
Hoga Island is one of the beautiful islands belongs to Wakatobi Islands region, Southeast Sulawesi or commonly referred to as Wakatobi Islands National Park. Has an area of ??about 1,390,000 ha which is a combination of several other islands, Hoga Island is located east of Kaledupa Island. Besides Kaledupa Island, there are also a number of other small islands nearby such as Tomia Island, Wangi-Wangi Island, Binongko Island and Kapota Island. Access to get to Hoga Island can be started from Kendari or Bau-Bau first, then just cross to Hoga…
---
Bombana Regency in Southeast Sulawesi Province is currently improving its tourism potential in order to compete with other tourist destinations in the archipelago. The regency covering ??2,845.36 km2 area with Rumbia as capital city and has natural resources of mine which is being sought after by investors. Bombana also has rich cultural, nautical beauty, natural panorama and historical heritage that still neatly stored. Registered as a tourism village, Tangkeno receives district government support to maintain its natural landscape, including the springs that flow across the island. Tangkeno has long been…
---
Moramo Waterfall is located in Tanjung Peropa Nature Reserve Region. Precisely located in the Sumber Sari Village, Moramo Subdistrict, Konawe South Regency, South-East Sulawesi, Indonesia. Moramo Waterfall is an amazing nature gift for Konawe Selatan Regency, South-East Sulawesi, which has seven stages of waterfall where the place of water flowed freely. According to the story that developed in the community, this place was believed as the fairies bathed place that descended from heaven. Moramo Waterfall is the beautiful stratified waterfall (cascade) with height around 100 meters. From this height, the…
---