Southeast Sulawesi Province
---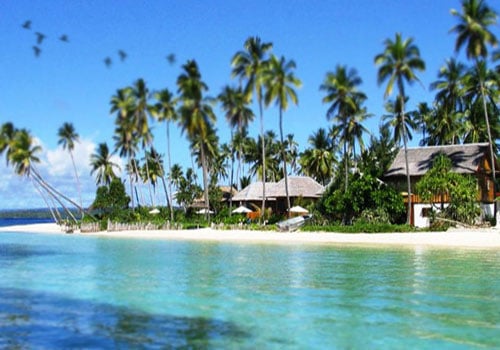 Formerly called the Celebes, Sulawesi is one of the world's most uniquely shaped islands. It is often referred to as the "Orchid Shaped Island". Historically, Sultans ruled this land and the Local area is Governed by regents. Today, Sulawesi is divided into four provinces, one of them being Southeast Sulawesi, covering the lower eastern leg of this beautiful island.
Southeast Sulawesi is an Indonesia province on Sulawesi Island. The capital of the province is Kendari, on the east coast of the peninsula. The province is one of the most remote regions of Sulawesi; no highway connects it to the cities on the rest of the island, so the primary transportation link is a ferry across Bone Sea between Watampone (Bone) in South Sulawesi and Kolaka port.
The population of the province is 1.771,951 (in 2000 Census), most of which is centered on Buton island of the Sulawesi south coast, and around Kendari. From the seventeenth century until the early twentieth century, the region was the site of the Buton (Butung) sultanate.
The Southeast Province is populated by more than 1,2 million people, in five diverse and interesting cultural groups: Tolaki, Morunene, Buton, Muna (Locally called Wuna), and Bajo. All offer the visitor a glimpse of life-styles, which have survived man's rush to modernization while using much of today's technology to their advantage.
Most of the land area of southeast Sulawesi is covered by natural jungle, with extensive plantations of teak and ironwood, which are used for local handicraft and contribute to the local economy. Much of the beauty of the region has been preserved for prosperity by declaring it "National Parks" and "Nature Preserve.
Wonereous animals, living freely, easily seen and appreciated by visitors, inhabit the entire province. Deer, Wild Pigs, Small Rodent-Like animals called Kus-Kus, Monkey, Snakes, Anoa (small buffalo) and numerous varieties of birds abound. But the hunting of animals is forbidden in national parks preserves and carefully controlled by local government, in other areas.
The friendly of the Sulawesi People, the local flora, fauna, and untouched beaches, are the highlights of this unique located. It is truly one of the world's last remaining. Natural habitats are waiting to show for the visitor who can appreciate such natural beauty and the people who live in it.

Latest News
Traveling to Wakatobi, Southeast Sulawesi, is not complete without trying diving or snorkeling tours. The reason is, Wakatobi is known for its white sand and clear sea. One of the famous spots in Wakatobi for diving is Sombu Beach. This white sandy beach with a row of coral reefs is always hunted by tourists. Sombu Beach is located in Wangi-Wangi District. The distance is about 30 minutes from Matahora Airport, or 20 minutes from the city center. At first glance, this coastline does not look so long. Even so, the…
---
Hoga Island is one of the beautiful islands belongs to Wakatobi Islands region, Southeast Sulawesi or commonly referred to as Wakatobi Islands National Park. Has an area of ??about 1,390,000 ha which is a combination of several other islands, Hoga Island is located east of Kaledupa Island. Besides Kaledupa Island, there are also a number of other small islands nearby such as Tomia Island, Wangi-Wangi Island, Binongko Island and Kapota Island. Access to get to Hoga Island can be started from Kendari or Bau-Bau first, then just cross to Hoga…
---
Bombana Regency in Southeast Sulawesi Province is currently improving its tourism potential in order to compete with other tourist destinations in the archipelago. The regency covering ??2,845.36 km2 area with Rumbia as capital city and has natural resources of mine which is being sought after by investors. Bombana also has rich cultural, nautical beauty, natural panorama and historical heritage that still neatly stored. Registered as a tourism village, Tangkeno receives district government support to maintain its natural landscape, including the springs that flow across the island. Tangkeno has long been…
---
Moramo Waterfall is located in Tanjung Peropa Nature Reserve Region. Precisely located in the Sumber Sari Village, Moramo Subdistrict, Konawe South Regency, South-East Sulawesi, Indonesia. Moramo Waterfall is an amazing nature gift for Konawe Selatan Regency, South-East Sulawesi, which has seven stages of waterfall where the place of water flowed freely. According to the story that developed in the community, this place was believed as the fairies bathed place that descended from heaven. Moramo Waterfall is the beautiful stratified waterfall (cascade) with height around 100 meters. From this height, the…
---