West Timor
---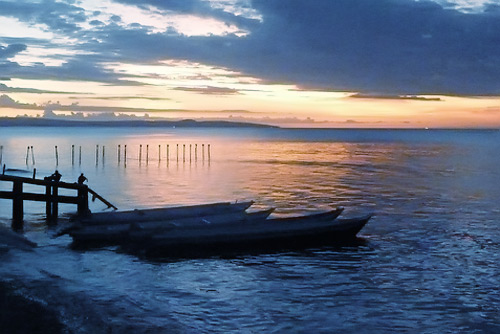 West Timor is the principal island in terms of population where the capital of the province, Kupang, is located. Kupang is now being developed to be the gate- way to Nusa Tenggara. There are direct flights from /to Darwin-Australia. West Timor is rich in various cultures, beautiful sceneries, and a wonderful nature. Made up of dry, rocky land, isolated communities, rolling cattle land, a variety of styles of architecture, Timor is basically something that possesses its own original characteristics.
West Timor is a political region that comprises the western half of Tomir Island with the exception of Oecussi-Ambeno district (which is politically part of East Timor) and forms a part of Indonesia province of East Nusa Tenggara, (NTT or Nusa TenggaraTimur). West Timor's capital and chief port is Kupang. The land area of West Timor is 15,850 km. During the colonial period it was known as Dutch Timor and was a centre of Dutch loyalists during the Indonesian War of Independence (1945-1949).
Rote Island, the southernmost island of Indonesia, is just to the southwest of West Timor. Three native languages belonging of Carbonic Stock of the Austronesian group of languages are spoken in West Timor, the others in East Timor. These languages are Ndaonese, Rotinese, and Helong.
History
European colonization of Timor started in the 16th century. Although Portuguese claimed the island of Timor in 1520, the Dutch (in Dutch East India Company) settled West Timor in 1640, forcing the Portuguese out to East Timor. The subsequent collapse of the company meant that in 1799 the area returned to official Dutch rule. Finally, in 1914 a treaty between Holland and Portugal that was originally signed in 1859 and modified in 1893 finalized border between East and West Timor.
Japan conquered the island as part of World War II in early 1942. August 17, 1945 saw Indonesian Independence declared, just three days after the Japanese surrender. The Dutch returned but faced a war with republican guerrillas, the eventual outcome of which was the proclamation of Republic of Indonesia in 1950, which made West Timor a part of East Nusa Tenggara.
Demographics
West Timor has approximately 1.6 million inhabitants. The population is mostly of Malay, Papuan or Polynesian extraction, with a tiny ethnic Chinese group. About half of the population belongs to Atoni ethnicity. West Timor's main religions are Catholic (56%), Protestant (35%) and Muslim (8%).

Latest News
Koja Doi Village is located in East Alok sub-district, Sikka Regency, East Nusa Tenggara (NTT). Visitors can access this village by boat with a travel time of about 40 minutes from Nangahale Harbor. Koja Doi is one of the tourist villages that won the Indonesia Sustainable Tourism Award (ISTA) from the Ministry of Tourism and Creative Economy. This village offers marine tourism, nature tourism, and cultural tourism. Koja Doi Village has several spot to visit, such as the site of the 1992 tsunami, a stone bridge, ancient rock hills, and…
---
West Sumba has a number of beaches that are destinations and attractions for its tourism sector. One of them is Marosi Beach. This beach is located in Lamboya District. You don't need long from Waikabubak to the location. Enough to travel overland for approximately one hour. In fact, you are also not charged a levy when entering this beach area. Marosi Beach is a beach that is completely empty of visitors. This is a recommended place for those of you who want to get rid of boredom from tired activities.…
---
Aili Beach in Central Sumba Regency, East Nusa Tenggara Province No one can deny the values of natural attractions like beaches, no? When it is about beautiful beaches, East Nusa Tenggara Province has many of them including the one called Aili Beach of Central Sumba Regency. To be exact, the location is in Konda Maloba Village and it resides in South Katikutana Sub-District. Like other beaches of NTT Province, this one is recognized for its pristine nuance and beautiful white sand. The good thing is that it resides in the…
---
Gunung Meja Waterfall in East Sumba Regency Aside from exotic beaches and interesting local culture, East Nusa Tenggara Province is the home to other tourist attractions including waterfalls. Well, one of them resides in East Sumba Regency, which is called Gunung Meja Waterfall. To be exact, the location is in Kuta Village and it belongs to Kanatang Sub-District. Have no worries. The distance is considered especially for those coming from Waingapu City. So, what makes it unique? Some locals call it the hidden nirvana waterfall due to its nice landscape…
---