Sumba Island
---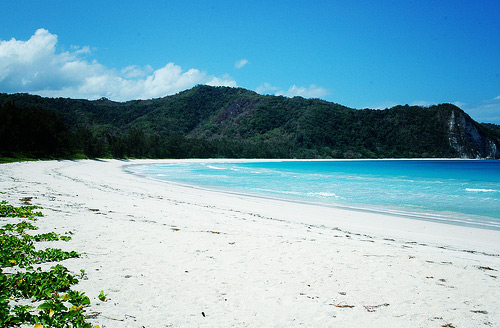 Sumba, formerly known as the Sandalwood Island, is known foe its horses and Sumba clothe. Sandalwood was the only known cure for many diseases until penicillin was invented. The Sumbanese traded with the Chinese until the 16th century, after which the Arabs became the most important trading partner until the early 20th century. The island is famous for its arts and handicrafts, particularly the textile "ikat" weaving. Sumba, however, is not for everyone. Neither the food nor accommodations are up to international standards. But if we are willing to make a little effort we can see an authentic, ancient culture with none of the layers of Hinduism or Islam mostly found elsewhere in the country.
The island has a small population and a dry tropical climate. In total Sumba have more hours of sunshine than any other place in Indonesia. The land resembles Southern Africa or Australia, with scattered small villages and herds of cattle and buffalo Sumba is off the beaten track. Transport system and roads are infrequently used. Most hotels in main towns are simple, only catering for the adventurous. However, CNN etc. are available for those wishing to stay in touch with the outside world. Beaches are long and clean. Water is clear and abundant in fish, and there is great surf.
The island is roughly oval in shape. The greatest concentration of those who worship sprits (ancestral and those of the land) is found in West Sumba where two-thirds of the population holds on their traditional belief. It is here where incredible rituals take place, the "pasola" where hundreds of horsemen fling spears at each other. The government allows the ritual to take place, but the spears must be blunt. Although some exist in East Sumba, it is in West Sumba that one can find a greater number of huge megalithic tombs and traditional thatched and peaked huts raise on stilts.
Many traditional activities, all with a part paying homage to the spirits, take place in the month of July through October. These include the building of "adapt" houses and burials when sometimes hundreds of pigs, water buffaloes, horses, and dogs are sacrificed. Other ceremonies include the "pajura" or traditional boxing, the festivals for lunar New Year in October and November, and August 17, Independence Day, horse races and ritual dances.

Latest News
Koja Doi Village is located in East Alok sub-district, Sikka Regency, East Nusa Tenggara (NTT). Visitors can access this village by boat with a travel time of about 40 minutes from Nangahale Harbor. Koja Doi is one of the tourist villages that won the Indonesia Sustainable Tourism Award (ISTA) from the Ministry of Tourism and Creative Economy. This village offers marine tourism, nature tourism, and cultural tourism. Koja Doi Village has several spot to visit, such as the site of the 1992 tsunami, a stone bridge, ancient rock hills, and…
---
West Sumba has a number of beaches that are destinations and attractions for its tourism sector. One of them is Marosi Beach. This beach is located in Lamboya District. You don't need long from Waikabubak to the location. Enough to travel overland for approximately one hour. In fact, you are also not charged a levy when entering this beach area. Marosi Beach is a beach that is completely empty of visitors. This is a recommended place for those of you who want to get rid of boredom from tired activities.…
---
Aili Beach in Central Sumba Regency, East Nusa Tenggara Province No one can deny the values of natural attractions like beaches, no? When it is about beautiful beaches, East Nusa Tenggara Province has many of them including the one called Aili Beach of Central Sumba Regency. To be exact, the location is in Konda Maloba Village and it resides in South Katikutana Sub-District. Like other beaches of NTT Province, this one is recognized for its pristine nuance and beautiful white sand. The good thing is that it resides in the…
---
Gunung Meja Waterfall in East Sumba Regency Aside from exotic beaches and interesting local culture, East Nusa Tenggara Province is the home to other tourist attractions including waterfalls. Well, one of them resides in East Sumba Regency, which is called Gunung Meja Waterfall. To be exact, the location is in Kuta Village and it belongs to Kanatang Sub-District. Have no worries. The distance is considered especially for those coming from Waingapu City. So, what makes it unique? Some locals call it the hidden nirvana waterfall due to its nice landscape…
---