Mount Inerie - Flores Island
---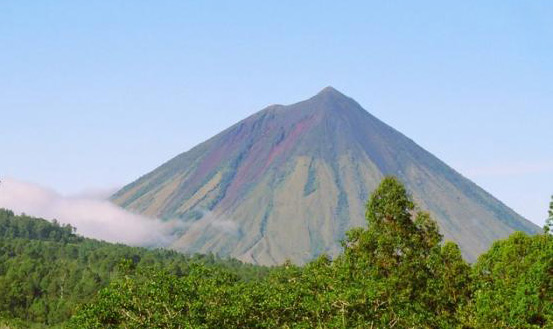 Mount Inerie is one of tourist attractions in Flores Island. The mountain is located in Bajawa district, Ngada regency of Flores Island. From Bajawa city we can see the mountain as a pyramid with perfectly straight which is an eye-catching peak in the Florinese 'mountain skyline'. With an altitude of 2,245 meters above sea level, Mount Inerie is also one of the highest volcanoes in Flores.
If you would like to climb to the top, you can start your trip at night or in the very early morning. You will be rewarded with a magical moment when the sun slowly rises up behind the hills. It is perfect sunrise moment for the visitors and hikers. From the top of Mount Inerie, you have a stunning view that sometimes even goes as far as Sumba Island in the south. Starting from an altitude of about 900 meters, the hike will take you about 2 hours. Be aware that climbing Mount Inerie demands a good physical condition, and the expertise of a local guide who knows about the safe trails and weather conditions.
Besides mountain climbing, the area around Mount Inerie itself has much to offer. Exploring the slope of the mountain in surroundings of lush green trees is refreshing for both body and soul. As in many mountainous areas in Flores that are of high biodiversity, you can also observe the endemic birds and listen to their amusing songs here. If you wish to enrich your Inerie explorations with some cultural experiences, nearby traditional villages such as Gurusina or Bena offer you opportunities to experience the fascinating Ngada culture.
In 2000 years ago, Mount Inerie had a little eruptions, a red-colored lake emerged out of the mountain's crater named Wawomudha. Thus, the new-born lake was called Wawomudha Crater Lake. This spectacular natural phenomenon is located an hour hike from Ngoranale Village. To get to Mount Inerie there are most popular starting point for climbing Mount Inerie is Watumeze Village, just 15 kilometers from Bajawa (about 20–30 minutes). From Bajawa head to Terminal Watujaji; then take the right side of the road which leads to Langa Village, and then straight up to Bela Village. From here, continue driving in the direction of Watumeze Village. Instead of taking private transport, you can also take a bemo (public transportation) to Bela Village and continue the way to Watumeze by motorcycle. The interesting ones from the mountain peak you can see the entire panoramic view of Bajawa City, on the north-west, which is covered with slight mist above the city. On the south of the mount, the blue sea of Sawu lies in the slope of Mount Inerie.

Latest News
Koja Doi Village is located in East Alok sub-district, Sikka Regency, East Nusa Tenggara (NTT). Visitors can access this village by boat with a travel time of about 40 minutes from Nangahale Harbor. Koja Doi is one of the tourist villages that won the Indonesia Sustainable Tourism Award (ISTA) from the Ministry of Tourism and Creative Economy. This village offers marine tourism, nature tourism, and cultural tourism. Koja Doi Village has several spot to visit, such as the site of the 1992 tsunami, a stone bridge, ancient rock hills, and…
---
West Sumba has a number of beaches that are destinations and attractions for its tourism sector. One of them is Marosi Beach. This beach is located in Lamboya District. You don't need long from Waikabubak to the location. Enough to travel overland for approximately one hour. In fact, you are also not charged a levy when entering this beach area. Marosi Beach is a beach that is completely empty of visitors. This is a recommended place for those of you who want to get rid of boredom from tired activities.…
---
Aili Beach in Central Sumba Regency, East Nusa Tenggara Province No one can deny the values of natural attractions like beaches, no? When it is about beautiful beaches, East Nusa Tenggara Province has many of them including the one called Aili Beach of Central Sumba Regency. To be exact, the location is in Konda Maloba Village and it resides in South Katikutana Sub-District. Like other beaches of NTT Province, this one is recognized for its pristine nuance and beautiful white sand. The good thing is that it resides in the…
---
Gunung Meja Waterfall in East Sumba Regency Aside from exotic beaches and interesting local culture, East Nusa Tenggara Province is the home to other tourist attractions including waterfalls. Well, one of them resides in East Sumba Regency, which is called Gunung Meja Waterfall. To be exact, the location is in Kuta Village and it belongs to Kanatang Sub-District. Have no worries. The distance is considered especially for those coming from Waingapu City. So, what makes it unique? Some locals call it the hidden nirvana waterfall due to its nice landscape…
---