General Knowledge about West Sumba Regency in East Nusa Tenggara Province
---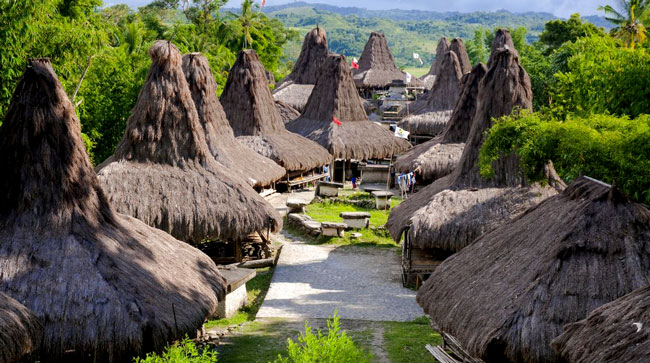 Sumba is one of the major islands of East Nusa Tenggara Province. When it comes to tourism, West Sumba Regency should be everyone's choice! It offers more than just stunning natural attractions, but also interesting local culture for tourists to learn or enjoy during the visit. The next reason why tourists should consider visiting the region is the presence of various options of transportation services including planes and boats. Those who want to get to West Sumba by plane, for example, they can simply head to Tambolaka Airport. For the information, the capital of the region is called Waikabubak City.
The Nuance
The most significant tourism potential of West Sumba Regency is indeed nature. When it comes to topography, the region consists of steep limestone hills and mountains. No wonder, the nuance feels so comfy and soothing! In terms of atmosphere, it is considered tropical and has a high rainfall. Next, most people who live there embrace a traditional region called Marapu! Still, some of them are Moslems, Catholics, or Protestants. These people also live in a traditional way and keep retaining their cultural heritage for generations, which is a good thing for tourists or visitors.
Exploring West Sumba Regency
Here is the question. What makes West Sumba Regency worth a visit? The first one is none other than the presence of interesting local traditions. It is because West Sumba consists of many historical and unique villages including Bulu Peka Mila, Watu Karagata, and Kadung Tana. For tourists, they should not miss the chance to visit those places and witness the richness of local culture there. Among those villages, the most famous one is called Tarung where tourists can find megalithic tombstones featuring numerous animal skulls and other sacred ornaments.
The next allure of West Sumba Regency is a local tradition called Pasola or the cavalry war training. The locals may gather in a field riding their horse and conduct a war training together. This activity usually occurs in March, so tourists should only come at the time if they want to watch it. Aside from Pasola, the region also has a famous tradition called Nyale. In fact, it is done right before such war training, which is also in March. The locals may gather in the coast at dawn during the full moon. They collect worms and cook them together!
Another allure of West Sumba Regency is the presence of delicious local foods for tourists to try. These include Manu Pata'u Ni, Nga'a Watary Patau Kabbe, yam leaves, Rumpu Rampe, Ka'pu Pantunnu, and Manggulu. For further information regarding these foods, tourists can ask their local guide or tour agent actually.
Tourism Potentials

Manupeu Tanah Daru National Park
Kaori Park
Waikelo Sawah Dam
Tarung Village
Lapopu Waterfall
Matayangu Waterfall
Wora Djawa Village
Kerewei Beach
Marosi Beach
Pasunga Village
How to Get There
From Kupang City, it takes a flight from El Tari International Airport and head to Tambolaka Airport of West Sumba Regency. This flight takes only about 55 minutes! Once arriving at the airport, tourists can simply head to Waikabubak City and find a good hotel before visiting any available tourist sites nearby.
Where to Stay

Praimarada Hotel
Rakuta Hotel
Aloha Hotel
Artha Hotel
Karanu Hotel
Ronita Inn
Monalisa Hotel

Latest News
Koja Doi Village is located in East Alok sub-district, Sikka Regency, East Nusa Tenggara (NTT). Visitors can access this village by boat with a travel time of about 40 minutes from Nangahale Harbor. Koja Doi is one of the tourist villages that won the Indonesia Sustainable Tourism Award (ISTA) from the Ministry of Tourism and Creative Economy. This village offers marine tourism, nature tourism, and cultural tourism. Koja Doi Village has several spot to visit, such as the site of the 1992 tsunami, a stone bridge, ancient rock hills, and…
---
West Sumba has a number of beaches that are destinations and attractions for its tourism sector. One of them is Marosi Beach. This beach is located in Lamboya District. You don't need long from Waikabubak to the location. Enough to travel overland for approximately one hour. In fact, you are also not charged a levy when entering this beach area. Marosi Beach is a beach that is completely empty of visitors. This is a recommended place for those of you who want to get rid of boredom from tired activities.…
---
Aili Beach in Central Sumba Regency, East Nusa Tenggara Province No one can deny the values of natural attractions like beaches, no? When it is about beautiful beaches, East Nusa Tenggara Province has many of them including the one called Aili Beach of Central Sumba Regency. To be exact, the location is in Konda Maloba Village and it resides in South Katikutana Sub-District. Like other beaches of NTT Province, this one is recognized for its pristine nuance and beautiful white sand. The good thing is that it resides in the…
---
Gunung Meja Waterfall in East Sumba Regency Aside from exotic beaches and interesting local culture, East Nusa Tenggara Province is the home to other tourist attractions including waterfalls. Well, one of them resides in East Sumba Regency, which is called Gunung Meja Waterfall. To be exact, the location is in Kuta Village and it belongs to Kanatang Sub-District. Have no worries. The distance is considered especially for those coming from Waingapu City. So, what makes it unique? Some locals call it the hidden nirvana waterfall due to its nice landscape…
---