Pantar Island in Alor Regency, East Nusa Tenggara Province
---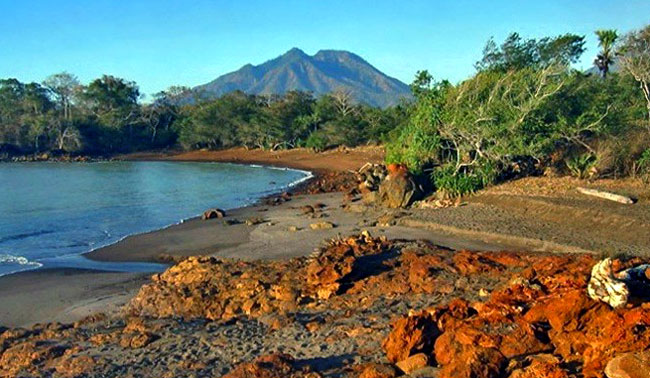 Located in the west of Alor Island, tourists may find a stunning island called Pantar. It is the part of Alor Regency, though. One thing that makes it popular is definitely the presence of a majestic sea park for tourists to explore. The location is in Tube Village and it resides in Central Park Sub-District. As people may expect, they can witness beautiful sea scenery by either snorkeling or diving. In this case, the best spot to visit is the Pantar Alor Strait. In fact, it has become one of the best sea parks in Indonesia!
The Nuance
Tourists can find many reasons why they should not overlook the beauty of Pantar Sea Park. The main thing is that the sea offers various types of nautical creatures including fishes and corals. The next thing is the clarity of the water. Due to such excellent visibility, snorkelers and divers are able to witness marine creatures clearly down there. What is more? The water feels so warm regardless of the season, so everyone would feel comfortable when enjoying the activity. Not to mention many great spots for diving are available including Peter's Prize, Shark Close, Half Moon Bay, and Crocodile Rook. Each of them offers a distinct characteristic, for sure.
Exploring Pantar Island
Pantar Island is known for its Sea Park, without a doubt. Tourists can even find more than one great diving spots for them to explore there. In some of these diving locations, people may meet exotic fishes like sharks and dolphins! It is even said these animals are quite rare to be seen in other diving spots. Despite the fact, everyone should consider hiring an instructor while diving. The purpose is to avoid any discomfort and to help them to explore the area in a more efficient way.
Aside from exotic fishes, tourists may see various types and sizes of corals when diving or snorkeling at Pantar Sea Park. Moreover, the clarity of the water is quite nice so it helps everyone to explore underwater easily. Even the water feels warm regardless of the time. Overall, the quality is similar to that of Komodo Sea Park and even Sulawesi's Bunaken! It would be quite worthy to visit during a long holiday or other occasions.
Before visiting Pantar Island for its sea park, though, tourists should consider several things beforehand. For example, they need to choose the right moment to visit the island. It is recommended to come during a good weather and in summer! The purpose is to avoid rain and any discomfort events. The next consideration is related to the budget. Everyone should carry extra cash as they may use it for paying a good transportation service, accommodation, and foods!
Nearby Attractions

Tiga Warna Beach
Alor Island
How to Get There
For those coming from Kupang City, they can take an airplane from El Tari International Airport and head to Alor Island Airport right away. This flight may take around 40 minutes, so it is considered fast and comfortable. Once arriving at Alor Regency, tourists should head to Alor Kecil Port and get a boat to get to Pantar Island right away.
Where to Stay


Latest News
Koja Doi Village is located in East Alok sub-district, Sikka Regency, East Nusa Tenggara (NTT). Visitors can access this village by boat with a travel time of about 40 minutes from Nangahale Harbor. Koja Doi is one of the tourist villages that won the Indonesia Sustainable Tourism Award (ISTA) from the Ministry of Tourism and Creative Economy. This village offers marine tourism, nature tourism, and cultural tourism. Koja Doi Village has several spot to visit, such as the site of the 1992 tsunami, a stone bridge, ancient rock hills, and…
---
West Sumba has a number of beaches that are destinations and attractions for its tourism sector. One of them is Marosi Beach. This beach is located in Lamboya District. You don't need long from Waikabubak to the location. Enough to travel overland for approximately one hour. In fact, you are also not charged a levy when entering this beach area. Marosi Beach is a beach that is completely empty of visitors. This is a recommended place for those of you who want to get rid of boredom from tired activities.…
---
Aili Beach in Central Sumba Regency, East Nusa Tenggara Province No one can deny the values of natural attractions like beaches, no? When it is about beautiful beaches, East Nusa Tenggara Province has many of them including the one called Aili Beach of Central Sumba Regency. To be exact, the location is in Konda Maloba Village and it resides in South Katikutana Sub-District. Like other beaches of NTT Province, this one is recognized for its pristine nuance and beautiful white sand. The good thing is that it resides in the…
---
Gunung Meja Waterfall in East Sumba Regency Aside from exotic beaches and interesting local culture, East Nusa Tenggara Province is the home to other tourist attractions including waterfalls. Well, one of them resides in East Sumba Regency, which is called Gunung Meja Waterfall. To be exact, the location is in Kuta Village and it belongs to Kanatang Sub-District. Have no worries. The distance is considered especially for those coming from Waingapu City. So, what makes it unique? Some locals call it the hidden nirvana waterfall due to its nice landscape…
---