Kewar Village in Belu Regency, East Nusa Tenggara Province
---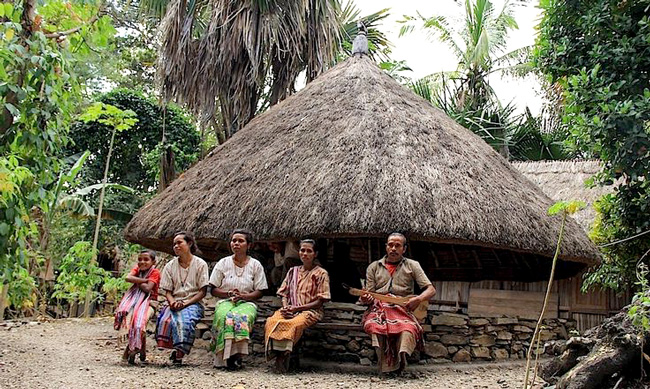 For some tourists, Belu Regency sounds unfamiliar perhaps. Despite the fact, that doesn't mean they may overlook it when choosing a place to visit for the next holiday. Like its sibling (Alor Regency), Belu is indeed famous for its beaches and natural attractions. However, it also has several interesting traditional villages for tourists to explore including Kewar Village. It is located in Lamaknen Sub-District, actually. This village has become a new vacation destination for those visiting Belu Regency these days. It offers both the comfortable environment and interesting culture to enjoy during the visit.
The Nuance
Once arriving at the village, tourists may see a noticeable gate of Kewar Village right away. The route is considered nice, so both cars and motorcycles are able to access the village easily. In terms of nuance, the village is surrounded by lush trees and various types of plants. This explains why the atmosphere feels so shady and soothing there. When it comes to the name, it was once called "Gewal". Ge means a fruit and Wal means full or replete. As the time went by, though, the locals change it to Kewar.
Exploring Kewar Village
The first allure of Kewar Village is indeed the pristine environment itself. This way, visitors can simply explore the nature by either walking or trekking. The village features different types of landscape, after all. What they need to consider is only the trekking route. In this case, they can take advantage of a local guide who can give a perfect direction during the exploration. Another tip is that they must wear comfortable gear like hiking boots. Carrying a camera is also recommended, somehow.
The next reason why tourists keep coming to Kewar Village is definitely to see Rumah Raja (King's House). This unique house applies Panggung Traditional House's design and features reed on its roof. If tourists enter the middle room, they may see two big poles called Nulai Mone and Nulai Napa. Mone resembles a male gender while Pana resembles a female gender, actually. Another unique fact is that both poles and the walls of the house feature beautiful carving. In the front part of the house, tourists may find an open space called Leo Rato where the King of sits.
Another thing to do in Kewar Village is indeed to meet the locals and the leader called Reu Loro. Have no worries. It is easy to approach them as long as tourists are able to talk the Indonesian Language. As an alternative, they can hire a tour guide in order to communicate with the locals easier. Later, before going home, it is recommended to eat some delicious local fruits including tangerines, guavas, and much more!
Nearby Attractions

Golpara Waterfall
Mauhalek Waterfall
Fulan Fehan Valley
How to Get There
From the capital of East Nusa Tenggara Province, tourists can take advantage of any local transportation service and head to Kewar Village through Nasional Trans Timor Street. Their prime destination is Lamaknen Sub-District where the village resides, actually. For the information, this trip may take about 7 hours and 39 minutes as the distance is 315 km.
Where to Stay

Ramascora Resort
Risky Hotel
LS Hotel
Klaben Hotel

Latest News
Koja Doi Village is located in East Alok sub-district, Sikka Regency, East Nusa Tenggara (NTT). Visitors can access this village by boat with a travel time of about 40 minutes from Nangahale Harbor. Koja Doi is one of the tourist villages that won the Indonesia Sustainable Tourism Award (ISTA) from the Ministry of Tourism and Creative Economy. This village offers marine tourism, nature tourism, and cultural tourism. Koja Doi Village has several spot to visit, such as the site of the 1992 tsunami, a stone bridge, ancient rock hills, and…
---
West Sumba has a number of beaches that are destinations and attractions for its tourism sector. One of them is Marosi Beach. This beach is located in Lamboya District. You don't need long from Waikabubak to the location. Enough to travel overland for approximately one hour. In fact, you are also not charged a levy when entering this beach area. Marosi Beach is a beach that is completely empty of visitors. This is a recommended place for those of you who want to get rid of boredom from tired activities.…
---
Aili Beach in Central Sumba Regency, East Nusa Tenggara Province No one can deny the values of natural attractions like beaches, no? When it is about beautiful beaches, East Nusa Tenggara Province has many of them including the one called Aili Beach of Central Sumba Regency. To be exact, the location is in Konda Maloba Village and it resides in South Katikutana Sub-District. Like other beaches of NTT Province, this one is recognized for its pristine nuance and beautiful white sand. The good thing is that it resides in the…
---
Gunung Meja Waterfall in East Sumba Regency Aside from exotic beaches and interesting local culture, East Nusa Tenggara Province is the home to other tourist attractions including waterfalls. Well, one of them resides in East Sumba Regency, which is called Gunung Meja Waterfall. To be exact, the location is in Kuta Village and it belongs to Kanatang Sub-District. Have no worries. The distance is considered especially for those coming from Waingapu City. So, what makes it unique? Some locals call it the hidden nirvana waterfall due to its nice landscape…
---