Kupang - Nunsui Beach
---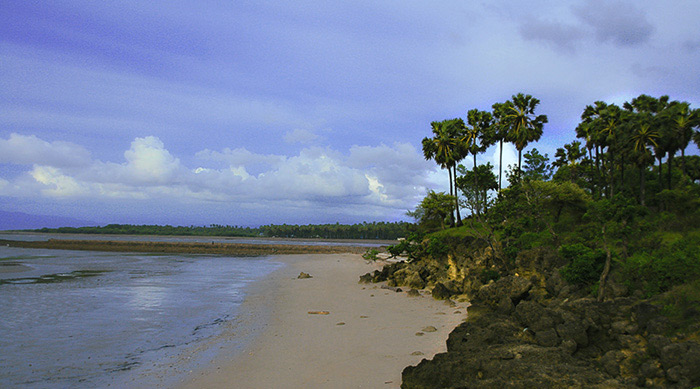 Nunsui Beach is a beach that is located adjacent to two other beach tourist attractions are Laisana Beach and Manikin Beach in Kupang, East Nusa Tenggara. Nunsui Beach located in the east coast of Kupang city. This beach stretches in the Oesapa Village, Kelapa Lima District of Kupang Regency. It is not difficult to get Nunsui Beach, because from Kupang city only takes about 20 minute use a motor vehicle.
Nunsui Beach by the local community are also called Batu Nona Beach (Lady Stone Beach). Because at this beach there is a rock shaped like a woman. According to the story, there was a woman who committed suicide to throw himself from a cliff of height approximately 15 meters to the sea. But then his body was turned into the stone then called Batu Nona Beach. Location the rock that resembles a woman's proximity to the beach, so it makes visitors easily and do not need to swim to approach it. And that makes Batu Nona famous is when the visitors climb to the top of Batu Nona, so visitors can see the sights beauty of Kupang bay in the distance can also see a beautiful sunset.
At the time waiting for the sunset, visitors can enjoy the cool air at Nunsui Beach while sitting on a stone embankment which is provided to pamper tourists. While for those who like fishing, this dike are often used as a place for fishing. This stone long as you want to separate between Batu Nona Beach and Lasiana Beach. Along Nunsui Beach, the visitors can also see the activities of Kupang residents are enjoying this beach. Some were playing ball, fishing at low tide or even come to Nunsui Beach just to play. On the afternoon is the best time to visit this Nunsui Beach. Because at that time the sea was receding, so that we could explore the beach freely. Nunsui Beach this though does not has white sand, but the structure of its beach is unique because it has an irregular stone expanse. If you are tired of playing, swimming and enjoying the beauty of Nunsui Beach or Batu Nona Beach, besides you can sunbathe while enjoying snacks offered by traders who are around the beach such as corn, bananas Epe or enjoy fresh coconut ice.

Latest News
Koja Doi Village is located in East Alok sub-district, Sikka Regency, East Nusa Tenggara (NTT). Visitors can access this village by boat with a travel time of about 40 minutes from Nangahale Harbor. Koja Doi is one of the tourist villages that won the Indonesia Sustainable Tourism Award (ISTA) from the Ministry of Tourism and Creative Economy. This village offers marine tourism, nature tourism, and cultural tourism. Koja Doi Village has several spot to visit, such as the site of the 1992 tsunami, a stone bridge, ancient rock hills, and…
---
West Sumba has a number of beaches that are destinations and attractions for its tourism sector. One of them is Marosi Beach. This beach is located in Lamboya District. You don't need long from Waikabubak to the location. Enough to travel overland for approximately one hour. In fact, you are also not charged a levy when entering this beach area. Marosi Beach is a beach that is completely empty of visitors. This is a recommended place for those of you who want to get rid of boredom from tired activities.…
---
Aili Beach in Central Sumba Regency, East Nusa Tenggara Province No one can deny the values of natural attractions like beaches, no? When it is about beautiful beaches, East Nusa Tenggara Province has many of them including the one called Aili Beach of Central Sumba Regency. To be exact, the location is in Konda Maloba Village and it resides in South Katikutana Sub-District. Like other beaches of NTT Province, this one is recognized for its pristine nuance and beautiful white sand. The good thing is that it resides in the…
---
Gunung Meja Waterfall in East Sumba Regency Aside from exotic beaches and interesting local culture, East Nusa Tenggara Province is the home to other tourist attractions including waterfalls. Well, one of them resides in East Sumba Regency, which is called Gunung Meja Waterfall. To be exact, the location is in Kuta Village and it belongs to Kanatang Sub-District. Have no worries. The distance is considered especially for those coming from Waingapu City. So, what makes it unique? Some locals call it the hidden nirvana waterfall due to its nice landscape…
---