Alor Tribe in Alor Regency, East Nusa Tenggara Province
---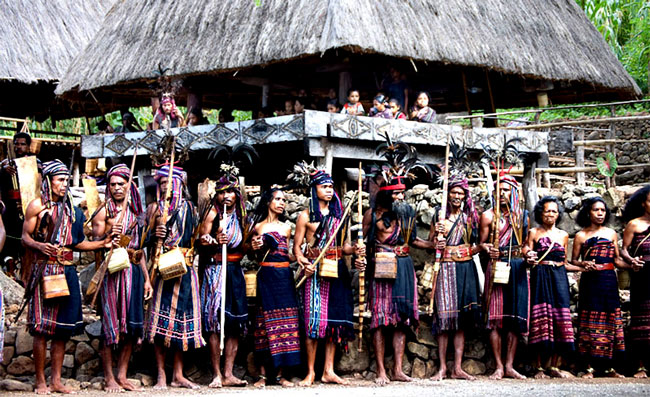 Tourists have a different reason if they want to come to Alor Regency of East Nusa Tenggara Province. Some of them are into the natural attractions, while others are likely to learn a little bit about local traditions or culture. For those who choose the second reason, they must not forget to meet Alor Tribe when visiting the region later. What makes the tribe interesting, though? Well, each tribe indeed has distinct characteristics when compared to others. These include their appearance, traditions, behavior, foods, belief, etc. Let's talk more about Alor Tribe!
The Appearance
In terms of appearance, Alor Tribe has dark skin and curly hair. Even though their eyelids are big, they look friendly. What about their figure? Well, it is considered moderate for both men and women. The most interesting fact is that these people wear traditional clothes, featuring a local woven fabric and some natural ornaments (including chicken and birds' feather). Also, these people are not quite into modernization. That means they keep their traditions and heritage intact, which is good news for tourists. Thus, visitors can learn many things about these people.
More about Alor Tribe
The first thing to know regarding Alor Tribe is none other than the history itself. It is said there was a kingdom called Munaseli, which is considered the oldest. The kingdom was located in the inland Alor Mountain of Pantar Island actually. However, tourists may also hear other kingdoms including Baranua, Pandai, Kui, and many others! In order to get further information regarding these kingdoms, tourists should hire a professional tour guide or a reliable villager. Have no worries. The guide is able to help foreigners as well.
The next thing to know about Alor Tribe is related to their belief. The majority of them are Christians and Catholics. Still, some of these people are into animism. They even pray to numerous natural objects like the sun, moon, and several gods. What is more? The tribe also has interesting arts and traditional performances for tourists to enjoy. For instance, there is Lego-Lego Dance. For those who want to watch the performance, they can simply head to Takpala Village! The dance is performed by lots of people and it even involves a nice formation.
What is next? Tourists can see and learn how to play traditional music ornaments called Moko. It is a kind of a drum actually. In the past, Moko was used by the locals as one of the dowries. Well, the last thing to do is to try some local foods including Bose Corn and Rambut Cake. Make sure to talk to villagers to get these freely, though. As an alternative, buying them is also possible.
Nearby Attractions

Mataru Waterfall
Kalabahi Museum
Deere Beach
Bidadari Lake
"1000" Moko Museum
Balemana Village
How to Get There
From Kupang City, it takes a flight from El Tari International Airport to Alor Airport. Once arriving at Kalabahi City, the next recommended destination is Takpala Village where many people of Alor resides.
Where to Stay

Pelangi Indah Hotel
Nusa Kenari Indah Hotel
Cantik Homestay
Marlina Hotel
Adi Dharma Hotel
Mawar Hotel
Melati Hotel

Latest News
Koja Doi Village is located in East Alok sub-district, Sikka Regency, East Nusa Tenggara (NTT). Visitors can access this village by boat with a travel time of about 40 minutes from Nangahale Harbor. Koja Doi is one of the tourist villages that won the Indonesia Sustainable Tourism Award (ISTA) from the Ministry of Tourism and Creative Economy. This village offers marine tourism, nature tourism, and cultural tourism. Koja Doi Village has several spot to visit, such as the site of the 1992 tsunami, a stone bridge, ancient rock hills, and…
---
West Sumba has a number of beaches that are destinations and attractions for its tourism sector. One of them is Marosi Beach. This beach is located in Lamboya District. You don't need long from Waikabubak to the location. Enough to travel overland for approximately one hour. In fact, you are also not charged a levy when entering this beach area. Marosi Beach is a beach that is completely empty of visitors. This is a recommended place for those of you who want to get rid of boredom from tired activities.…
---
Aili Beach in Central Sumba Regency, East Nusa Tenggara Province No one can deny the values of natural attractions like beaches, no? When it is about beautiful beaches, East Nusa Tenggara Province has many of them including the one called Aili Beach of Central Sumba Regency. To be exact, the location is in Konda Maloba Village and it resides in South Katikutana Sub-District. Like other beaches of NTT Province, this one is recognized for its pristine nuance and beautiful white sand. The good thing is that it resides in the…
---
Gunung Meja Waterfall in East Sumba Regency Aside from exotic beaches and interesting local culture, East Nusa Tenggara Province is the home to other tourist attractions including waterfalls. Well, one of them resides in East Sumba Regency, which is called Gunung Meja Waterfall. To be exact, the location is in Kuta Village and it belongs to Kanatang Sub-District. Have no worries. The distance is considered especially for those coming from Waingapu City. So, what makes it unique? Some locals call it the hidden nirvana waterfall due to its nice landscape…
---