Batu Payung Beach in East Sumba Regency, East Nusa Tenggara Province
---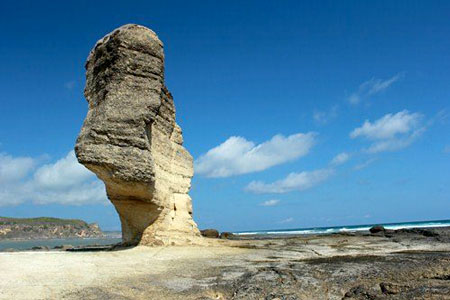 Tons of beautiful beaches reside in East Nusa Tenggara Province and all of them are worth to visit. For example, there is Batu Payung Beach which is located in the north part of Sumba Island. To be exact, it resides in Prailiu Village and belongs to Kambera Sub-District. In terms of region, it belongs to East Sumba Regency though. Due to its strategic location and popularity, the beach has been chosen as one of the best places to spend holidays especially among those who live in Wangapu City. Outsiders and tourists often visit it as well for a family recreation, relaxation, and eating together in fact.
The Nuance
There must be reasons for tourists to come to Batu Payung Beach. Well, one of them is due to the presence of soft-textured sand. It is true that almost all beaches of East Nusa Tenggara Province has such kind of characteristic. However, this one also comes with various interesting features like coconut trees, mangroves, calm waves, and pristine environment. Still, the most recognizable one is the presence of a unique stone having the shape of an umbrella. No wonder, the locals gave Batu Payung to the site as "Batu" means stone and "Payung" means umbrella.
Exploring Batu Payung Beach
The most recognizable activity that tourists often do in Batu Payung Beach is none other than to witness the unique stone directly. As mentioned earlier, the shape is similar to an umbrella and it is worth photography as well. No wonder, tourists often take selfies in front of it when visiting the beach. However, other landmarks are also seen on site including coral reefs scattered all over the location. That means visitors have many objects that can be a nice background for photography.
Aside from photography, other fun activities can be done Batu Payung Beach including coral exploration. In this case, tourists should wear comfortable and safe footwear to walk on the reefs and look for small sea creatures like shells. It is also recommended to carry a container so they can collect and put those animals in it. Here is the tip. The best time to enjoy coral exploration is during the low tide, as the shells and other tiny marine creatures are easy to spot.
Another recommended thing to do in Batu Payung Beach is to eat delicious grilled fish that tourists can buy from the locals. It is because villagers often come to the beach to sell seafood and earn money from it. The good thing is that the price is negotiable, so tourists are able to get cheap prices for mouthwatering foods!
Nearby Attractions

Waingapu Park
Manubara Bridge
Pahlawan Monument
Waingapu Lighthouse
How to Get There
For those coming from Kupang City, they can simply take an airplane from El Tari International Airport to Mau Hau Airport in Waingapu City. The flight only takes about 30 minutes, actually. Once arriving at the airport, they should head to the beach right away by taking Adi Sucipto and Gatot Soebroto Street. The distance is 6.3 km, so the trip may take about 12 minutes only.
Where to Stay


Latest News
It is true East Nusa Tenggara Province is famous for its Komodo Island. However, many other attractions are available in this region. For instance, there is Amelia Sea View located in Labuan Bajo. As the name suggests, it is the … Continue reading →
---
Go Flores Tours are the windows to enjoy the beauty of the Nature Island of Flores and Komodo Island. visiting this kind of paradise will not be disappointed when you witnessed with your own eyes and feel the differences peculiarity … Continue reading →
---
  Wae Rebo Wae Rebo is one of Indonesia's precious destinations in the formn of an old Manggaraian village. It situated in pleasant, isolated mountain scenery in Flores, East Nusa Tenggara. The village offers visitors a unique opportunity to see … Continue reading →
---
Top Komodo Tour in Flores island Indonesia is a recommended & reliable local tour operator to arrange your memorable trip to Flores & Komodo island. Due to its great service since many years, it's also many highly reviews on Trip … Continue reading →
---