Sikka – Koka Beach
---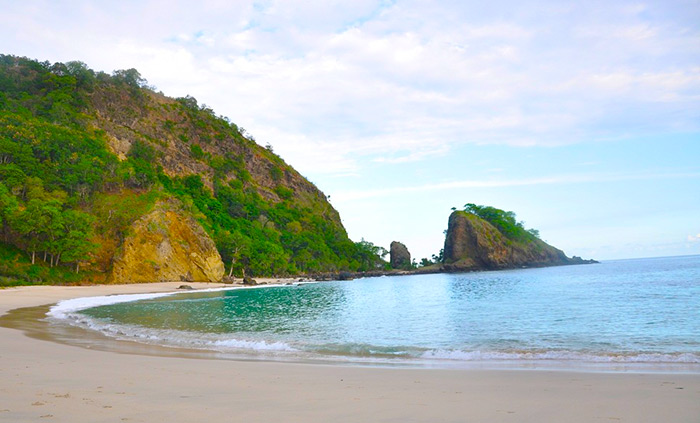 Koka beach is one of beaches in Sikka Regency, East Nusa Tenggara Province. Precisely in Wolowiro Village, Paga District, this beach is located on the south coast of Flores Island. From Maumere City, it takes around 48 km. If you start your journey from Jakarta, Surabaya, Makassar, and Denpasar, you take a flight to Maumere City.
Koka beach is a beach which is very attractive with clean sea views, as well as the water is very clear, soft white sand stretches forming segment, left and right there are cliffs like a natural painting looks very artistic. Like the other southern coast, Koka beach has big waves but quite safe if we want to swim on the beach. Koka beach is a beach that is rarely touched tourists. Not many people know more less visit the beach. This beauty beach hidden from the crowd as the world. White and fine sand stretch along the coastline and that assure us that Koka beach become a hidden paradise. Strolling on soft sand becomes one of favorite activity at evening. Breezing wind from the beach gives you atmosphere and sensation. That is why most of visitor love to wait the sunset with their friends.
Apart from strolling along the coastline, you also will enjoy two big rocks. These rocks become a separator of two beaches. The clean and blue water in Koka beach make visitor wants to jump as soon as they arrive. If you decide to snorkel, coral reefs and variety of fishes will accompany you. They look so beautiful with many colors. The natural potential of the beach make anyone who comes to Koka will admire the beauty of beach. The authenticity of the beach is so prominent. This condition make local resident decide to spend their holiday here because Koka beach is one of favorite destination in Maumere City.
If you want to visit Koka beach, you can take flight from Jakarta to Maumere (Frans Seda Airport). Ticket price ranging from USD 200 - 250. But, the first, you can go to Denpasar, Bali. Ticket price from Jakarta to Bali it's about USD 100 - 130. After enjoy your trip in Bali, you can take flight from Denpasar, Bali to Maumere using aircraft. Ticket price about USD 70. Arriving in Maumere, there's many bus travel in Frans Seda airport. You must take destination to Koka beach. But using bus travel will be expensive if you rent. It's about USD 50. You can take a bus to Ende and droop out in Paga. They don't using ticket, but cash money about USD 1.5 or Rp 15.000 in Indonesia money. There is hotel or motel in Koka beach. Or you can stay in Paga hotel, it's very near from Paga beach. Just ask to local people, they can help friendly.

Latest News
Koja Doi Village is located in East Alok sub-district, Sikka Regency, East Nusa Tenggara (NTT). Visitors can access this village by boat with a travel time of about 40 minutes from Nangahale Harbor. Koja Doi is one of the tourist villages that won the Indonesia Sustainable Tourism Award (ISTA) from the Ministry of Tourism and Creative Economy. This village offers marine tourism, nature tourism, and cultural tourism. Koja Doi Village has several spot to visit, such as the site of the 1992 tsunami, a stone bridge, ancient rock hills, and…
---
West Sumba has a number of beaches that are destinations and attractions for its tourism sector. One of them is Marosi Beach. This beach is located in Lamboya District. You don't need long from Waikabubak to the location. Enough to travel overland for approximately one hour. In fact, you are also not charged a levy when entering this beach area. Marosi Beach is a beach that is completely empty of visitors. This is a recommended place for those of you who want to get rid of boredom from tired activities.…
---
Aili Beach in Central Sumba Regency, East Nusa Tenggara Province No one can deny the values of natural attractions like beaches, no? When it is about beautiful beaches, East Nusa Tenggara Province has many of them including the one called Aili Beach of Central Sumba Regency. To be exact, the location is in Konda Maloba Village and it resides in South Katikutana Sub-District. Like other beaches of NTT Province, this one is recognized for its pristine nuance and beautiful white sand. The good thing is that it resides in the…
---
Gunung Meja Waterfall in East Sumba Regency Aside from exotic beaches and interesting local culture, East Nusa Tenggara Province is the home to other tourist attractions including waterfalls. Well, one of them resides in East Sumba Regency, which is called Gunung Meja Waterfall. To be exact, the location is in Kuta Village and it belongs to Kanatang Sub-District. Have no worries. The distance is considered especially for those coming from Waingapu City. So, what makes it unique? Some locals call it the hidden nirvana waterfall due to its nice landscape…
---