Rote Island
---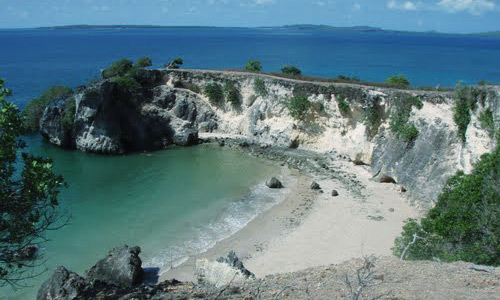 Rote Island is a part of Kupang Regency and is the southernmost island of Indonesia. It is located in the west coast of Kupang. This exotic island can be reached only in four hours. From Kupang by inter-island ferry to dive and tour this untouched beautifully rugged land. Spectacular walls and caverns mirror the hills, valleys, and escarpments underwater. The marine life is so varied and profuse that is hard to believe from Fire-fish to Mantas. The architecture of Rote is unique, as is their exquisite ikat weaving. See the people is their traditional lifestyle, which has remained unchanged for centuries.
Rote has many historical relies including fine antique Chinese porcelains, as well as ancient arts and traditions. Many prominent Indonesia nationalist leaders were born here. A popular music instrument Sasando, which is made of palm leaves. According to legend, this island got its name accidentally when a lost Portuguese sailor arrived and asked a farmer where he was. The surprised farmer, who could not speaking Portuguese, introduced himself, "Rote". Rote just off the southern tip of Timor Island consists of rolling hills, terraced plantations, and acacia palm, savanna and some forests. The rotinese depend, like the Savunese, on lontar palm for basic survival, but also as the supplement their income with fishing and jewelry making.
Before Indonesia's Independence, Rote, boasted the highest density of kingdom in the East Indies. Even today the island, the Rotenese and their kingdoms are divided, following ancient tradition, into two domains, one known as Sunrise and one as Sunset. A "male" Lord, a "female" Lord and several advisers, representing the clans within that domain, rules the domain. Each clan that possesses ceremonial rights performs it's own rituals during the annual HUS celebration, a traditional New Year festival. At the HUS, Rotenese men wearing their unique hats make offerings to the clan ancestors and the women dance accompanied by sasando, The Rotenese guitar.
Rote is particularly well know for its surfing, each year surfers flock to Namberala to ride the near perfect tubes formed by the shallow reefs and off-shore winds. Accommodation in Namberala includes a traditional beachfront bungalow resort and several home stays. The beach itself is one of the best examples of a palm fringed pure white sandy beach to be found anywhere. Diving in the area is also exceptional due to the large numbers of Manta and Dugong seen there. A boat trip to nearby Dana or Ndao Islands is also recommended.

Latest News
Koja Doi Village is located in East Alok sub-district, Sikka Regency, East Nusa Tenggara (NTT). Visitors can access this village by boat with a travel time of about 40 minutes from Nangahale Harbor. Koja Doi is one of the tourist villages that won the Indonesia Sustainable Tourism Award (ISTA) from the Ministry of Tourism and Creative Economy. This village offers marine tourism, nature tourism, and cultural tourism. Koja Doi Village has several spot to visit, such as the site of the 1992 tsunami, a stone bridge, ancient rock hills, and…
---
West Sumba has a number of beaches that are destinations and attractions for its tourism sector. One of them is Marosi Beach. This beach is located in Lamboya District. You don't need long from Waikabubak to the location. Enough to travel overland for approximately one hour. In fact, you are also not charged a levy when entering this beach area. Marosi Beach is a beach that is completely empty of visitors. This is a recommended place for those of you who want to get rid of boredom from tired activities.…
---
Aili Beach in Central Sumba Regency, East Nusa Tenggara Province No one can deny the values of natural attractions like beaches, no? When it is about beautiful beaches, East Nusa Tenggara Province has many of them including the one called Aili Beach of Central Sumba Regency. To be exact, the location is in Konda Maloba Village and it resides in South Katikutana Sub-District. Like other beaches of NTT Province, this one is recognized for its pristine nuance and beautiful white sand. The good thing is that it resides in the…
---
Gunung Meja Waterfall in East Sumba Regency Aside from exotic beaches and interesting local culture, East Nusa Tenggara Province is the home to other tourist attractions including waterfalls. Well, one of them resides in East Sumba Regency, which is called Gunung Meja Waterfall. To be exact, the location is in Kuta Village and it belongs to Kanatang Sub-District. Have no worries. The distance is considered especially for those coming from Waingapu City. So, what makes it unique? Some locals call it the hidden nirvana waterfall due to its nice landscape…
---