Kupang – Tablolong Beach
---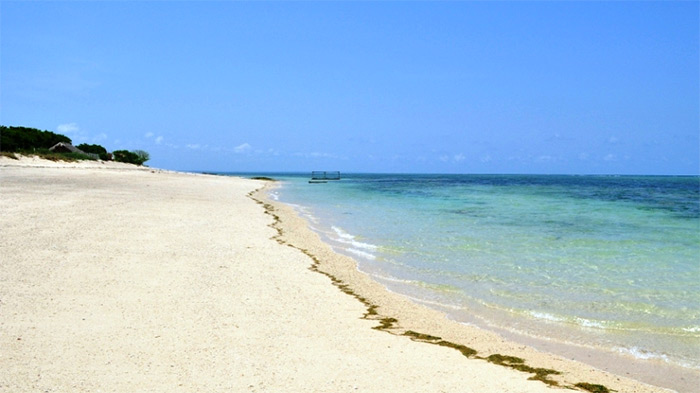 The natural landscape as a tourism spot in East Nusa Tenggara generally is still virgin, untouched, exotic and natural. One of them is Tablolong Beach. It is one of the beaches located in East Nusa Tenggara. Named Tablolong because takes its name from the small fishing village on the eastern tip. On this white sandy beach you can swim, play or just relax to enjoy the beauty of Tablolong Beach.
Tablolong Beach has white sand beach, panoramic rock also so beautiful. Corals at the site has been covered with cement to provide comfort for the visitors who will sit on it. After enjoying the panoramic view of the beach. Now is the time along the coastal section by section to see the coral reefs. That said, the reef Tablolong Beach still intact, untouched fish bombs. Not surprisingly, these beach had been hold event of international fishing competition.
Indeed Tablolong Beach location is better known as an area for fishing. Actually, Tablolong Beach lies at the end of Timor Island. Position Tablolong Beach directly opposite the Semau Island so that it becomes more profitable for fish in deep waters to shelter in Semau if it rains. This is what makes Tablolong Beach is rich in fish that make it as a place to perform fishing competition.
Besides the scenery and fishing are also many foreigners who love diving come to Tablolong Beach just want to enjoy the colorful coral reefs and a variety of fish species in a group that looks like being in a giant aquarium. About five miles from the beach, there are three targeted fishing reef that is Beatrix, Dalam, and Tabui.
Location and Transportation
Tablolong Beach is located only about 25 km from the center of Kupang city. Not far away, a trip taken approximately one hour. Tablolong Beach tourism locations in Tablolong Village, Kupang Barat District, Kupang Regency of East Nusa Tenggara.
Panoramic sea and fishing boat seen from the ranks of white sandy beaches really spoil the eye. This is one of a number of marine tourist destination began to demand in that area. Cool beach atmosphere, and the friendly people around match for those of you who want tranquility traveled.
There is no public transport serving of route Kupang-Tablolong. This area can only reach by private vehicle or rental for one hour. Along the sides of the road were treated to a view of shade trees whose leaves begin to wither due to drought malignancy. The streets were deserted because it is many vehicles were passing.
Accommodation
On Tablolong Beach there are lopo-lopo or a place to rest for a moment to just relax. Tablolong Beach also provide stalls located around this tourist area. In the west of the attractions there are villas for those who want to enjoy Tablolong Beach longer. Rate of villas is quite expensive, it is no wonder only foreign tourists are mostly staying in the villa. In coastal areas there are also swamp the place for breeding fish.

Latest News
Koja Doi Village is located in East Alok sub-district, Sikka Regency, East Nusa Tenggara (NTT). Visitors can access this village by boat with a travel time of about 40 minutes from Nangahale Harbor. Koja Doi is one of the tourist villages that won the Indonesia Sustainable Tourism Award (ISTA) from the Ministry of Tourism and Creative Economy. This village offers marine tourism, nature tourism, and cultural tourism. Koja Doi Village has several spot to visit, such as the site of the 1992 tsunami, a stone bridge, ancient rock hills, and…
---
West Sumba has a number of beaches that are destinations and attractions for its tourism sector. One of them is Marosi Beach. This beach is located in Lamboya District. You don't need long from Waikabubak to the location. Enough to travel overland for approximately one hour. In fact, you are also not charged a levy when entering this beach area. Marosi Beach is a beach that is completely empty of visitors. This is a recommended place for those of you who want to get rid of boredom from tired activities.…
---
Aili Beach in Central Sumba Regency, East Nusa Tenggara Province No one can deny the values of natural attractions like beaches, no? When it is about beautiful beaches, East Nusa Tenggara Province has many of them including the one called Aili Beach of Central Sumba Regency. To be exact, the location is in Konda Maloba Village and it resides in South Katikutana Sub-District. Like other beaches of NTT Province, this one is recognized for its pristine nuance and beautiful white sand. The good thing is that it resides in the…
---
Gunung Meja Waterfall in East Sumba Regency Aside from exotic beaches and interesting local culture, East Nusa Tenggara Province is the home to other tourist attractions including waterfalls. Well, one of them resides in East Sumba Regency, which is called Gunung Meja Waterfall. To be exact, the location is in Kuta Village and it belongs to Kanatang Sub-District. Have no worries. The distance is considered especially for those coming from Waingapu City. So, what makes it unique? Some locals call it the hidden nirvana waterfall due to its nice landscape…
---