Ndana Island
---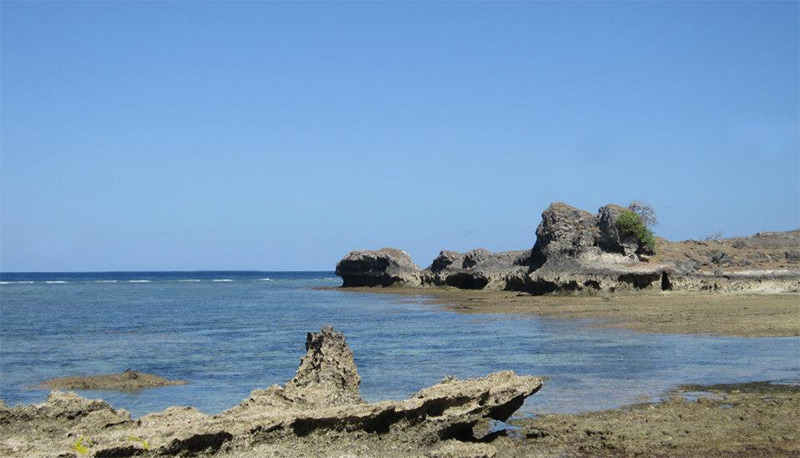 Ndana Island is including five outer islands in East Nusa Tenggara Province or one of the 92 outer islands of Indonesia. Four other outer islands in East Nusa Tenggara is Batek Island in Kupang Regency, Menggudu and Salura Island in East Sumba and Dana Sabu Island, in Sabu Raijua. The island area of 14.19 square kilometers, or about 1,400 hectares is located in the regency of Rote Ndao, East Nusa Tenggara (NTT).
Ndana Island has dazzling exotic panorama. Besides the beauty of this island, Ndana Island also has myth about the island telling that women who have period are not allowed to visit the red lake located in the middle of the island. The prohibition has descended from generation to generation. Even today, there are some people who still believe in this myth. They really don't visit the lake when they have period. It seems that the local people really obey the prohibition. Regardless the strange story about th island, the island provides many things to offer to visitors.
Ndana Island is located in Rote Ndao regency, Southwest Kupang. Precisely, the island lies right in the entrance of Boa Beach. You can go by motorboat or speedboat to the island. Along the way, you can see beautiful white sand with powerful waves. This is an incredible view. For those who believe in mystery, the island is surely a perfect place to visit. Apart from the strange story as previously mentioned, the island has another strange story. In Rote Ndao Regency, you can find two stones. The stones are said to have been a man and a woman. Their names are Hun and Suelay Stones. They are said to have been walking on their own before they stay in Rote Ndao.
There are various interesting activities that we can do in Ndana Island, including explore traditional village trip that is lies around the island. You can learn many things about the villages, including the local people, their way of life, their traditional culture and their typical food and souvenirs. The activity will give you challenging adventure. Besides that, you can visit many beautiful tourist destinations throughout the island. There are beaches you can visit. Visiting the beaches is a must because you can see the spectacular panorama of the beach. You will see beautiful nature around the beach along with crystal clear waters and steep hills surrounding the beach. There are also savannah stretching along the coastline. Walking around the beach will make you relaxed and refresh your mind.
For facility and accommodation in this Ndana Island, there are still few hotels in this island. You can only find small lodges. However, this shouldn't stop you from visiting this island. Instead, you can challenge yourself to survive in this island. You can decide to stay in one of the local people's house, otherwise you can set a tent around Ndana Island.

Latest News
Koja Doi Village is located in East Alok sub-district, Sikka Regency, East Nusa Tenggara (NTT). Visitors can access this village by boat with a travel time of about 40 minutes from Nangahale Harbor. Koja Doi is one of the tourist villages that won the Indonesia Sustainable Tourism Award (ISTA) from the Ministry of Tourism and Creative Economy. This village offers marine tourism, nature tourism, and cultural tourism. Koja Doi Village has several spot to visit, such as the site of the 1992 tsunami, a stone bridge, ancient rock hills, and…
---
West Sumba has a number of beaches that are destinations and attractions for its tourism sector. One of them is Marosi Beach. This beach is located in Lamboya District. You don't need long from Waikabubak to the location. Enough to travel overland for approximately one hour. In fact, you are also not charged a levy when entering this beach area. Marosi Beach is a beach that is completely empty of visitors. This is a recommended place for those of you who want to get rid of boredom from tired activities.…
---
Aili Beach in Central Sumba Regency, East Nusa Tenggara Province No one can deny the values of natural attractions like beaches, no? When it is about beautiful beaches, East Nusa Tenggara Province has many of them including the one called Aili Beach of Central Sumba Regency. To be exact, the location is in Konda Maloba Village and it resides in South Katikutana Sub-District. Like other beaches of NTT Province, this one is recognized for its pristine nuance and beautiful white sand. The good thing is that it resides in the…
---
Gunung Meja Waterfall in East Sumba Regency Aside from exotic beaches and interesting local culture, East Nusa Tenggara Province is the home to other tourist attractions including waterfalls. Well, one of them resides in East Sumba Regency, which is called Gunung Meja Waterfall. To be exact, the location is in Kuta Village and it belongs to Kanatang Sub-District. Have no worries. The distance is considered especially for those coming from Waingapu City. So, what makes it unique? Some locals call it the hidden nirvana waterfall due to its nice landscape…
---