Sumba Home Culture in Southwest Sumba Regency, East Nusa Tenggara Province
---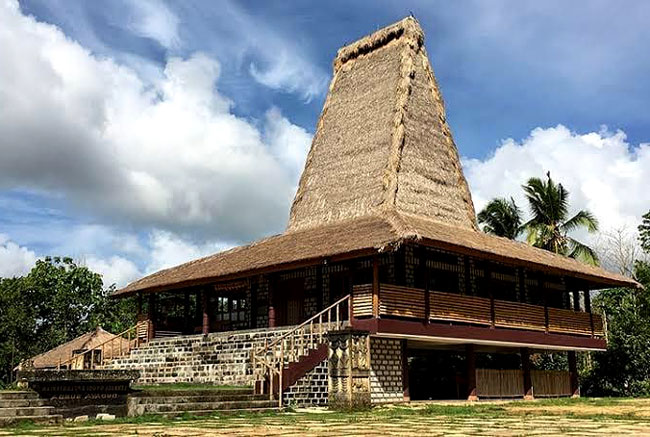 One of the reasons to visit East Nusa Tenggara Province is indeed to learn the culture or witness Indonesian local traditions. In this case, tourists should consider visiting Southwest Sumba Regency where Sumba Home Culture (Rumah Budaya Sumba) resides. The location is in Wee Londa Village and it belongs to Loura Sub-District, actually. What can tourists find there? Well, the site provides abundant information regarding cultural heritage of Sumba tribe and numerous valuable objects. In a nutshell, it has the function which is similar to a museum. Thus, it becomes a recommended vacation destination for those who are visiting Sumba Island of NTT in the next holiday.
The Nuance
Once arriving at this Indonesia's site, tourists may see several structures having the design of a traditional house of Sumba Tribe. Due to such unique design, visitors usually take selfies in front of it and make the house as the background for photography! What is more? The site is surrounded by big trees, especially coconut trees (which give a soothing ambiance to the site). Also, such cultural house features a vast grassy park where tourists can sit and relax during the visit. Overall, the atmosphere is suitable for both relaxation and sightseeing. It is only the beginning, though. The real deal starts once tourists get inside the building.
Exploring Sumba Home Culture
The first common reason why people keep coming to Sumba Home Culture is to learn the value of local culture. The function of the home culture is to retain the traditions and introduce these to outsiders or tourists, after all. For tourists, they can take advantage of the site to get information regarding all available cultural traditions and heritages like Pasola, dances, folks, legends, Wula Podhu, and much more! Have no worries. A tour guide may explain these all to tourists.
Those who visit Sumba Home Culture should take the opportunity to learn the history of the site as well. According to the locals, the founder was Pastor Robert Ramone. People call him Pater Robert, actually. He is an important person behind the popularity of the home culture. His purpose is to lure more people to learn traditions of Sumba, especially those who live in Indonesia. He even wants to introduce it to foreigners and make East Nusa Tenggara Province more popular among travelers.
During the visit, tourists should not miss any single objects or items to watch there. After all, the building functions as a museum so tourists should take their time in exploring it. Lots of historical items are stored inside including Sumba woven fabrics, wooden statues, stone statues, weapons, jewelry, photos, and much more! Moreover, those objects are more than a hundred years old!
Nearby Attractions

Karakat Indah Beach
Watu Pekadu Village
Mananga Aba Beach
Kawona Beach
How to Get There
First, tourists should take an airplane from El Tari International Airport of Kupang City and head to Tambolaka Airport. For the information, the flight takes approximately 55 minutes. Once tourists arrive at Tambolaka, they can get to Sumba Home Culture immediately. This trip may take around 18 minutes, as the distance is 9.2 km. As for the best route, it is definitely Lukas Dairo Bili Street.
Where to Stay

Sumba Sejahtera Hotel
Sinar Tambolaka Hotel
Anggrek Hotel
Kyriad Hotel

Latest News
Koja Doi Village is located in East Alok sub-district, Sikka Regency, East Nusa Tenggara (NTT). Visitors can access this village by boat with a travel time of about 40 minutes from Nangahale Harbor. Koja Doi is one of the tourist villages that won the Indonesia Sustainable Tourism Award (ISTA) from the Ministry of Tourism and Creative Economy. This village offers marine tourism, nature tourism, and cultural tourism. Koja Doi Village has several spot to visit, such as the site of the 1992 tsunami, a stone bridge, ancient rock hills, and…
---
West Sumba has a number of beaches that are destinations and attractions for its tourism sector. One of them is Marosi Beach. This beach is located in Lamboya District. You don't need long from Waikabubak to the location. Enough to travel overland for approximately one hour. In fact, you are also not charged a levy when entering this beach area. Marosi Beach is a beach that is completely empty of visitors. This is a recommended place for those of you who want to get rid of boredom from tired activities.…
---
Aili Beach in Central Sumba Regency, East Nusa Tenggara Province No one can deny the values of natural attractions like beaches, no? When it is about beautiful beaches, East Nusa Tenggara Province has many of them including the one called Aili Beach of Central Sumba Regency. To be exact, the location is in Konda Maloba Village and it resides in South Katikutana Sub-District. Like other beaches of NTT Province, this one is recognized for its pristine nuance and beautiful white sand. The good thing is that it resides in the…
---
Gunung Meja Waterfall in East Sumba Regency Aside from exotic beaches and interesting local culture, East Nusa Tenggara Province is the home to other tourist attractions including waterfalls. Well, one of them resides in East Sumba Regency, which is called Gunung Meja Waterfall. To be exact, the location is in Kuta Village and it belongs to Kanatang Sub-District. Have no worries. The distance is considered especially for those coming from Waingapu City. So, what makes it unique? Some locals call it the hidden nirvana waterfall due to its nice landscape…
---