Kupang City
---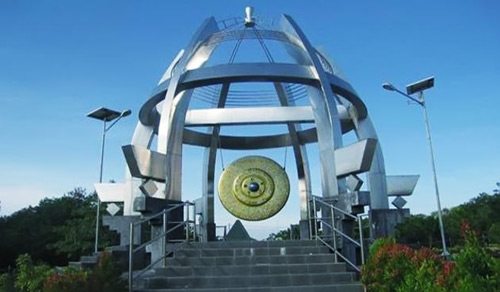 The provincial capital of East Nusa Tenggara in western Timor has proximately 522.944 inhabitants, making it the largest urban center in the province. It is the center of government, business, trade, and education. 'The only sandalwood oil factory in Indonesia is located in this town. The city is located in West Timor, at 10011'S 123035'E, and has a population of about 450,000.
As the capital of East Nusa Tenggara, the transport and administrative links from Kupang with isolated islands are extensive. The location was an important port and trading point during the Portuguese and Dutch colonial eras. There are ruins and remnant signs of the colonial presence in the city. The city was an important landing and refueling place for early long distance airplane flights between Europe and Australia in the early twentieth century. It was an important location during the conflict in East Timor, for the Indonesian military, as well as the militias. The camps around Kupang were also of significant impact on the city.
Kupang was the final destination of Captain William Bligh (actually he was a lieutenant in the British Royal Navy) who was set adrift in an open boat during the Mutiny on the Bounty.
The Mutiny on the Bounty (1789) took place about 30 nautical miles (56 km) from Tofua. Lt William Bligh navigated the overcrowded 23-foot (7 m) open launch on an epic 41-day voyage first to Tofua and then Kupang City is equipped only with a sextant and a pocket watch -- no charts or compass. He recorded the distance as 3,618 nautical miles (6710 km). He passed through the difficult Torres Strait along the way and landed on June 14. The only casualty of his voyage was a crewman named James Norton who was stoned to death by the natives of Tofua, the first island they tried to land on. First Mate Fletcher Christian who fell in love with a Tahitian native and eventually settled on Pitcairn Island South East of Tahiti, had led the Mutiny.

Latest News
Koja Doi Village is located in East Alok sub-district, Sikka Regency, East Nusa Tenggara (NTT). Visitors can access this village by boat with a travel time of about 40 minutes from Nangahale Harbor. Koja Doi is one of the tourist villages that won the Indonesia Sustainable Tourism Award (ISTA) from the Ministry of Tourism and Creative Economy. This village offers marine tourism, nature tourism, and cultural tourism. Koja Doi Village has several spot to visit, such as the site of the 1992 tsunami, a stone bridge, ancient rock hills, and…
---
West Sumba has a number of beaches that are destinations and attractions for its tourism sector. One of them is Marosi Beach. This beach is located in Lamboya District. You don't need long from Waikabubak to the location. Enough to travel overland for approximately one hour. In fact, you are also not charged a levy when entering this beach area. Marosi Beach is a beach that is completely empty of visitors. This is a recommended place for those of you who want to get rid of boredom from tired activities.…
---
Aili Beach in Central Sumba Regency, East Nusa Tenggara Province No one can deny the values of natural attractions like beaches, no? When it is about beautiful beaches, East Nusa Tenggara Province has many of them including the one called Aili Beach of Central Sumba Regency. To be exact, the location is in Konda Maloba Village and it resides in South Katikutana Sub-District. Like other beaches of NTT Province, this one is recognized for its pristine nuance and beautiful white sand. The good thing is that it resides in the…
---
Gunung Meja Waterfall in East Sumba Regency Aside from exotic beaches and interesting local culture, East Nusa Tenggara Province is the home to other tourist attractions including waterfalls. Well, one of them resides in East Sumba Regency, which is called Gunung Meja Waterfall. To be exact, the location is in Kuta Village and it belongs to Kanatang Sub-District. Have no worries. The distance is considered especially for those coming from Waingapu City. So, what makes it unique? Some locals call it the hidden nirvana waterfall due to its nice landscape…
---