Kalong Island - TN Komodo
---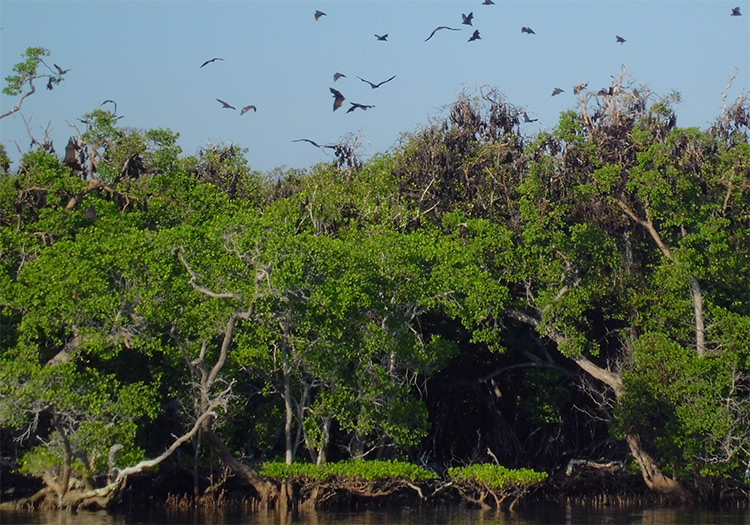 Komodo National Park still has nature panorama that not to be missed. In this marine area with small islands there is an island named Kalong Island with the exotic scenery. Local residents name Kalong (bats) because this small island is surrounded by mangrove forest and thousand of bats. The total area of the island is not more than five hectares. Every day, domestic and international tourists come to Kalong Island to see thousands of bats, especially before sunset.
Kalong Island is located approximately 8 km from Labuan Bajo Port by speedboat. It can be reached less than one hour. This is one of popular spot that becomes a main entrance for tourists to visit Komodo Island and Rinca Island. Kalong Island is the mangrove forest area and it has an important role to balance to nature, especially the sea. As original habitat for bats, you are suggested to come when the day almost dark because at the day they sleep or just hanging on the tree over the island. Usually, the participants that join in the sailing trip, they will be there around at 18.00 local time. The ship will go along the side where the sunset can be seen clearly. The rest of light from the sun becomes the background of millions of bats. They fly energetically by making a noise and thundering toward Labuhan Bajo. This moment is scheduled to make the participants able to see the rite of bats when they come out from the island.
That is why the area of Kalong island becoming crowded at sunset. You will stay there and continue your journey to other islands around Kalong Island. Kalong Island is an unpopulated island and you can go inside because the topography around the island is dominated by dense mangrove forest and you cannot go through it. Besides that, the island is also occupied by big snakes.
Kalong Island become one of tourist destinations for visitors who want to go to Komodo National Park. The beauty of the island and clear water will accompany you along the journey. If you arrive at the day, you still can have fun by snorkeling or diving. These activities become alternative ways you can do while waiting sunset. While diving, you can enjoy natural coral reefs that still well-maintained. The tourist destinations around Kalong Island are Loh Buaya in Rinca Island that is place where you can see gigantic reptile.

Latest News
Koja Doi Village is located in East Alok sub-district, Sikka Regency, East Nusa Tenggara (NTT). Visitors can access this village by boat with a travel time of about 40 minutes from Nangahale Harbor. Koja Doi is one of the tourist villages that won the Indonesia Sustainable Tourism Award (ISTA) from the Ministry of Tourism and Creative Economy. This village offers marine tourism, nature tourism, and cultural tourism. Koja Doi Village has several spot to visit, such as the site of the 1992 tsunami, a stone bridge, ancient rock hills, and…
---
West Sumba has a number of beaches that are destinations and attractions for its tourism sector. One of them is Marosi Beach. This beach is located in Lamboya District. You don't need long from Waikabubak to the location. Enough to travel overland for approximately one hour. In fact, you are also not charged a levy when entering this beach area. Marosi Beach is a beach that is completely empty of visitors. This is a recommended place for those of you who want to get rid of boredom from tired activities.…
---
Aili Beach in Central Sumba Regency, East Nusa Tenggara Province No one can deny the values of natural attractions like beaches, no? When it is about beautiful beaches, East Nusa Tenggara Province has many of them including the one called Aili Beach of Central Sumba Regency. To be exact, the location is in Konda Maloba Village and it resides in South Katikutana Sub-District. Like other beaches of NTT Province, this one is recognized for its pristine nuance and beautiful white sand. The good thing is that it resides in the…
---
Gunung Meja Waterfall in East Sumba Regency Aside from exotic beaches and interesting local culture, East Nusa Tenggara Province is the home to other tourist attractions including waterfalls. Well, one of them resides in East Sumba Regency, which is called Gunung Meja Waterfall. To be exact, the location is in Kuta Village and it belongs to Kanatang Sub-District. Have no worries. The distance is considered especially for those coming from Waingapu City. So, what makes it unique? Some locals call it the hidden nirvana waterfall due to its nice landscape…
---