Kajuwulu Beach
---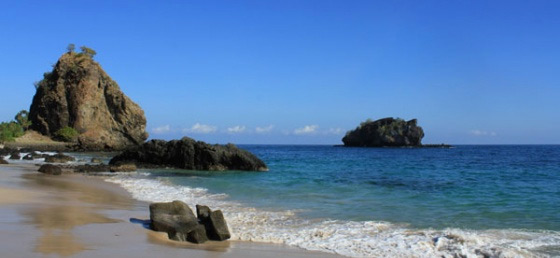 Indonesia has many beautiful beaches that proper to visit. On the other hand, Indonesia also has a few spots marine park that is no less interesting to dive or just snorkeling. In Maumere, we can enjoy both at once, beautiful beaches and beautiful Marine Park. This beach named Kajuwulu Beach, located on the north side of Flores Island. Precisely located around 9 km to the west of Maumere, the capital of Sikka regency, East Nusa Tenggara province. Not many tourists know in Maumere there are a lot of potential for marine tourism is no less competitive with other tourist destination that are well known.
Charming panorama at Kajuwulu Beach cannot be described perfectly, how wonderful Kajuwulu Beach. It has the characteristic bluish clear calm water, and suitable for snorkeling there are also coral reefs that thrive in these waters. Beautiful savannah stretches create contrast color on the shoreline. With the charm of white sandy beaches, calm blue sea and the beautiful underwater life.
To reach Kajuwulu Beach, for those who came from Jakarta, it is advisable to buy tickets to Kupang. This is because tickets for Jakarta to Maumere more expensive than tickets for Jakarta to Kupang. Moreover, we can see the green savannah in the hills along the way, when we visited during the rainy season. If the dry season, we see the hills will be decorated with a golden yellow color. Even so, the trip still enjoyable with the cool air and bright blue skies.
Approximately one hour from Maumere, we arrived at Kajuwulu Beach. Coastal beaches has white sand and Natural hills that seemed to stand firmly adds to the beauty of nature paintings. A huge cross towered majestically on a hill right on the beach. To reach it should pursue three hundred steps. To climb it is not too difficult. On a hill top only plants with thick waxy coating. If the sky is clear and natural conditions when it is cool, we can enjoy the view from here is extraordinary beautiful.
While enjoying the panoramic view offered Kajuwulu Beach. Around Maumere, there are three favorite spot for snorkeling and diving besides Kajuwulu Beach: Sea World Club Resort, Ankermi Happy Dive Resort, and Sao Tourism Diving Center. Sea World is located in Sao Travel Waiara Beach, 10-14 kilometers from the airport and downtown Frans Seda Maumere. While Ankermi, the most advisable to try, located in Watumita, 29 kilometers from the city center. So, when we are in Maumere, don not miss to visit Kajuwulu Beach with unique and exciting underwater. Suitable for those who like nautical tourism.

Latest News
Koja Doi Village is located in East Alok sub-district, Sikka Regency, East Nusa Tenggara (NTT). Visitors can access this village by boat with a travel time of about 40 minutes from Nangahale Harbor. Koja Doi is one of the tourist villages that won the Indonesia Sustainable Tourism Award (ISTA) from the Ministry of Tourism and Creative Economy. This village offers marine tourism, nature tourism, and cultural tourism. Koja Doi Village has several spot to visit, such as the site of the 1992 tsunami, a stone bridge, ancient rock hills, and…
---
West Sumba has a number of beaches that are destinations and attractions for its tourism sector. One of them is Marosi Beach. This beach is located in Lamboya District. You don't need long from Waikabubak to the location. Enough to travel overland for approximately one hour. In fact, you are also not charged a levy when entering this beach area. Marosi Beach is a beach that is completely empty of visitors. This is a recommended place for those of you who want to get rid of boredom from tired activities.…
---
Aili Beach in Central Sumba Regency, East Nusa Tenggara Province No one can deny the values of natural attractions like beaches, no? When it is about beautiful beaches, East Nusa Tenggara Province has many of them including the one called Aili Beach of Central Sumba Regency. To be exact, the location is in Konda Maloba Village and it resides in South Katikutana Sub-District. Like other beaches of NTT Province, this one is recognized for its pristine nuance and beautiful white sand. The good thing is that it resides in the…
---
Gunung Meja Waterfall in East Sumba Regency Aside from exotic beaches and interesting local culture, East Nusa Tenggara Province is the home to other tourist attractions including waterfalls. Well, one of them resides in East Sumba Regency, which is called Gunung Meja Waterfall. To be exact, the location is in Kuta Village and it belongs to Kanatang Sub-District. Have no worries. The distance is considered especially for those coming from Waingapu City. So, what makes it unique? Some locals call it the hidden nirvana waterfall due to its nice landscape…
---