The Sabu Tribe of East Nusa Tenggara Province
---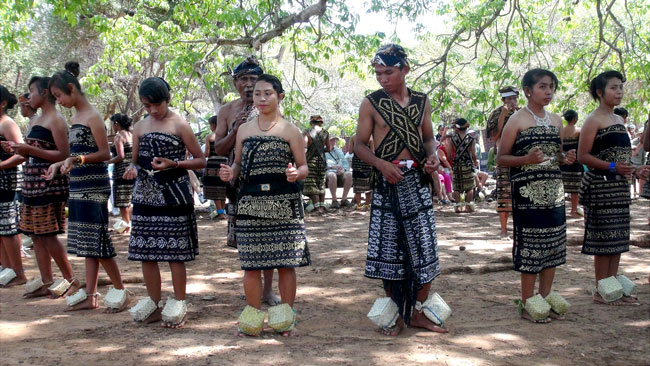 Tourists have distinct reasons to visit a particular region during holidays. For those visiting East Nusa Tenggara Province in Indonesia indeed has a similar motive, which is to explore exotic beaches. However, aside from that, they must not miss the chance to witness various unique cultural attractions of the region as well. For instance, there is a nose-kissing tradition of Sabu Tribe. As people may expect, the locals would touch their nose to others as the meeting gesture. Well, the purpose is similar to that of regular handshaking or cheek kissing when we greet people, actually. In the local language, such tradition is called Henge'do.
The Sabu Tribe
This unique tradition belongs to Sabu (Savu) Tribe of East Nusa Tenggara Province. For tourists, it indeed looks unique and becomes a new attraction that they can enjoy when visiting the region. In this case, they should visit Sabu Island where those people live. It is said Sabu Tribe came from the sea and a place which is far away. They dropped by in the village and grew a civilization there. Today, they have become the part of NTT Province's tourist attraction so everyone should not miss to visit the island and learn all available unique traditions there!
More about the Nose Kissing Tradition
For common people, such tradition like nose kissing of Sabu Tribe indeed looks strange or peculiar. However, for tourists, it becomes another reason to visit East Nusa Tenggara Province. At least, they are able to find out the philosophy behind it! It is said Sabu Tribe consider a nose as the symbol of kinship. No wonder, they use it as a medium to greet people regardless of their status. In fact, they perform nose kissing to strangers or tourists whom they haven't met before!
At a glance, this Indonesia's nose kissing tradition is similar to that of Maori Tribe in New Zealand. Instead of rubbing nose with other people, people in Sabu Island may simply touch their nose to others'. Not only it can be done within the same sex, but it can also be done with other sex! That means both men and women can do it freely without any concerns of sex, social class, age, status, etc. In terms of function, the nose kissing tradition has the purpose to strengthen the sense of brotherhood. However, it also functions as the gesture to respect older people.
Well, the fact is that this tradition remains in East Nusa Tenggara Province and it has been done by Sabu Tribe for generations. Moreover, other tribes also apply it to their daily life! What about tourists? Well, they are allowed to do so as long as they do it properly.
Nearby Attractions

Komodo National Park
Kelimutu National Park
Pink Beach
Loh Liang
Lasiana Beach
Kelimutu Lake
Wae Rebo Village
Batu Cermin Cave
Tarung Village
Sirung Mountain
How to Get There
For those coming from Jakarta City, they can get an airplane at Soekarno-Hatta International Airport and head to El Tari Airport of Kupang City in East Nusa Tenggara Province of Indonesia. Despite the distance, the flight only takes approximately 2 hours and 55 minutes! Once arriving at Kupang City, tourists' next destination is Sabu Island where those locals live. It is also recommended to hire a local guide, though.
Where to Stay

Cendana Hotel
Pelita Hati Hotel
Carvita Hotel
Greenia Hotel
Jolly Hotel
Cahaya Bapa Hotel

Latest News
Koja Doi Village is located in East Alok sub-district, Sikka Regency, East Nusa Tenggara (NTT). Visitors can access this village by boat with a travel time of about 40 minutes from Nangahale Harbor. Koja Doi is one of the tourist villages that won the Indonesia Sustainable Tourism Award (ISTA) from the Ministry of Tourism and Creative Economy. This village offers marine tourism, nature tourism, and cultural tourism. Koja Doi Village has several spot to visit, such as the site of the 1992 tsunami, a stone bridge, ancient rock hills, and…
---
West Sumba has a number of beaches that are destinations and attractions for its tourism sector. One of them is Marosi Beach. This beach is located in Lamboya District. You don't need long from Waikabubak to the location. Enough to travel overland for approximately one hour. In fact, you are also not charged a levy when entering this beach area. Marosi Beach is a beach that is completely empty of visitors. This is a recommended place for those of you who want to get rid of boredom from tired activities.…
---
Aili Beach in Central Sumba Regency, East Nusa Tenggara Province No one can deny the values of natural attractions like beaches, no? When it is about beautiful beaches, East Nusa Tenggara Province has many of them including the one called Aili Beach of Central Sumba Regency. To be exact, the location is in Konda Maloba Village and it resides in South Katikutana Sub-District. Like other beaches of NTT Province, this one is recognized for its pristine nuance and beautiful white sand. The good thing is that it resides in the…
---
Gunung Meja Waterfall in East Sumba Regency Aside from exotic beaches and interesting local culture, East Nusa Tenggara Province is the home to other tourist attractions including waterfalls. Well, one of them resides in East Sumba Regency, which is called Gunung Meja Waterfall. To be exact, the location is in Kuta Village and it belongs to Kanatang Sub-District. Have no worries. The distance is considered especially for those coming from Waingapu City. So, what makes it unique? Some locals call it the hidden nirvana waterfall due to its nice landscape…
---