Waikabubak City in West Sumba Regency, East Nusa Tenggara Province
---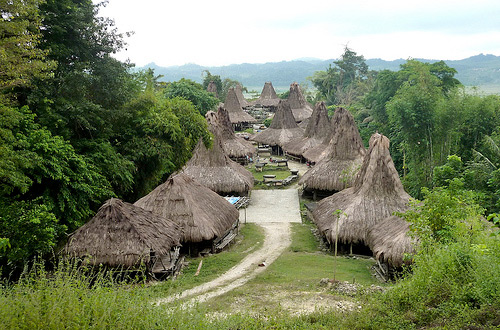 Visiting eastern regions of Indonesia is worth tons of experiences indeed. Well, one of the most recommended destinations is none other than East Nusa Tenggara Province. West Sumba Regency is part of it, actually. This one is chosen as a nice place to spend holidays especially when it comes cultural and historical tourism of Indonesia. Also, the region is famous for numerous natural attractions for tourists to explore. Here is the thing. Before visiting those tourist sites, it is important to drop by in its capital which is Waikabubak City! It is the second biggest city in Sumba Island after Waingapu City, for the information.
The Nuance
Unlike other cities, Waikabubak has unique characteristics including the presence of several traditional villages like Tarung. Even though most parts of the city are considered arid, tourists may find lush trees and green landscapes as well. Not to mention they may see green Tosca-colored seawater and majestic coral reefs there. When it comes to the local people, they are indeed friendly and have an interesting culture. They are called Sumba Tribe, actually. Plus, they have a high awareness of mutual corporation (Gotong Royong)!
Exploring Waikabubak City
Being the capital of West Sumba Regency makes Waikabubak City popular among tourists. The real question is what tourists may do once they get there. According to passionate travelers, they come to this Indonesia's site to witness the interesting culture of the locals directly. For instance, it is related to Sumba's traditional clothes. Many villagers wear such beautiful clothing daily, in fact. It is even possible to take pictures together with the locals during the visit later. One thing, tourists should get their consent first and ask them to wear the traditional clothes before taking photos.
The next reason why tourists come to Waikabubak City in Indonesia is to watch the richness of historical structures scattered in different locations. These include the traditional houses and stone graves, actually. Not only tourists can watch those unique objects directly, but they are allowed to take pictures of them. So, what is next? Tourists can look for interesting events conducted in the city square. In this case, they must find out the exact date when the exhibition is held. Once again, the help of a local guide would be quite helpful for them.
During the exploration, tourists can choose special destinations like local villages, fountains, and white sand beaches. No wonder, it takes some time to get around Waikabubak City during holidays. What about the foods? It is considered difficult to look for eateries and souvenir centers. Still, a recommended place to get them is available, which is at Ahmad Yani Street. Don't forget to carry enough cash, though.
Nearby Attractions

Manupeu Tanah Daru National Park
Kaori Park
Waikelo Sawah Dam
Tarung Village
Lapopu Waterfall
Matayangu Waterfall
Wora Djawa Village
Kerewei Beach
Marosi Beach
Pasunga Village
How to Get There
From the capital of East Nusa Tenggara Province (Kupang City), tourists can take an airplane at El Tari International Airport and head to Tambolaka Airport in Sumba Island. The flight takes about 55 minutes, actually. Once arriving at Tambolaka, they can take any local transportation service and head to Waikabubak City right away. The distance is 50.2 km, so the trip may take about 1 hour and 21 minutes.
Where to Stay

Praimarada Hotel
Rakuta Hotel
Aloha Hotel
Artha Hotel
Karanu Hotel
Ronita Inn
Monalisa Hotel

Latest News
Koja Doi Village is located in East Alok sub-district, Sikka Regency, East Nusa Tenggara (NTT). Visitors can access this village by boat with a travel time of about 40 minutes from Nangahale Harbor. Koja Doi is one of the tourist villages that won the Indonesia Sustainable Tourism Award (ISTA) from the Ministry of Tourism and Creative Economy. This village offers marine tourism, nature tourism, and cultural tourism. Koja Doi Village has several spot to visit, such as the site of the 1992 tsunami, a stone bridge, ancient rock hills, and…
---
West Sumba has a number of beaches that are destinations and attractions for its tourism sector. One of them is Marosi Beach. This beach is located in Lamboya District. You don't need long from Waikabubak to the location. Enough to travel overland for approximately one hour. In fact, you are also not charged a levy when entering this beach area. Marosi Beach is a beach that is completely empty of visitors. This is a recommended place for those of you who want to get rid of boredom from tired activities.…
---
Aili Beach in Central Sumba Regency, East Nusa Tenggara Province No one can deny the values of natural attractions like beaches, no? When it is about beautiful beaches, East Nusa Tenggara Province has many of them including the one called Aili Beach of Central Sumba Regency. To be exact, the location is in Konda Maloba Village and it resides in South Katikutana Sub-District. Like other beaches of NTT Province, this one is recognized for its pristine nuance and beautiful white sand. The good thing is that it resides in the…
---
Gunung Meja Waterfall in East Sumba Regency Aside from exotic beaches and interesting local culture, East Nusa Tenggara Province is the home to other tourist attractions including waterfalls. Well, one of them resides in East Sumba Regency, which is called Gunung Meja Waterfall. To be exact, the location is in Kuta Village and it belongs to Kanatang Sub-District. Have no worries. The distance is considered especially for those coming from Waingapu City. So, what makes it unique? Some locals call it the hidden nirvana waterfall due to its nice landscape…
---