Wae Rebo Village
---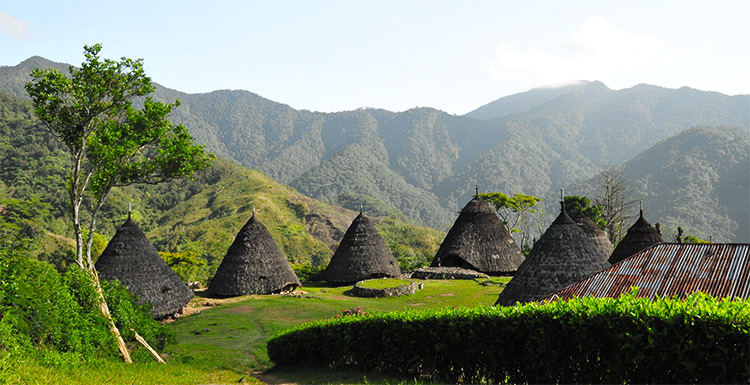 Wae Rebo is the famous Manggarai's traditional villages. Precisely located at Satar Lenda, Satamese Barat district, Manggarai Barat regency, Flores Island of East Nusa Tenggara. The resident in Wae Rebo comes from Modo Tribe. This custom village ever got a reward from UNESCO for the conservation of culture heritage on 2012 years ago. The local residents still defend the tradition and culture from generation to generation.
Wae Rebo itself has meaning as a spring and physically. Wae Rebo Village consist of 7 custom house named as Mbaru Niang. It has cone shape with diameter around 12 – 15 meters and 8 – 10 meters height. Path of the roof is dangle and almost covering all of the house. The house itself is made from certain grasses and coated by ijuk or palm fiber from the sugar palm in order to have strong condition as the wind and water attack the house.
Wae Rebo Village is beautiful and amazing, covered by a thin haze all over the village makes Wae Rebo deserve the epithet 'town above the clouds'. Geographically the village is situated above an altitude of 1,200 meters above sea level. Wae Rebo Village also famous as 'international village' because among local village, you will find foreign who stay together with local village. The popularity of Wae Rebo has been spreading since UNESCO nominated the village as unique village in the world. It can be said that Wae Rebo is a new magnet to attract tourist from all around the world to come.
Wae Rebo Village is built on Pocoroko Mountain with 1,100 meters above sea surface and facing to Hindia Ocean. Besides having unique architecture and location, the pattern of the custom house of Wae Rebo also special because it has circle pattern and in the middle there is a rock with square shape. On this square spot, there is kind of altar made from bamboo named as Compang for custom ceremony to put the offering to the ancestor.
In Wae Rebo Village there is a ceremony to welcome guest named Waelu Ceremony. The point of the ceremony is kind of welcoming the visitor and this will be done by the leader of tribe. They will welcome and pray for your goodness and safety during your visit to Wae Rebo Village. Perhaps, it sounds strange for foreign but this is kind of tradition and there is nothing wrong to accept it.
To respect the custom and tradition in Wae Rebo Village, you are also suggested to wear proper dress. If you against this, the local residents may address you. Besides that, if you want to take the picture, you need to ask permission because sometime, they mind and will up set to you. One thing you need to remember is by bringing sweater or jacket because the atmosphere in Wae Rebo Village is hilly and it will be cool.
How to get there?
Wae Rebo Village can be reached by the start flight from Ngurah Rai Airport in Denpasar to Labuan Bajo Airport, located in West Manggarai. Next you have to go through Ruteng city for about 4 hours, it is a small town in Central Manggarai district. During the trip you can enjoy a rice-shaped cobweb in Lembor or Cancar. After that the trip can proceed to Denge village that is the last village before trekking for 4 hours to Wae Rebo Village.

Latest News
Koja Doi Village is located in East Alok sub-district, Sikka Regency, East Nusa Tenggara (NTT). Visitors can access this village by boat with a travel time of about 40 minutes from Nangahale Harbor. Koja Doi is one of the tourist villages that won the Indonesia Sustainable Tourism Award (ISTA) from the Ministry of Tourism and Creative Economy. This village offers marine tourism, nature tourism, and cultural tourism. Koja Doi Village has several spot to visit, such as the site of the 1992 tsunami, a stone bridge, ancient rock hills, and…
---
West Sumba has a number of beaches that are destinations and attractions for its tourism sector. One of them is Marosi Beach. This beach is located in Lamboya District. You don't need long from Waikabubak to the location. Enough to travel overland for approximately one hour. In fact, you are also not charged a levy when entering this beach area. Marosi Beach is a beach that is completely empty of visitors. This is a recommended place for those of you who want to get rid of boredom from tired activities.…
---
Aili Beach in Central Sumba Regency, East Nusa Tenggara Province No one can deny the values of natural attractions like beaches, no? When it is about beautiful beaches, East Nusa Tenggara Province has many of them including the one called Aili Beach of Central Sumba Regency. To be exact, the location is in Konda Maloba Village and it resides in South Katikutana Sub-District. Like other beaches of NTT Province, this one is recognized for its pristine nuance and beautiful white sand. The good thing is that it resides in the…
---
Gunung Meja Waterfall in East Sumba Regency Aside from exotic beaches and interesting local culture, East Nusa Tenggara Province is the home to other tourist attractions including waterfalls. Well, one of them resides in East Sumba Regency, which is called Gunung Meja Waterfall. To be exact, the location is in Kuta Village and it belongs to Kanatang Sub-District. Have no worries. The distance is considered especially for those coming from Waingapu City. So, what makes it unique? Some locals call it the hidden nirvana waterfall due to its nice landscape…
---