Sano Nggoang Crater Lake
---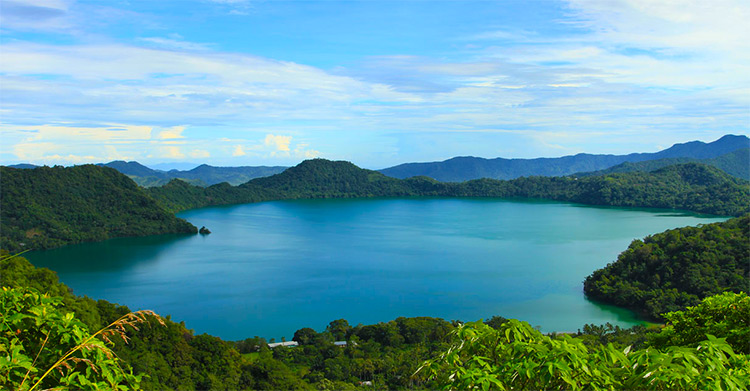 Sano Nggoang Crater Lake is the largest volcanic in East Nusa Tenggara, with an area of about 5,500 hectares, this lake is considered as one of the deepest lake in the world which the depth is about 600 meters. Along the shore of Sano Nggoang Crater Lake there are couple of villages where local people live. These small agricultural villages contain only 250 inhabitants living in traditional woven bamboo houses or more modern wood or brick built houses, each containing its own garden. The village is bordered by the lake, plantations and hills. The remote location and small size of the two villages provides visitors with a tranquil respite from the hustle and bustle of Labuan Bajo.
Sano Nggoang itself derives from word Sano and Nggoang. Sano in Kempo language means a lake while Nggoang means lite. Sano Nggoang means volcanic lakes or lakes that are lit up. Sano Nggoang Lake is approximately 63 kilometers or 3 hour drive from Labuan Bajo-a small port city on the western tip of Flores Island and is the capital of West Manggarai. Labuan Bajo is accessible by plane from Bali. Then from Labuan Bajo through Transflores path, the journey continues to the Nunang village, the entrance to the Sano Nggoang Lake.
Sano Nggoang Lake is located at an altitude of 750 meters above the sea level. The lake is the main attraction because it has a relatively high sulfur content. A pungent sulfur smell will smell around the lake area. Therefore, bathing for skin health is one of the main objectives to travel to this lake. For bathing, there are hot springs at the end of this lake. In addition to the bath, there are many activities you can do here, among other things recreation with horses back riding around the lake, bird watching, trekking, and photography. From various activities we can do, enjoying the scenery is an interesting thing to do especially the nature and forests around the lake are still fairly natural and beautiful. For around the lake, you can ride a horse or trekking to enjoy the view of the lake from a higher place.
Lake Sano Nggoang has a beautiful landscape includes forests, hills, lakes, and the flora and fauna around the lake. All this becomes an interesting object of photography to preserve. Sunset also look beautiful in this region, so it is interesting to be taken with your camera. Besides beautiful and quiet, Lake Sano Nggoang is also a habitat for several species of birds.
To visit this tourist area, there are several things you should have considered. Due to the high concentration of sulfur, it is strictly prohibited visiting the lake during the rainy season. Bring a mask to cover your nose, just in case you cannot stand the pungent smell of sulfur. If you want to stay near the lake, there are some home stay of a resident which can be hired. All home stay provide mattresses, clean linens, mosquito nets, clean drinking water and other amenities depending on the home stay.

Latest News
Koja Doi Village is located in East Alok sub-district, Sikka Regency, East Nusa Tenggara (NTT). Visitors can access this village by boat with a travel time of about 40 minutes from Nangahale Harbor. Koja Doi is one of the tourist villages that won the Indonesia Sustainable Tourism Award (ISTA) from the Ministry of Tourism and Creative Economy. This village offers marine tourism, nature tourism, and cultural tourism. Koja Doi Village has several spot to visit, such as the site of the 1992 tsunami, a stone bridge, ancient rock hills, and…
---
West Sumba has a number of beaches that are destinations and attractions for its tourism sector. One of them is Marosi Beach. This beach is located in Lamboya District. You don't need long from Waikabubak to the location. Enough to travel overland for approximately one hour. In fact, you are also not charged a levy when entering this beach area. Marosi Beach is a beach that is completely empty of visitors. This is a recommended place for those of you who want to get rid of boredom from tired activities.…
---
Aili Beach in Central Sumba Regency, East Nusa Tenggara Province No one can deny the values of natural attractions like beaches, no? When it is about beautiful beaches, East Nusa Tenggara Province has many of them including the one called Aili Beach of Central Sumba Regency. To be exact, the location is in Konda Maloba Village and it resides in South Katikutana Sub-District. Like other beaches of NTT Province, this one is recognized for its pristine nuance and beautiful white sand. The good thing is that it resides in the…
---
Gunung Meja Waterfall in East Sumba Regency Aside from exotic beaches and interesting local culture, East Nusa Tenggara Province is the home to other tourist attractions including waterfalls. Well, one of them resides in East Sumba Regency, which is called Gunung Meja Waterfall. To be exact, the location is in Kuta Village and it belongs to Kanatang Sub-District. Have no worries. The distance is considered especially for those coming from Waingapu City. So, what makes it unique? Some locals call it the hidden nirvana waterfall due to its nice landscape…
---