Reba Traditional Ceremony of East Nusa Tenggara Province
---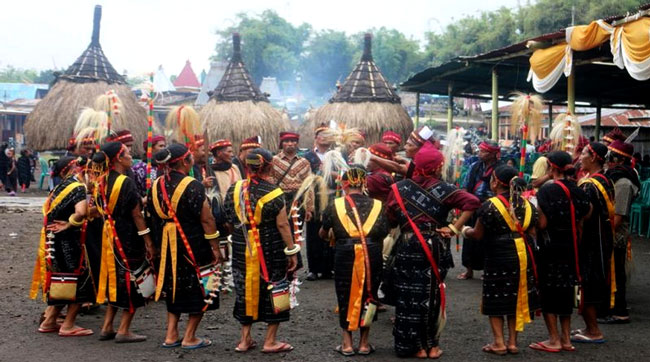 Beautiful beaches make East Nusa Tenggara Province is well-known among travelers and passionate nature lovers. Is that all? Of course, it is not. For instance, it has Ikat Fabric and interesting culture like Reba Ceremony. For tourists, the best place to watch this unique tradition is in Patiala Dete Village, West Laboya Sub-District actually. That means tourists need to get to West Sumba Regency when spending holidays in East Nusa Tenggara Province. For the information, this tradition belongs to Bajawa People who come from Flores Island. These days, it also becomes another attraction that tourists can enjoy when visiting NTT.
The Nuance
In terms of nuance, Reba Ceremony is both fun and festive. It represents the cultural value of the local people and becomes a medium to strengthen their bond. The participants may wear traditional clothes, featuring various unique ornaments like a tassel, weapons, etc. As for the venue, it is at an open field and led by one person (usually the eldest villager). What about tourists? Well, they are allowed to watch the ceremony from afar but they are not allowed to disturb the procession or cause loud noise while watching.
Exploring Reba Traditional Ceremony
Since tourists don't have much information regarding Reba Ceremony, they should consider hiring a local guide when heading to East Nusa Tenggara Province. At least, the service may help them learn some history and trivia related to the event. For example, it is about the meaning of it. According to the locals, Reba can be either the ancient local religion or a form of gratitude towards the good due to abundant crops (in agriculture terms). Some villagers also describe Reba as the New Year event which is similar to that of Chinese's Imlek though.
Regardless of the variety of description of Reba Ceremony, both locals and tourists consider it as a local festival and an opportunity to retain traditional culture for generations. The best thing is that more people become more concerned about it and they want to promote Reba to other tourists. During the event, the local families may gather in front of their house to discuss numerous issues and solve those problems together. Later, they conduct eating together and clean the environment mutually.
It is true tourists are allowed to join the ceremony, but they must not cause havoc when watching. Taking pictures is allowed, but they should turn off the flash feature of the camera. Also, littering is definitely prohibited!
Nearby Attractions

Komodo National Park
Kelimutu National Park
Pink Beach
Loh Liang
Lasiana Beach
Kelimutu Lake
Wae Rebo Village
Batu Cermin Cave
Tarung Village
Sirung Mountain
How to Get There
Well, the main destination is none other than Tambolaka City in West Sumba Regency. Those who come from Jakarta City can take advantage of an airplane service at Soekarno – Hatta International Airport and head to Tambolaka Airport right away. Have no worries. The flight only takes about 4 hours and 55 minutes. Once arriving at Tambolaka, their last destination is Patiala Dete Village where the ceremony is often performed.
Where to Stay

Cendana Hotel
Pelita Hati Hotel
Carvita Hotel
Greenia Hotel
Jolly Hotel
Cahaya Bapa Hotel

Latest News
Koja Doi Village is located in East Alok sub-district, Sikka Regency, East Nusa Tenggara (NTT). Visitors can access this village by boat with a travel time of about 40 minutes from Nangahale Harbor. Koja Doi is one of the tourist villages that won the Indonesia Sustainable Tourism Award (ISTA) from the Ministry of Tourism and Creative Economy. This village offers marine tourism, nature tourism, and cultural tourism. Koja Doi Village has several spot to visit, such as the site of the 1992 tsunami, a stone bridge, ancient rock hills, and…
---
West Sumba has a number of beaches that are destinations and attractions for its tourism sector. One of them is Marosi Beach. This beach is located in Lamboya District. You don't need long from Waikabubak to the location. Enough to travel overland for approximately one hour. In fact, you are also not charged a levy when entering this beach area. Marosi Beach is a beach that is completely empty of visitors. This is a recommended place for those of you who want to get rid of boredom from tired activities.…
---
Aili Beach in Central Sumba Regency, East Nusa Tenggara Province No one can deny the values of natural attractions like beaches, no? When it is about beautiful beaches, East Nusa Tenggara Province has many of them including the one called Aili Beach of Central Sumba Regency. To be exact, the location is in Konda Maloba Village and it resides in South Katikutana Sub-District. Like other beaches of NTT Province, this one is recognized for its pristine nuance and beautiful white sand. The good thing is that it resides in the…
---
Gunung Meja Waterfall in East Sumba Regency Aside from exotic beaches and interesting local culture, East Nusa Tenggara Province is the home to other tourist attractions including waterfalls. Well, one of them resides in East Sumba Regency, which is called Gunung Meja Waterfall. To be exact, the location is in Kuta Village and it belongs to Kanatang Sub-District. Have no worries. The distance is considered especially for those coming from Waingapu City. So, what makes it unique? Some locals call it the hidden nirvana waterfall due to its nice landscape…
---