Kupang - Pulau Kera (Monkey Island)
---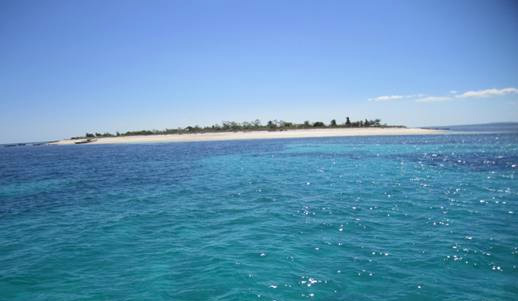 Kera Island can be seen from the side of Kupang City. To cross to Kera Island you just have to rent a boat residents. Kera Island residents are very friendly to newcomers. Therefore you are advised to bring plenty of meals to share with them. Because the population of Kera Island with a very simple life.
Kera Island has a stretch of beach with sand as white as snow. Its beauty can even be seen from across the sea. Beautiful sparkling white sand and invite you to come closer. The waves also calm, so you can play as much on the beach, sunbathing, playing wave or sand, while enjoying the hospitality of Kera Island residents.
Kera Island as part of the Marine Natural Park (TWAL; Taman Wisata Alam Laut) Kupang Bay and is located in East Nusa Tenggara. TWAL Kupang Bay is one of the natural park in Indonesia bordered by two administrative regions, namely Kupang regency and Kupang city. If you get on a plane from various regions to Kupang as East Nusa Tenggara provincial capital shortly before landing at El Tari Airport, you can see Kera Island. Kupang Bay was designated as one of Indonesia's marine natural park. TWAL wide Kupang Bay is 50,000 ha. Based on Law No. 5 of 1990 on Conservation of Natural Resources and Ecosystem, one of the functions marine natural park is a nature conservation area designated for the holding of the tour.
If you are visiting Kupang then direct the natural attractions that you can enjoy is Kupang Bay. Kera Island is a small island in the TWAL Kupang Bay that located between Semau and Timor island, and has a characteristic composed of white sand. Texture of sand on Kera Island is very different from the texture of the sand on Semau and Timor island.
Kera Island, in addition to a white sand, also has different types of reef fish, coral reefs, and beautiful sea views are tourist attraction that can be offered to the tourists both locals or foreign. If you want to visit Kera Island, you can use a fishing boat and takes about 1-2 hours depending on the circumstances of the sea.

Latest News
Koja Doi Village is located in East Alok sub-district, Sikka Regency, East Nusa Tenggara (NTT). Visitors can access this village by boat with a travel time of about 40 minutes from Nangahale Harbor. Koja Doi is one of the tourist villages that won the Indonesia Sustainable Tourism Award (ISTA) from the Ministry of Tourism and Creative Economy. This village offers marine tourism, nature tourism, and cultural tourism. Koja Doi Village has several spot to visit, such as the site of the 1992 tsunami, a stone bridge, ancient rock hills, and…
---
West Sumba has a number of beaches that are destinations and attractions for its tourism sector. One of them is Marosi Beach. This beach is located in Lamboya District. You don't need long from Waikabubak to the location. Enough to travel overland for approximately one hour. In fact, you are also not charged a levy when entering this beach area. Marosi Beach is a beach that is completely empty of visitors. This is a recommended place for those of you who want to get rid of boredom from tired activities.…
---
Aili Beach in Central Sumba Regency, East Nusa Tenggara Province No one can deny the values of natural attractions like beaches, no? When it is about beautiful beaches, East Nusa Tenggara Province has many of them including the one called Aili Beach of Central Sumba Regency. To be exact, the location is in Konda Maloba Village and it resides in South Katikutana Sub-District. Like other beaches of NTT Province, this one is recognized for its pristine nuance and beautiful white sand. The good thing is that it resides in the…
---
Gunung Meja Waterfall in East Sumba Regency Aside from exotic beaches and interesting local culture, East Nusa Tenggara Province is the home to other tourist attractions including waterfalls. Well, one of them resides in East Sumba Regency, which is called Gunung Meja Waterfall. To be exact, the location is in Kuta Village and it belongs to Kanatang Sub-District. Have no worries. The distance is considered especially for those coming from Waingapu City. So, what makes it unique? Some locals call it the hidden nirvana waterfall due to its nice landscape…
---